News, Vision & Voice for the Advisory Community
Technology companies, Chubb, TD Ameritrade and BrightScope get special notice
September 18, 2011 — 1:19 AM UTC by Frank Noto
Brooke's Note: It's the closest thing to a physical manifestation of Main Street, RIA-ville – the exhibit halls of some of the big conferences. We've wanted someone with a marketer's eye to offer reports, starting at the FPA event. And who better than our own business and advetising chief, Frank Noto.
San Diego provides the best and worst scenarios for any organization holding its conference in America's self-proclaimed Finest City. It's a top-shelf location, with weather that anyone living east of Poway would think is picture-perfect. Plus, there are enough area attractions and beaches to fill up a few days of sightseeing.
Yet how did the Financial Planning Association keep the convening masses – including 2,100 attendees and 146 exhibitors – from wandering off? A quality program, a slew of innovative companies showcasing their products in the exhibit hall and a couple of cloudy days all helped out the cause this year. The program included a speech by Schwab's head of RIA custody, Bernie Clark. See: Schwab to pump millions of dollars into promoting RIAs as a channel.
I've been coming down to sunny San Diego from the Bay Area for over 20 years and have never experienced the two straight days of clouds we had on Thursday and Friday of last week. For once, the FPA-organized companion tours around San Diego during conference sessions didn't seem so "wish I could have done that today."
Tech-tonic shift
Though I haven't attended an FPA conference for a couple of years, I walked into this year's exhibit hall with an almost a been-there-done-that attitude. Think Bill Murray in "Groundhog Day."
But when the opening reception kicked things off on Thursday night, I soon realized that there was really a new order in the hall. Technology companies were definitely attracting the most advisors' attention – their booths were all buzzing with activity throughout the two days I spent there.
It took a lot of time booth-hovering, but I finally got through to present myself to some of these tech folks – Orion Advisor Services, LLC, Redtail Technology, Black Diamond Performance Reporting, Arkovi Social Media Archiving, Net Worth Services, BrightScope, Advisors Assistant, EISI, Cornerstone PowerInvestmentTOOLS and Macro Risk Analytics.
For any advisor in attendance, these and other tech-related companies provided a goldmine of innovation. The common thread of conversation was not unlike what you read about all the time in RIABiz – the constant need to stay ahead of the curve when it comes to providing clients with the service and information they expect from an advisor.
BrightScope in the news
Timing is everything. BrightScope nailed it by having an article about their success – and controversy – make it in to The New York Times. Although it appeared on Saturday, the 401(k) and RIA tracker was able to have the article showing on a 40-inch flat-screen monitor in its booth.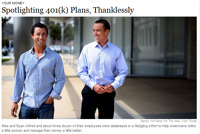 The Alfreds made it onto the
pages of The New York Times
last week during the FPA conference.

SoCal nights
As usual, the biggest booths had the best locations and the most creative presentations. They varied in themes.
TD Ameritrade promoted its 2012 Olympic and USOC sponsorship program Thursday night by having Olympic gymnast and three-time medalist Dominique Dawes at their booth. Attendees could pose with her for a photo, along with getting an autograph.
The SEI Advisor Network presented a diner-like area of its booth, giving out baked chocolate cookies, which seemed to be a big hit.
Scout Funds brought in artist Doug Shannon who drew up digital profiles of any attendee willing to stand still for a few minutes. Using an Apple tablet hooked up to a Mac, and with a flash application, Doug cranked out illustrations for what seemed to be an endless line of attendees.
The winner of the themed-booth sweepstakes had to be Chubb. For the past seven years, the bar-style booth has traveled the country taking on the theme of the conference city they visit. This year's theme was unmistakably SoCal – The Surfside Café. Chubb's Rob McGinley explained to me that they try to stick out at a conference. Refreshments were served all day, including a happy hour in the late afternoon. Mission accomplished, Rob! Booths in close proximity to Chubb's booth were definitely receiving the residual effects of the Surfside Café's popularity, drawing sizable crowds at each night's evening receptions.
New relationships
As I wrapped up a couple of days of walking the carpet-covered cement floors of the exhibit hall – besides tired legs – I came away with much of what any I imagine all the advisors who stepped into that cavernous hall came away with: an opportunity to renew friendships, start new relationships and the chance to learn that, for the companies presenting, these times are anything but the same old, same old.
---
Mentioned in this article:
---
---
Share your thoughts and opinions with the author or other readers.
---