News, Vision & Voice for the Advisory Community
Bernie Clark tells crowd at national FPA conference that it's not about Schwab
September 16, 2011 — 8:42 PM UTC by Brooke Southall
Brooke's Note: As publishers of a publication with the letters R-I-A in the name, we are more than aware of the challenges of communicating what these three letters truly stand for. So it's more than noteworthy when Schwab, the company with the biggest presence in the business, pledges to unilaterally close the gap on behalf of the channel – even if it may realize a few corporate benefits along the way.
Schwab Advisor Services is launching a self-described "Got Milk?"-style advertising campaign to draw attention from those at the very top of the wealth pyramid to the RIA channel.
The market leader of asset custody for registered investment advisors has committed to spending millions of dollars this year and in 2012 to promote a logo and a website centered around the phrase: "RIA stands for you." The campaign is aimed at clarifying and distinguishing the role of registered investment advisors in the financial services industry.
"We believe so strongly in RIAs that we have to do this," says Bernie Clark, executive vice president and head of Schwab Advisor Services in an interview. "This is our responsibility. It's the fastest-growing space in the financial services industry – at two-times the rate of the wirehouses." See: Rough markets cull the advisory herd but in a healthy way, new Cerulli data shows.
Plaudits from TD Ameritrade
Schwab rival, TD Ameritrade supports Schwab's plan, according to Kristin Petrick, spokeswoman for the company.
"TD Ameritrade Institutional has been a longtime and leading advocate for independent RIAs and fiduciary model and we applaud anyone else who does the same. Educating consumers on the benefits of working with an independent advisor is good for advisors and good for investors." TD recently launched a million dollar matching program to support the Foundation for Financial Planning's investor education efforts, she added.
Fidelity Investments shows responsibility for RIAs in its own way, according to Steve Austin, spokesman for the company. "We advocate for RIAs every day and we work with [prospective breakaways] to choose options for independence – because there are many." He adds that the vast majority of advisors want to be part of a hybrid model that includes doing some commission-based business.
Clark officially announced the kick-off of the campaign at the national conference of the Financial Planning Association in San Diego, Friday morning.
Switching channels
RIAs hope the campaign will help clear up the confusion in the marketplace regarding different types of financial advisors.
"I think it's a well-needed effort – especially with Schwab's energy and clout. I think it'll really help," says Ken Hart, CEO of Cornerstone Advisors. "Folks interview three to five firms and they'll talk to all three [channels: IBD reps, wirehouse brokers and RIAs] and not know the difference. Often they end up hiring who they like,"
Cornerstone manages about $2.4 billion of assets from Bellevue, Wash.
The campaign is off to a rolling start now with a beta website is in place. Schwab allowed RIABiz a peek at it but asked that a link not be shared publicly as yet. (See a preview of the site below.) The San Francisco-based firm will give the campaign its first big push on Oct. 22 with a full-page advertisement in The Wall Street Journal.
Going to the source
Still, the campaign will have a digital emphasis, running in major online publications like Forbes.com, and also on the websites of registered investment advisors themselves to attract high-net worth-clients and prospects. The campaign will include links to a series of videotaped interviews on the merits of RIAs. Many of the interviews were taped during Schwab's EXPLORE conference this summer. See: Schwab EXPLORE goes deep into the Rockies with big RIAs. conference.
Schwab says that an added advantage to the digital approach is that it will be able to closely monitor traffic, all the better to nimbly shift its placements.
Schwab does not intend to pay or be paid for this arrangement, believing it will prove to be of benefit to all parties.
Hart, for one, says that he would consider into entering into this kind of symbiotic marketing arrangement with Schwab.
"I would consider it, certainly. I'm not averse to it in concept," he says.
Full commitment
Despite all its positives, one observer says that Schwab's previous efforts at promoting RIAs to consumers over the years neglected to properly address the very real challenge of what to do with high-net-worth clients who show up as a result of the campaign and want to be introduced to an RIA.
Susan Forman, spokeswoman for Schwab, says the company has not fully determined the best way to handle these client prospects. "We're considering how we might be able to direct investors" she says. The company has a link the SEC website. The agency has a master list of all RIAs, except for those that are state-registered.
Yet, the SEC list is not universally considered user-friendly. BrightScope, Inc., of La Jolla, Calif. created Advisor Pages to close this gap and some companies, like RIA Database, have modified the SEC's data with some success. Clark, In answer to a question after his speech today, said he was hopeful that Schwab would one day generate an online list in which you could enter a zip code to find an advisor. See: BrightScope's huge advisor database is first search-engine friendly way to connect consumers, advisors.
Another criticism leveled at Schwab's past efforts is that they tend to start strong but peter out.
Forman says that Schwab hasn't put a timeline on this program but that it has funding in place at least into next year and that "millions" in terms of dollars and resources have been allocated to the effort.
"There's a commitment all the way up to Walt Bettinger (CEO of Schwab)," she says.
A question of allegiance
One thing Bettinger and other Schwab executives know for sure is that these kinds of efforts show good faith to Schwab's 6,600 RIA clients with their more than $700 billion of assets in custody. See: Schwab Advisor Services is nearing $800 billion of RIA assets but analysts are split over whether it can continue to dominate a harmonious atmosphere is important, especially with the tension among Schwab's various channels – including one offering advice directly from its branches – according to Hart.
"Schwab has always had a bit of confusion because of branches. There's always a question of allegiance."
In his speech, Clark said that his company is looking beyond itself with the "RIA stands for you" campaign.
"It's not about Schwab, it's about independent advisors," he said.
Timothy Welsh contributed to this article by e-mailing excerpts from Clark's San Diego speech to me in near real time here in Mill Valley, Calif. Thank you, Tim.
Editor's Note: Comments from Fidelity and TD Ameritrade were added after original publication of this article.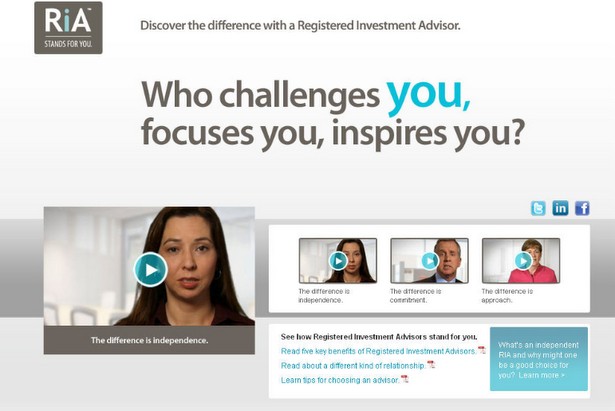 Sneak peek at Schwab's website
---
Mentioned in this article:
---
---
Share your thoughts and opinions with the author or other readers.
Elmer Rich III said:
September 19, 2011 — 6:54 PM UTC
We are aggressive marketers for our clients. Many are RIAs. We are total bulls on the importance of RIAs. However, we are cautious, for our clients, on spending to create and "push" market demand – as opposed to responding to a bottom-up demand/"pull" from the investors.
The difference is data. We assume there is growth data suggesting that the demand for RIAs is a solid trend and that it will benefit from building awareness. — among investors. This story has the anecdotes and stories — but the data, not stories, will better predict results of this spending.
Now, there are other "clients" for Schwab which is the advisor. This campaign should help raise Schwab's brand awareness in the hyper-competitive world of custodians.
Finally, we are seeing more research and data pointing to local, metropolitan business development and marketing campaigns and strategies as more powerful than national campaigns. For example, voters make their decisions based on local relationships and communications, not national campaigns and media. The evidence appears to support that as a more effective strategy.
But any spending to help investors is a good thing.
---
---