Frank Germack: We wanted to show performance and we also wanted the ability to aggregate accounts as part of it.
Mammoth RIA Rehmann Financial is getting the VIP treatment from Orion Advisor Services after signing a deal with the software company to provide it with performance reports, according to an announcement made today.
The Saginaw, Mich.-based RIA, with its 10,000 accounts and nearly $2 billion in assets, is now one of the Omaha-based Orion Advisor Services' top five clients. See: Orion wins software accounts of two $1 billion-plus firms – one a broker-dealer and one an RIA.
Before switching to Orion, Rehmann used Black Diamond Performance Reporting, but was seeking more expansive reporting capabilities, Germack says. The company is now using Orion for trading, rebalancing and reporting performance. See: What four beta testers of Black Diamond's new software have to say about it.
Black Diamond still maintains a relationship with Rehmann for a portion of the assets, says Dave Welling, chief solutions officer of Black Diamond.
"Rehmann is currently a Black Diamond client and we continue to provide daily service for over $300 million of Rehmann's overall business. This has not changed since they formed an additional relationship with Orion for some of their other advisors. As with any client we are committed to continuing to serve them and providing a great experience."
Looking to make a change, the rapidly growing RIA looked at Advent Software and Tamarac but ultimately decided that Orion could offer additional customization and top-notch customer service to its 40 advisors. The company moved its custody account to Royal Alliance last year. See: How Royal Alliance won a big-time RIA after a string of losses.
Top of the heap
"We're getting the top level of service given the size of accounts we have," says Frank Germack III, director of the capital management group for Rehmann. "If we'd chosen someone else like Advent we'd be in the middle of the pack in terms of their clients."
Advent also could not be reached for comment but we will add their response if we hear back.
As big as its RIA division is, Rehmann is primarily a CPA firm – the 41st largest in the United States – with 600 professionals in 17 offices in Ohio, Indiana, Michigan and Florida. Its 40 financial advisors are sprinkled throughout those offices. Rehmann also provides wealth management capabilities to CPAs outside its firm on an outsourced basis.
Orion has 275 to 280 firm-clients and oversees more than $60 billion in assets. The technology company provides trading operations as well as rebalancing services to help advisors match up data between their portfolio accounting and trading systems.
Big accounts comped
Company officials from both firms declined to specify details of the deal, which they inked a few months ago, but Germack does say that its advisors won't have to pay for larger accounts; Rehmann will absorb charges for accounts with between $250,000 and $500,000 in assets. Advisors will, however, have to pay Rehmann for services rendered to its more modest accounts.
"It's a very customized software," Germack says. "And we consider it a premium offering in this space. We recognize that it's not cheap. They do charge us by accounts and we want to limit our costs where we can."
Welling says in an e-mail that his company does plenty of customization.
"Our performance reports and our web-based platform are both highly customizable. Our performance reports are customized for each client and in many cases multiple customized reports for firms as large and diverse as Rehman. All of our reports can be branded firm and team names and provide the ability to add custom commentary."
Indeed, Orion charges the same fee regardless of account size – on average, about $50 to $85 annually. But the firm offered favorable pricing to Rehmann given the volume it was bringing to the table, says Eric Clarke, president of Orion.
"Rehmann is growing and acquiring new firms. We're hopeful the technology will enable their large scale and that as they're doing acquisitions this technology platform will grow with them," Clarke says.
Bells and whistles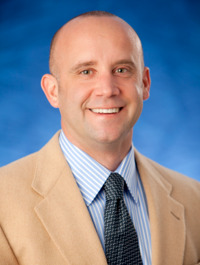 Eric Clarke: There's just so much
market share out there.
In addition to Orion's rebalancing and reporting capabilities, Rehmann also liked Orion's ability to generate branded and specialized reports for clients that include Rehmann's logo and the firm's disclosure statements. "We wanted to show performance and we also wanted the ability to aggregate accounts as part of it," Germack says.
In the past, Rehmann had sent out reporting documents from its custodians.
"[Now] we can create a handful of reports that we can repeatedly use for clients and we can have them e-mailed or sent in the mail," he says. "We have the ability to get it out to them and change it any way we want to.
This system also allows Rehmann advisors to generate reports which consolidate clients' entire accounts showing total household performance graphs as opposed to just separate accounts.
Compliance capabilities
Rehmann was also enamored with Orion's tools for trading capabilities.
"A lot of our assets are discretionary and Orion will help us make sure we're trading efficiently… and properly," Germack says.
While it's not a compliance software, he says the company can use Orion to monitor advisors' trades, ensuring that they meet compliance standards.
"It's not replacing compliance but it generates reports and creates a new window into the activity and ability to sort through the data in numerous different ways," Germack says.
Integration
The integration of the new system, which has been going on for the last month, has gone smoothly and is nearly wrapped up, Germack says, with majority of RIA's clients hooked into the new system.
"We're just about there," he says. "We're going to ramp up some of the trading features. We're close to having everything added."
The companies are also putting the final touches on integrating the new software with Rehmann's CRM, Junxure. The two systems mesh well together, Germack reports.
Growth spurt
Orion has seen a growth spurt of late due to advisors who are seeking Internet-based, as opposed to desktop-based, solutions, Clarke says.
"There's just so much market share out there and that's a huge advantage we have. A lot of advisors are saying that they don't want to host desk-top software and deal with servers. They want to outsource it."
Editor's note: The Black Diamond commentary was added after publication of this article.
---
---
Mentioned in this article:
Junxure
CRM Software
Top Executive: Greg Friedman
Envestnet | Tamarac
Portfolio Management System, CRM Software, Trading/Rebalancing
Top Executive: Stuart DePina
---
---
---
Lisa Shidler
August 23, 2011 — 6:36 PM
Hey Bill, The implementation of this deal is relatively new. They're actually still integrating Orion with their advisors and are still wrapping up integration with CRM, etc.
Bill Winterberg
August 23, 2011 — 2:47 PM
Rehmann Financial has been using Orion Advisor Services since at least February 2011, according to a white paper issued by Laserfiche. This article makes it sound like this is a new deal.
Nevertheless, it's good to highlight service providers that the larger firms are selecting for their back office platforms.