Linda Strachan was one of the founding team members of EISI when she was a PhD student under Mark Evans at the University of Manitoba.
What does domination of a software niche look like?
We talk about companies like Advent Software, CRM Software (Junxure) or iRebal as dominators of portfolio accounting, CRM or rebalancing software, respectively.
Yet the reality is quite different. Advent must fend off Schwab PortfolioCenter, Morningstar Office, Orion Advisor Services and others. Junxure has Redtail Technology, SalesForce and Microsoft to contend with. iRebal has its hands more than full competing with Tamarac and RedBlack Software, to name only two.
Perhaps the last true player with something of a monopoly in the advisor-business niche goes by the nondescript name of Emerging Information Systems Inc. with its better-known brand name software, NaviPlan.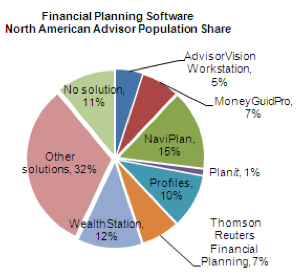 Source: Aite Group
Counting its other financial planning software, Profiles, which the Winnipeg, Canada-based company acquired in 2006, EISI has some 250,000 users across the various advisory channels. A 2010 Aite Group report, Evaluating Wealth Management Platforms: Financial Planning at the Core, said that these 250,000 users account for 25% of the financial advisors that are candidates for using financial planning software. This is more than the next three competitors — SunGard Wealth Station, MoneyGuide Pro and Thomson Reuters combined.
Linda Strachan, senior vice president of product marketing for EISI, says Profiles, which accounts for 100,000 of those users, is more sales-oriented, and NaviPlan generally more analytical, and that the company intends to keep the products separate.
About 20% of EISI's business is from RIAs, and the company has seen 11% growth since this time last year.
Its ubiquitous presence is even more impressive considering its product is considered neither cheap nor easy to learn. One license for one year costs $1,395. An EISI competitor, Figlo, says recent converts from NaviPlan reported having taken about three weeks to learn the software. EISI executives that we interviewed did not strenuously argue the point.
"Clearly this is the time when they need to make adjustments given the competition in this space from brand new entrants (Figlo) and newer entrants (MoneyGuidePro for ex.) that are appealing to brokerage firms because of the more user-friendly / less complex interface," Sophie Schmitt, senior analyst for Aite Group, said in an e-mail.
"I think they have staying power given the strength and history of their relationships and the fact that they now have capabilities to better meet the needs of a broad range of financial advisors, from the ivory tower planner to the branch-based financial advisor who uses financial planning as a sales tool, to get to a sale within a half hour," she adds.
"For fee-based planning nobody's going to touch [NaviPlan] when it comes to the depth of coverage and the ability to show the client the various alternatives at a level of accuracy that's going to really lend confidence," says Denis Martineau, senior vice president of business development for EISI.
Complexity in an ADD world
Yet Martineau and his colleagues are determined to maintain their company's towering market share in the face of worthy competitors in the financial-planning software world including MoneyGuidePro and eMoney, not to mention notable upstarts like Figlo.
To do that, EISI is paying closer attention to its reputation for complexity in an attention-deficit-disorder world.
"We have an old reputation for being hard to learn because there are a lot of capabilities," Martineau said when I asked him to respond to Figlo's angle of out-simplifying NaviPlan. See: Former Microsoft executives are out to make Figlo compete with EISI.
EISI's products were fairly complex from the beginning. When the company got started in 1990, Mark Evans, who was a computer science professor at the University of Manitoba, and his students – including Strachan – had been researching how to put financial planners out of business by coming up with the right algorithm.
When it became obvious that this wasn't in the cards, the team decided to create tools to help advisors automate the process of planning. The company and came out with its first commercial product – a sophisticated, cashflow-based engine called TIMS (which later morphed into NaviPlan Extended) – in 1995.
Bells and whistles
When Royal Bank of Canada asked for a simpler version of the product, EISI created a goals-based, average tax option, dubbing it NaviPlan Standard. Over the next ten years, users of Standard asked for more and more functionality and so EISI slowly put the bells and whistles back in.
Eventually, many of EISI's clients had users on both Extended and Standard, so the company merged the two back into one product called NaviPlan Select, which came out in 2010 and allows users to choose the simple or the sophisticated approach, according to Martineau.
Since Select is pretty flexible, it looks like a different application to different users depending on what they are entitled to do in the system. Select offers four types of plans called, in ascending order of complexity, Asset Allocation, Financial Assessment, Level One, and Level Two. In addition to the four levels of plan that NaviPlan offers, Martineau says there are many capabilities under the hood that make NaviPlan different from its competitors, including bracketed state tax functionality and depth of cash-flow detail.
EISI also has another completely separate financial planning application, Profiles (formerly Financial Profiles) that it acquired in 2006 and which has about 100,000 users, compared to about 150,000 on NaviPlan.
Integration
EISI was able to achieve this kind of scale by forming deals with several companies with dominion over armies of financial advisors. It leveraged the little-known Winnipeg connection; Great West Life and Investors Group (the former IDS with 6,000 advisors across Canada that operate from their own offices) made their homes there. EISI was also selected by Fidelity Investments in 2001 and Pershing in 2002. It has since been integrated into Pershing's NetX360 and Fidelity's WealthCentral.
Both NaviPlan and Profiles are maintained by EISI's 250 employees, and, although the systems are very different, once an outside product is integrated with one it can just as easily work with the other.
When asked about a possible integration with Advent Software (mentioned by Advent president Peter Hess in an earlier interview), Martineau says talks between the two companies have recently accelerated after a period of little progress due to other projects.
Figlo-esque
Strachan gave me a demo of NaviPlan Select. Also on the line was Melissa Mendoza, a financial planner at William Blair & Co., an investment bank with a total of $46 billion in assets under advisement. She says the company uses NaviPlan Select for clients with more than $10 million in assets, and SunGard WealthStation for clients with less than that.
The simplest type of plan really did seem Figlo-esque in nature, if somewhat less eye-catching. "It's still using a complicated engine underneath, but it is simple," says Strachan.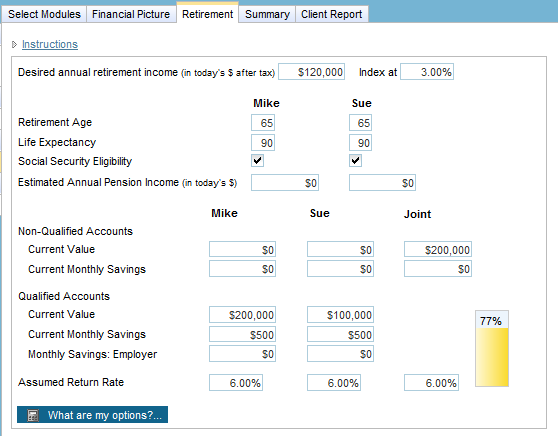 The most basic interface for creating
a plan in NaviPlan
Users can start a plan on the simple level and upgrade it to a more advanced level after the fact. In addition to the ability to create a plan on a variety of detail levels, most data fields have a "details" button that allows more fine-tuning when needed, including control of return rates and standard deviations for individual assets.
"It's great because it has an incredible amount of flexibility in terms of the cash-flow inputs – we customize timing and taxation of flows, as well as the inflation factor," says Mendoza.
I asked Mendoza: If it's easy to keep things simple, why doesn't William Blair just use NaviPlan Select for all of their clients?
"There's much more comprehensive functionality in NaviPlan – in the other system we use we don't have to enter as much data," she said.
But it turns out that the simple type of plan in NaviPlan really doesn't require much extra information, and at the end of the demo Mendoza was pleased to know that the application she'd been using the whole time is capable of handling the simple cases.
NaviPlan also has an even simpler interface, called Presentation View, which is meant for walking clients through their plans. It looks like a PowerPoint presentation, but includes input fields in some slides that are fully functional, so that as the advisor presents the plan it can be updated on the fly. Click on this screenshot to see more images of Presentation View:
A bit cheesy
The slides in the demo presentation were fairly cheesy with enough stock photos to include someone of each gender from every possible ethnic background. But although not aesthetically pleasing, the concept makes a lot of sense and looks like an excellent way to go over plans with clients, especially on a tablet like the iPad.
Slideshows for Presentation View can be customized, but unfortunately for RIAs, this is only available to EISI's large enterprise clients at this point. The company is in the process of building a simpler slide editor that will be suitable for smaller advisors, according to Martineau.
Running Presentation View on a tablet is made possible by the fact that NaviPlan is both a desktop and a web application, so it will open in any web browser.
Once an advisor has all of the client's information entered for a plan, NaviPlan's Scenario Manager – a new feature in Select – allows the advisor to analyze and alter possible plans. The advisor can create alternate plans, and is also shown one default alternate plan generated by NaviPlan's asset allocation engine.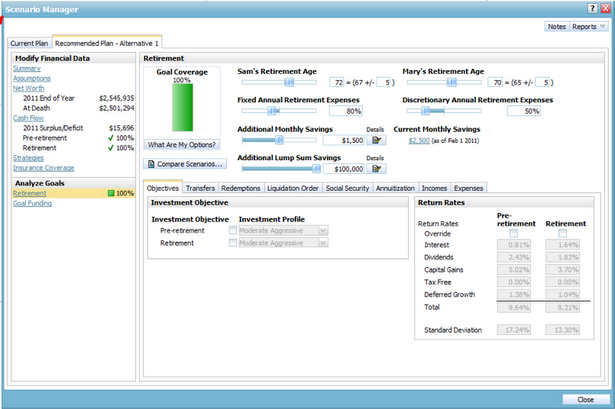 The Scenario Manager screen allows the
fine-tuning of alternative plans
"It's nice to have it in one place as apposed to duplicating the plan," says Mendoza.
The default allocation models are powered by Ibbotson Associates, now owned by Morningstar, but advanced users like Mendoza can configure their own asset classes and investor profiles. About 50% of users customize, according to Strachan.
---
Related Moves
December 20, 2021 – 11:59 PM
---
---
Mentioned in this article:
Aite Group
Consulting Firm
Top Executive: Frank Rizza
---
---
---
Alex
November 7, 2011 — 8:03 AM
See how NaviPlan and other mentioned in the article products stack up against about 30 other retirement planning tools on www.retrian.com/compare.jsp . Emphasis is made on advanced features related to asset allocation, retirement risk analysis, and optimization.