Harry Jones: We went through an exhaustive search.
Brooke's Note: In 2010, we wrote profiles of all the major asset custodians and called it our Asset Custody Project. Some of the profiles are starting to get a little out of date so we're reworking and updating them. Here is the first revamp that we have completed and Dina's reporting has produced a wealth of new information.
In 2007, Mark Tibergien assumed the helm of Pershing Advisor Solutions with the ambitious goal of skimming the biggest and most sophisticated RIAs and family offices in the business and becoming their primary custodian.
To win these premier accounts, and to gain ground on the three major custodians currently besting PAS, Tibergien sought to position the unit as an industrial-strength business-to-business specialist offering superior client service, a familiarity with alternative assets, the backing of a major bank and a versatile platform able to accommodate myriad and expanding varieties of wirehouse breakaways. See: Mark Tibergien is making Pershing an industrial strength custodian with an RIA service touch.
90 to 100 firms
Tibergien intends to hew to this strategy and so far it seems to be working: In 2010, 98 RIAs joined PAS with an average commitment of $180 million of assets under management. That's up from 35 RIAs in 2009 and 24 in 2008. Tibergien estimates that PAS's acquisition of RIAs will continue at the same pace in 2011; he expects 90 to100 firms to come aboard this year.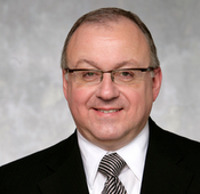 Mark Tibergien: The fact that most
of these firms use alternatives assets
is a good example of our
institutional orientation over retail brokerage. Our
capabilities around international, cash management, fixed
income also is consistent with their
needs.
Pershing Advisor Solutions' largest client has $3.5 billion on the PAS platform and its largest advisory firm has almost $40 billion in AUM, according to Tibergien. PAS prefers not to name these clients, according to Paul Patella, vice president of public relations.
Tibergien is casting a particular eye to offshore concerns. Latin America represents a big growth market in this area, he said in an interview, adding that 30% of the accounts PAS handles are beyond U.S. borders. "We'd like to get that up to 40%," Tibergien said.
'Primary' concern
PAS is making slow-but-steady progress in convincing large RIAs and family offices to use the unit as its primary custodian. In the last year and a half, four such RIAs with assets under management ranging in size from $750 million to $11 billion have signed on with PAS. Those firms are: Pathstone Family Office Based in Englewood, New Jersey; Balentine LLC, of Atlanta; Edge Capital Partners, also of Atlanta; and Fieldpoint Private Bank & Trust, of Greenwich, Conn.
This begs the question: Can PAS continue to carry out the all-but mission impossible of enticing mammoth-but-entrenched RIAs away from the three major custodians – Schwab, TD Ameritrade and Fidelity – who currently lead the field? See: Tibergien uses brutal honesty to captivate big Schwab RIAs and others at San Francisco event.
Absolutely, says Tibergien. "We made a major departure from the retail-based discount brokerage firms by emphasizing our B2B approach. We also refined our strategy to focus on professionally managed, growth-oriented advisory firms that serve clients with complex lives. The fact that most of these firms use alternatives assets is a good example of our institutional orientation over retail brokerage. Our capabilities around international, cash management, fixed income also is consistent with their needs," he said in an e-mail. See: Pershing is working to create a better alternative assets experience.
Edge Capital Partners, one of the firms mentioned above, signed on with PAS about a year ago and custodies half a billion dollars of its $1.2 billion of AUM with Pershing. Edge's 50 clients have their choice of a dozen custodians. When they have no preference, the account defaults to Pershing.
The Atlanta-based firm chose PAS after its previous primary custodian, JPMorgan, was sold to RBC. See: RBC is checking every box to ensure it acquires the JPMorgan RIA unit intact.
Schwab out of contention
"We went through an exhaustive search," says Harry Jones, Edge's partner and portfolio manager. Schwab was knocked out of contention immediately because it was not attached to a well-known bank and Edge felt it was behind the curve on hedge funds and other alternative investments. The field then narrowed to Fidelity and Pershing.
"We had some had prior experience [with Pershing]," says Jones. "We felt comfortable with the team, which was [detail-oriented] and professional."
Edge also liked the fact that custody was PAS's core business and believed that its connection with a big bank like BNY Mellon was reassuring to clients.
Although the yearlong relationship with Pershing has been a positive one for Edge, it has not been seamless. And the trouble spots, perhaps surprisingly given Tibergien's emphasis on personalized service (see below), have been in that just that area.
Jones says that employees joke about "the Pershing robots," referring to the automated responses advisors get when they call for assistance. "Sometimes you want a person on the phone," he says.
Also, Jones says, "It often it takes a long time to get something approved properly," especially in matters relating margins and lending.
Bossiness
"More often than not [the service liaison's] hands are tied. The relationship person calls their boss, who calls their boss, who calls their boss," he says.
But in other areas related to service, Jones reports that PAS shines. "We trade ETFs often and one person is dedicated to entering client orders onto NetX360. If that person isn't there, we call Pershing trading desk and they do it for us."
Overall, the positives far outweigh the negatives, Jones says. "Client accounts are reconciled to the penny every day from a direct feed from Pershing." Edge finds the Advent Software record-keeping system straightforward and easy to operate. Additionally, "[PAS] is competitive when they need to be for things like margin loans and release rates." Edge is also pleased with the NetX360 platform. See: Nevin looks under the NetX360 hood after it gets 100,000 new users and some overhauling.
"In the short period of time we've been with them, they've made improvements," Jones sums up. "They're committed to investing in [our] business."
Customer Service
"When you disrupt the way [an RIA] does business you need an emotional connection to the client," Tibergien says. "We say to owners of [advisory firms], 'We recognize you're running small business, we want to do it better. Just reducing price and doing the same thing doesn't do it.'"
Another way PAS competes in the customer service arena has been to actively recruit from Schwab, which is, Tibergien allows, the gold standard in that area. On the theory that "if you can't beat them, hire them," PAS has so far lured 19 Schwab client service liaisons to its center in Orlando.
Tibergien says his unit gives clients an average ratio of one client-service liaison to eight clients as opposed to the 1-to-75 ratio of the other major custodians.
A spokeswoman from Schwab responded in an e-mail: "We believe that good service is not only based on the number of people providing it, but also by the quality of services those people provide. No one in the industry has more people dedicated to serving the needs of independent investment advisors than Schwab."
A Fidelity spokesman said in an e-mail: "Every organization has its own structure and processes based on the size of their client base, so they cannot be directly compared. That said, Fidelity's advisor clients not only have a relationship manager, but each one works with a dedicated team of operations, technology and other business consultants. This team works together and sits together in a single location – a service pod – so that advisors can intimately know each member of the group. Collectively, they have the expertise to service an advisor's full spectrum of needs – a task that we believe one person cannot accomplish."
A spokeswoman from TD Amertrade said in a e-mail: "Client satisfaction is at an all-time high at TD Ameritrade Institutional and we continue to grow existing relationships. But, like any good business we're always looking to enhance the advisor experience. TD Ameritrade has the scale and operational efficiencies to effectively service advisors of all sizes whether it's a one-to-one relationship or through small dedicated teams. Our goal is to exceed advisors expectations at every level from the emerging advisor to billion-dollar advisor."
Products
Pershing has continued to invest in its open architecture product platforms across mutual funds, money market funds, alternative investments, managed accounts and annuities. In June, Pershing launched a no-transaction fee alternative investment platform to complement its existing alternative investments offering. See: Pershing is working to create a better alternative assets experience.
In September, Pershing will launch the Corestone Account, a central cash management account.
In addition, Pershing continues to develop wealth management products including non-purpose lending capabilities in 19 countries and 42 states and integration with five trust companies.
Technology
Pershing clearly considers its tech platform, NetX360, which is designed to create a single platform for transactional and fee-based business, as the jewel in its crown. At Pershing's INSITE conference in June, the firm proudly announced that almost 100% of RIAs have migrated to the platform since it was launched in 2009. See: Pershing believes its case for NetX360 as the Apple equivalent for advisors is solid.
Pershing has also announced that the Android version of the system is up and running as is NetXClient, its end client portal for iPhone and iPad. NetXClient allows advisors to create customized websites for clients to view their portfolios. See: Pershing keeps ahead in the mobile space with an Android app and mobile trading.
The company also touted NetX360's open architecture that allows for third-party solutions, and its partnerships with firms that provide customer relationships management applications and performance reporting tools like Albridge, Redtail Technology and Black Diamond Performance Reporting, among others.
In an interview, Suresh Kumar, chief information officer BNY Mellon and Pershing, reported that the a web-based version of the platform, NetX360.com, is currently in beta testing and is expected to go to public beta by the end of the year.
Believing that the ability of RIAs to outsource their technology is a crucial selling point, Pershing CEO Brian Shea announced at INSITE that the firm is committed to investing $350 million in technology over the next year.
Wild card
Pershing's recognition of the importance of the hybrid-breakaway-advisor trend is highlighted by the fact that PAS and BNY Mellon Wealth Management's national custody division, which was revamped a year ago to serve ultra-high-net worth clients with $500 million or more in investible assets and high-end family offices, have joined forces. See: After trying life as two silos, the custody units of BNY Wealth Management and Pershing will largely merge.
At INSITE, Tibergien and Shea confirmed that BNY Mellon Wealth, headed up by Dan McCarron, and PAS are now pulling in tandem, co-presenting to prospects, planning a joint marketing campaign and knitting together their platforms.
There is a bit of mystery, however, as to how the two entities are recording their earnings. Pershing reports that PAS and BNY Mellon Wealth Management currently have a combined $93.7 billion in assets and 652 RIAs.
"When we have been asked what the combined value would be, we have given that figure," wrote Patella in an e-mail, "But BNY Mellon Wealth Management and Pershing do not formally report (e.g. for earnings) together." The 2010 earnings for PAS, he said, are separate from those of BNY Wealth.
Certain reasons
In an interview, Tibergien stressed advantages of the PAS-BNY Mellon Wealth collaboration. "It's a good partnership in an era of hybrid advisors. Almost all RIAs require bank custody solutions," he said. "There are certain reasons – some regulatory – why end clients require a bank custodian rather than a brokerage custodian. We're a brokerage custodian owned by a bank."
Tibergien added that family offices with sophisticated and varied needs could especially benefit from the partnership.
| | |
| --- | --- |
| Name of custodian: | Pershing Advisors Solutions |
| Address: | One Pershing Plaza Jersey City, NJ 07399 |
| Phone number: | 800-445-4467 |
| Founded: | 1999 as Investment Manager Services and relaunched as Pershing Advisor Solutions in 2006 |
| Parent company: | Pershing LLC, a BNY Mellon company |
| Total Assets in custody: | $93 billion |
| Number of RIAs using platform: | 654 |
| Head of RIA custody business and executive's starting year with the company: | Mark Tibergien 2007 |
| Head of RIA sales and relationship management starting year: | Jim Dario 2008 |
| Name of RIA technology platform: | NetX360 |
| Date of last major update on tech platform: | June 2009 |
| Minimum assets for advisors: | $100 million with exceptions for fast-growers and RIAs with more assets to follow |
| Size of biggest advisory client by assets: | Largest PAS client has $3.5 billion on the PAS platform. Largest advisory firm that has a relationship with PAS has almost $40 billion in AUM. |
| Custody fees [including fees for RIAs that fall under the minimum]: | none |
| Brand names of [now defunct or soon to be] custodians absorbed by custodian: | Neuberger Berman's RIA custody business |
---
---
---
Frederick Van Den Abbeel
Almost all RIAs require bank custody solutions," he said. "There are certain reasons – some regulatory – why end clients require a bank custodian rather than a brokerage custodian. We're a brokerage custodian owned by a bank."
I agree with Mr. Tibergien quote above for the same reason TradePMR's custody services have selected to partner with First Clearing LLC / Wells Fargo Bank.
Many of the Wirehouse Advisors for the longest time are able to leverage both bank, trust and traditional investment services and for RIAs to compete — such capabilities are essential.
Wonderful article!
Mike Byrnes
Mark Tibergien is one of the industry's best leaders and this article is evidence that his leadership is paying off!
Mike Byrnes, President
Byrnes Consulting, LLC
http://byrnesconsulting.com/
http://twitter.com/ByrnesConsultin