Scott Couto takes over from Peter S. Cieszko.
Fidelity Investments today named Scott E. Couto as president of its product platform for financial advisors.
As part of the move, the Boston-based company has renamed the unit Fidelity Financial Advisor Solutions. It was formerly known as Fidelity Investments Institutional Services and it also distributes 401(k) products to advisors.
Like many mutual fund companies, Fidelity is showing that it is aware of a sea change in the financial industry away from selling products and toward selling more customized advice.
"It's not so much focused on product but on the overall solution," said Steve Austin, spokesman for Fidelity. For instance, the group will work more closely with advisors to develop retirement plans for investors. See: Fidelity sees potential 401(k) rollover magnet for RIAs: retirement income plans.
Fidelity Financial Advisor Solutions works with more than 4,000 financial institutions and 54,000 advisors, with assets under management of $385 billion.
Mike Byrnes, president of Byrnes Consulting LLC, says Fidelity is making a sensible move with the re-branding.
"Seeing the RIA growth will continue to accelerate, the 'Fidelity Financial Advisor Solutions' name change makes sense," he said "The new branding will better align with advisors, who do not consider themselves retail or institutional."
Prior to his new position, Couto served as interim leader of the division. He previously had held the role of executive vice president, product management and marketing. In that role, he led a team that oversaw the firm's product suite, investment consulting services, product analysis and marketing.
Couto replaces Peter S. Cieszko, who left Fidelity in January to "pursue other interests." He had held the role for about two years. In June, he joined Kansas City, Mo.-based American Century as its senior vice president.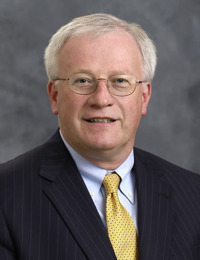 Gerald McGraw likes Couto's strong leadership.

Strong leader
Gerard J. McGraw, president of Fidelity Institutional, liked what he saw of Couto's experience in the mutual fund industry and how he handled his interim assignment with Fidelity.
"Scott has been a strong leader during his time with Fidelity, combining his 20-year career in the asset management industry with his wealth of experience in the intermediary market, to deliver new products, insights and services to our advisors. His continuous focus on the needs of our intermediary clients as well the end investors they serve will further strengthen Fidelity's focus on service excellence," he said in a statement.
Couto reports to McGraw, who leads the Fidelity Investments business that offers clearing, custody and investment management products to financial advisors.
Prior to joining Fidelity in 2009, Couto served in multiple roles with Evergreen Investment Management Company, LLC. Most recently, he served as chief operating officer and was responsible for leading the U.S. intermediary business, including mutual funds, separately managed accounts, sub-advisory and retirement markets. Before joining Evergreen, Couto served in a number of product management and investment strategy capacities for Liberty Funds in Boston.
---
---
---
Elmer Rich III
Is there data RIA "growth is going to accelerate…"? Our understanding is that the growth is flat. Also, worthwhile considering what the leaving of Peter Cieszko indicates.