News, Vision & Voice for the Advisory Community
The ex-Wachovia team creates 'bionic' advisors, tucks in advisors, poaches advisors and does free work
July 21, 2011 — 2:09 PM UTC by Steve Garmhausen
In seven years, wirehouse breakaways Chris Costello and Kevin Conard have increased their firm's AUM from $23 million to $320 million. They've done it in part by ignoring conventional wisdom — working for free — and by creating a decisive mergers and acquisitions strategy. Now, with 550 clients and seven advisors, they're looking to fine-tune the business while continuing to scout purchase targets.
Names: Chris Costello, CEO; Kevin Conard, President
Firm: The Retirement Planning Group
Location: Overland Park, Kansas
AUM: $320 million
Years in business: 7 (post-breakaway)
Broke away from: Wachovia
Primary custodian: Schwab Advisor Services
SG: Chris, how did you and Kevin move from the wirehouse world to where you are now?
CC: Kevin and I both were at PaineWebber, which was then bought by UBS. We left and went to Prudential, and we were there when Wachovia bought Prudential.
There, it was a situation of turning lemons into lemonade. We had partnered in late 1999, and pretty early on we had it in our minds that some point we'd be looking to go independent. We were so unhappy with Prudential and Wachovia that we moved up our timetable as far as going independent.
After a year and a half there we started planning to break off and form our own company. On Feb. 13, 2004, we left and started The Retirement Planning Group. It was the day after Facebook began operations, and we joke that we're yet not as big because they had that extra day.
Prospects but no pay
SG: Along the way, you and Kevin had broken an unwritten rule about being paid for your time.
CC: At the time we were leaving, we had about 115 clients who we wanted to come with us; we ended up bringing 113, with about $23 million in assets. But we'd spent the bulk of the prior two years meeting with a lot of prospects who had decent-sized portfolios in their retirement plan at work, but nothing they could move to us. We spent a lot of time developing detailed retirement plans for these people, hoping that when the day came that they retired, we'd be ones they chose.
These were pretty exhaustive plans we were putting together for people. We treated them just like clients; we advised them on 401(k) allocation, refinancing mortgages, saving for college. We helped then with everything. We used to jokingly call ourselves a not-for-profit business.
But we were confident that we'd get a good percentage of those clients, and starting about 2006, a good portion of these folks started to retire, and the floodgates opened. We estimate the conversion rate is 50% to 70%.
KC: That didn't necessarily put food on the table, but we felt it was the strongest way to build our business.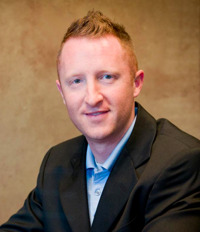 Kevin Conard: [Advising clients for free]
didn't necessarily put food on the
table, but we felt it was
the strongest way to build our
business.
CC: In 2000, Kevin and I were in our mid-20s, but probably looked like we were 18 years old. Since we were so young, we wanted to elevate the perception of professionalism as high as we could. We made a decision back then we were never going to make a house call or an office call.
That raised eyebrows in the office. But in the last 11 years there's maybe been once or twice when somebody has had even the smallest bit of issue over the fact that we weren't going to go to their office.
Bionic advisors
SG: You've grown from $23 million seven years ago to $320 million today. How have you done it?
CC: In a variety of ways. Initially, we took two people with no experience in the business [Ryan Costello and Rob O'Blennis] and groomed them to be financial advisors. Both started as our assistants, essentially our secretaries. For two years, both of them acted as our operations persons; we taught them the business, let them sit in on meetings with clients and had them read a lot of good information. We call it creating the bionic adviser. Both came without any bad habits, so we got a blank canvas to create the right way to do business, a holistic approach focusing on managing client behavior first and foremost, not product-focused or chasing performance but building relationships with clients.
Then we let them start prospecting and building their own books. Today Ryan is up to about $39 million of assets after four years, and Rob, who has been at this for three years now, has $15 million in assets. Both are growing at 20% per year, which is our firm's minimum growth hurdle for net new assets.
Misery a motivator
SG: Acquisitions have been part of the equation as well, right?
CC: Starting around 2008, Kevin and I felt we had a very compelling story we could tell to potential breakaway brokers, given our experience at wirehouses. We understood the misery a lot of them were feeling.
We decided to start marketing to brokers who wanted to go independent but did want start their own firm. We attracted a two-man team from UBS. David [Dreher] is a 60-year-old guy and Tom [Boling] is 30. We recruited them over in May of 2009; they brought about $40 million from UBS. That has been a nice addition to the firm. It was nice to bring over someone with a lot of gray hair; it kind of gave our firm a little more depth.
Following that, we decided we had a good angle on acquiring other RIA owners. We felt we had the capacity and enough experience; we'd purchased a building and had some space we could grow into. We put feelers out to other local Schwab RIAs. We spent two years getting to know Roy [Fortner] and his approach to business. Roy had retired from Hallmark at age 55, then started his business, which had $50 million of assets and 80 clients. We were finally able to consummate a deal with him in the summer of 2010.
Going forward, we're definitely still keeping our eyes open for other people like Roy—RIA owners getting within five years of the finish line who don't have a succession plan. One thing that makes us a little unique in terms of the recruiting side of things is that we've designed a compensation package where the advisers are involved in phantom stock ownership. When you add it all up, the payout these guys are getting starts getting very, very close to the payout you'd have if you just started your own firm. We can get by doing that because we operate very efficiently; we're big users of technology to leverage our time and resources. We watch expenses very closely and try to be smart about capital expenditures, etc. It allows us to have more competitive payouts.
Room to grow
SG: What is your biggest challenge right now?
KC: Some advisors are starting to run into some capacity issues. We still have room to grow we could see in three years. We limit the number of clients each advisor works with so the advisor can manage relationships appropriately. Ultimately, that's going to be an issue for us, addressing the referrals that don't stop coming in the door.
CC: One other thing: We just got some results back from a Schwab benchmarking study; I'm not pleased with the number of clients we have and the average assets of our clients. We need to as effectively as we can, work over the next five years to raise the average assets of our clients. We've got some advisors hanging on to small clients that are eventually going to be a drain on the staff and resources around here.
Worst day/best day
SG: What's been your worst day in the business?
CC: March 9, 2009. Our assets had grown from $23 million to $130 million over the course of about three years. Then we saw that fall all the way back down to $79 million. Just three years before, we'd purchased a 5.000-square-foot building and our rent had gone from $2,200 a month to $10,000 a month. And we'd just added about $100,000 overhead in staff. It was a very scary time. Kevin and I had to make some [contingency] plans: Who we'd have to let go, how we were going to make cuts, how we were going to get through.
SG: And your best day?
CC: Feb. 13, 2004, the day we were on our own. Kevin and I have not even for a millisecond looked back at that decision to go independent. It's the best thing we've done for our careers.
SG: Schwab is your custodian, but your list of candidates wasn't very long.
CC: We really only looked at Schwab and Fidelity. Our feeling was, we're a couple of young guys, and we're about to go ask our clients to entrust their financial futures to us. At a bare minimum, we should have a household name.
---
---
Share your thoughts and opinions with the author or other readers.
Frederick Van Den Abbeel said:
July 21, 2011 — 2:36 PM UTC
Wonderful RIA success story! Thanks RIABiz — great example of strategy and passion! Please continue to do more interviews like this one.
Barbara Kotlyar said:
July 21, 2011 — 7:13 PM UTC
Thanks for the article- great story. You said 'we're big users of technology to leverage our time and resources" Can you elaborate on what kinds of technology you use to help streamline your business?
---
---