Sam Vassa: I have clients who say they've spent three weeks learning NaviPlan — our philosophy is that you should be able to use a piece of software immediately.
Nevin's note: Figlo was all the buzz at T3 this year with its touch-screen demo of drag-and-drop financial planning. When I asked Figlo's president, Jenze Bosma, how many RIAs they had on the platform, he jovially replied "None!" and explained in a thick Dutch accent that T3 was their first contact with the U.S. financial planning market, but that they had big plans. Since then the North America sales team has been busy, so I was excited to get a full demo of the software last week and find out about big-league plans for distribution.
Figlo has been selling financial planning services for fifteen years in Europe, mostly in The Netherlands, where they have about 7,000 advisors and 2.5 million retail clients on their platform through the major Dutch banks ABM Amro, ING, and soon, SNS.
Since starting to market to U.S. advisors in February, Figlo has received quite a bit of interest: 200 to 300 RIAs are using the service, says Sam Vassa, CEO of Figlo North America, a daughter company with offices in Toronto and New York.
Vassa ran strategic alliances in capital markets at Microsoft for 11 years, and when he left two and a half years ago he says he was well aware that there was room in the U.S. and Canadian markets for financial planning software, and that it was a natural fit when Figlo approached him about investing in and managing operations for the North American branch of the company.
But RIAs can't buy directly from Figlo — instead, they have to go through a third party reseller. Pareto Platform, a vendor that has traditionally focused on selling an advisor-centric version of Microsoft Dynamics CRM, is the first reseller in North America.
"There is a reason I have chosen to partner with Figlo," says Brad Prodger, VP of strategy for Pareto and also an ex-Microsofter. "I used to run Microsoft's wealth management practice globally and was reliant on partners in different pockets of the world, including the Netherlands where they are headquartered. I can say from experience that they have architected the most powerful multi-currency stochastic planning engine on earth — crunches thousands of inputs in milliseconds."
"I have seen HaWaNeDo [the goal-based flow that Figlo uses: have, want, need, do] explode in Western Europe, realized they will do the same here in North America too and frankly if I were in NaviPlan's shoes, would have something to worry about," he adds.
Good to go
"I think we created a little bit of buzz [at T3], and we've had a lot of people approach us directly because the service is very easy to get on board with and start using – it doesn't require you to deploy any code or install anything or anything like that," says Vassa. "We've had a lot of users sign up and say 'yep, we're interested,' and start using the product immediately."
Figlo is banking on this "good-to-go" factor to differentiate itself from its competitors in a big way.
"I have clients that say they've spent three weeks learning NaviPlan – our philosophy is that you should be able to use a piece of software immediately, as soon as you log in," says Vassa.
To the moon
"We were always known as the most extensive engine," says Martineau. "In our first forays into [financial planning software], we had an interface that exposed all the functionality – that's a lot of buttons on the space shuttle, versus driving an Austin Mini – but we could get you to the moon," Martineau adds, referring to NaviPlan Extended.
"A lot of people know us for that, and we have an old reputation for being hard to learn because there are a lot of capabilities," he says. "We've since come out with different versions. We had a redesign and came out last year with NaviPlan Select, which is basically all the capabilities under the hood as NaviPlan Extended … but you can now expose the level of functionality that you want, so it's goals based all the way up to high end."
Have, want, need, do
The Figlo user interface takes a similar approach of hiding functionality until the user asks for it. Vassa showed me during a demo that most screens have a level-of-detail slider that the user can drag left or right to change the amount of nitty-gritty information they see.
This inexact approach – you don't know what kind of detail is hidden until you expose it – is somewhat foreign for a type of software that is so concerned with precision. But it struck me as highly functional and likely easy for an advisor's clients to understand, which is important, since the client portal in Figlo is actually the same interface.
Vassa says that the interface was engineered so that advisors and clients can use it side-by-side, and clients can access it from home in full detail any time they want.
"A lot of [financial planning] systems were designed not with the clients in mind, they were designed by [someone who is used to a spreadsheet view]," he says. "A lot of folks out there have grown up on Facebook and they've seen tools that are a lot easier to navigate with nice charts and graphs on other systems, so why not give them that experience for creating a financial plan?"
The Figlo interface follows a four-step goal-based flow: have, want, need, do (affectionately referred to as "HaWaNeDo" by the folks at the company). As you can see in the screenshot below, instead of rows in a table, a client's data are represented with what Vassa calls a "card-based metaphor."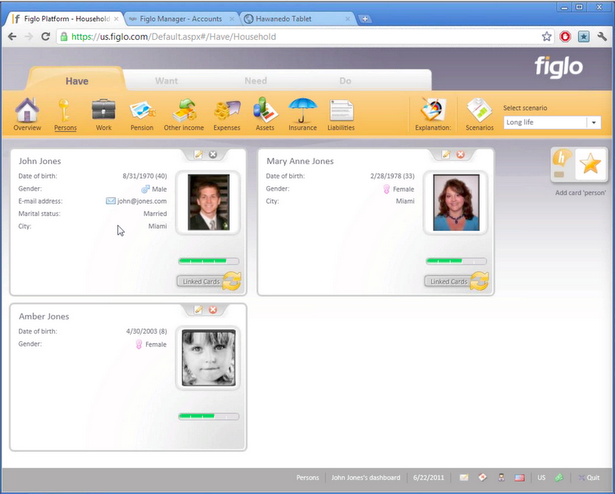 The Figlo interface has four sections:
have, want, need, do
'Almost cartoonish'
John O'Connor, principal of O'Connor Wealth Management in Pasadena, Calif., has been testing out the Figlo platform and says he's ready to sign up. Before now he hasn't used any financial planning software since he just switched to the independent, fee-only model a year ago after a long stint as a broker with Securities America.
He also looked at some of Figlo's competitors, including NaviPlan, and says that Figlo won out because it is "incredibly easy to use."
"Tech-wise, the older you are the tougher it is, and for an old guy like me it's very easy to use," he says.
O'Connor said his first impression of Figlo's interface was that it is "almost cartoonish," and he worried his more sophisticated clients would be unimpressed with the lack of detail. But after showing it to clients over the past six weeks, he says "every single one that's seen it has been positive."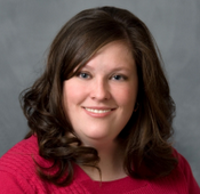 Jessica Maldonado: I've gone the "partner"
route before with software and wasn't
interested in going there again.
Partner mismatch
But Jessica Maldonado, VP of Searcy Financial Services, who had planned to implement Figlo after demo-ing it at T3, ultimately decided not to because she has had bad experiences with the reseller model.
"After setting up a demo account with Figlo and creating a sample client, I pretty much abandoned the Figlo platform," she says. "I was notified in April that they were planning to offer the Figlo service to the RIA community through their 'partners.' While I understand that as a business decision, I've gone the partner route before with software and wasn't interested in going there again. I have found that when you don't have a direct line of communication with the developers/owners, you don't get the same level of continued support in software development and upgrades."
But, Maldonado allows, time will tell if this is the case with Figlo. "While that has been my experience with partner vendors, it doesn't mean that will be a problem with Figlo," she says. "That's just what my main concern was and why I decided to go a different route. Additionally, there is the added issue of markups since everyone needs to get paid. I personally prefer a flatter distribution channel to keep the cost low and the communication open."
---
Related Moves
November 20, 2019 – 10:19 PM
---
---
Mentioned in this article:
---
---
---
Frederick Van Den Abbeel
I met the executives from Figlo at the recent T3 conference in Florida. They have developed something special and I feel they might become a very unique player in the financial planning software market. I wish them all the best!
Albert van den Broek
@Frederick: thank you very much for your kind words!
@Nevin: great article. thank you!
Just to clarify some statements mentioned here: Figlo has indeed a strategic partnership with Pareto. Their efficient platform is optimized for the Figlo Platform, enabling us to offer a complete & compliant integrated Financial Planning/Financial Advisory solution to the Financial Industry. Absolutely great, and I'd recommend you all to contact us for a demo.
Though, Pareto is a preferred partner for CRM integration. This has nothing to do with exclusive delivery of the Figlo Platform in the USA whatsoever. And, of course, it's also possible to solely buy the Figlo Platform directly from Figlo.
Actually, the Figlo Platform has the ability to integrate with any (CRM or workflow) solution available in the market today. As the Figlo Platform is completely web services based, integration with any available solution is possible. For instance, integration with Microsoft Dynamics CRM 2011 is already finalized, and there's more to come. Again, that basically means that distribution and reselling of the Figlo Platform doesn't exclusively go through Pareto. Although we're convinced that the current Pareto partnership brings you the best of both worlds, we're always more than willing to consider any other integration that's needed in the market. Actually, that's what the Figlo Platform makes so unique and flexible. So in case you'd like to know more about this, or when you'd like to partner with Figlo: please don't hesitate to contact us.
Concerning the reseller model: I think Jessica is right: serving the RIA & FIA market through resellers is not the ideal way, and is aslo definitely not our aim. The good news is that we're currently setting-up a channel, to serve and support this market directly. Will keep you posted!
Kind regards,
Albert van den Broek
CEO Worldwide
Twitter: albertvdbroek
albert.van.den.broek@figlo.com