News, Vision & Voice for the Advisory Community
The baked-in-cake dollar cost averaging of the defined contribution system allowed it to survive massive 2008 stress test
July 15, 2011 — 2:19 PM UTC by Lisa Shidler
At the nadir of the 2008-2009 downturn, the 401(k) system looked rickety, ill conceived and marginal for RIAs. Not only did balances plummet, but because of the opaque nature of the plans, clients didn't even know what their collapsing holdings were comprised of.
What a difference a couple of years can make. The overarching message at the Dimensional Fund Advisors conference on Wednesday was that the defined contribution retirement system in the United States – with its massive dedication to dollar-cost averaging – has not only survived but has rebounded and is now thriving.
Industry leaders at the DFA conference expressed confidence that retirement accounts will grow and that RIAs are well positioned to capture these assets.
Those leaders included: David Wray, president of the Profit Sharing/401(k) Council of America; Ted Benna – known as the father of the 401(k) – president of the 401(k) Association; and Zvi Bodie, the Norman and Adele Barron Professor of Management at Boston University. Sen. Bill Bradley (D-NJ) was also on hand to deliver a few comments.
David Booth, co-chief executive of DFA, is a big booster of 401(k)s. His Austin, Texas-based company has launched a new program that includes built-in quarterly balancing of 401(k) portfolios. See: Dimensional Fund Advisors tells RIAs it's getting active in its quest for 401(k) assets. The company also intends to craft more retirement-related products, including longevity insurance, which it will launch later this fall. Booth added that DFA is also looking to create a new plan to manage clients' income in retirement.
Staying in and stepping up
Despite seeing their nest eggs dwindle, employees remained steadfast during the darkest days of the Great Recession, for the most part sticking with their savings plans. This, said Wray at the conference, proves the success of the retirement-planning model. See: Why the DOL's massive new 401(k) disclosure requirements are a 'very, very big deal'. He credited advisors and national call centers with reassuring and educating consumers and, in the end, convincing them not to abandon their plans.
Private defined contribution accounts contained a cumulative $3.87 trillion in 2010, up from $3.37 trillion in 2009 and $2.7 trillion in 2008. DC accounts have now surpassed the previous 2007 high-water mark of $3.81 trillion.
The largest drop-off of participants came in 2008 when 3% of individuals left, according to Wray. Likewise, he pointed out participants with 401(k) loans also stayed flat fluctuating from 23% to 24% of participants.
Wray's data showed hardship withdrawals remained the same throughout at about 2% each year.
"We are putting real money away and we have to manage it, he says. "The idea out there that we haven't saved money is totally wrong. Companies have been willing to step up."
Hard truths
After noting that politics often gets in the way of logical solutions, Bradley said that there are some hard facts that advisors must pass on to employees.
"You want to tell people the truth," he says. "Unless you are going to save you won't have a good retirement. You will need to save more and work longer."
RIAs needed
The consensus of the conference speakers was that plan participants remain fairly clueless in terms of managing their accounts and need as much help as they can get from advisors.
For instance, participants have even gotten it wrong when it comes to selecting risk-based funds. Instead of choosing one fund they'll choose several, putting some money in an aggressive fund and setting aside additional assets for a conservative fund. In reality, the risk-based funds were crafted as an all-in-one solution where investors choose one option based on their risk tolerance.
In addition, employees tend to have a herd mentality in their investment choices.
"Many investors give up substantial returns because they're going the wrong place at the wrong time," Benna says.
Sue Walton, senior investment consultant at Towers Watson, says it's crucial that advisors and employers craft simple solutions that participants can understand.
"We give participants too much credit," she said while participating on a panel. "The reality is they don't choose income solutions because they don't understand them and they're not focused on it. Are your participants using the solutions effectively?"
Multiple-employer plans
RIAs at the conference said they're constantly mulling over new strategies to make plans easier for both employers and employees alike.
For instance, Scott Pritchard, managing director of Advisors Access, said this fall his firm is launching a multiple-employer plan that will appeal to smaller employers that may not want the burden of running their own 401(k) plans. Multiple-employer plans also involve significant cost savings for employers, he says.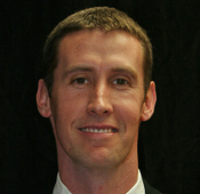 Scott Pritchard is launching a multi-employer
plan using DFA funds.
Advisors Access is a division within BAM Advisor Services, which provides resources for RIAs.
Be true to your school
Appropriately, DFA's first DC conference, which attracted more than 130 participants, was held at the University of Chicago's Booth School of Business, named after DFA's own David Booth, chairman and co-chief executive. Booth serves as a lifetime member of the school's business advisory council. He received his MBA from the University of Chicago in 1971.
Booth talked about how he founded his company in his Brooklyn apartment 30 years ago and about the firm's plans for the future, including the Dimensional Managed DC plan, an innovative approach aimed at helping employees save for retirement. See: Dimensional Fund Advisors tells RIAs it's getting active in its quest for 401(k) assets.
Academic input has been an important part of the firm's philosophy, Booth says. "Right from the very beginning we had significant academic involvement. That's part of the reason why we ended up here in Booth."
---
---
Share your thoughts and opinions with the author or other readers.
Elmer Rich III said:
July 17, 2011 — 7:24 PM UTC
Unfortunately, but predictably, the 401k and defined contribution systems are being attacked by anti-DC forces in the media and Congress. Misinformation and sensationalizing and telling scary stories about the DC system are the dominant media strategies — and they are working.
Our minds, media editors and producers and policy makers always fall for scary stories and claims that "The sky is falling! The sky is falling!" It's human nature.
As far as 401k plans are concerned — the opposite of the current popular media and political hand-wringing is the truth.
The 401k system is a remarkably successful, surprisingly resilient and a vast system of payroll savings — it not yet a full vehicle for retirement. The secret, as Booth points out, is automatic deductions every paycheck. Pretty simple.
However, there is, effectively, very little investment management infrastructure to support those accelerating pools of assets and even fewer resources to support participants, retirees and roll-overs. A brand new, comprehensive investment management system needs to be built — from scratch.
Of course, RIAs have a key role. But any dealings with tax qualified assets is complex. Tax qualified assets inside of a plan under the stewardships of a plan sponsor are even more complicated. Let's not forget intensifying DOL and IRS regulations, Sarbox, etc.
401k is definitely NOT your father's retirement plan. It is a new hybrid which we call "insti-individual." It has the very hard nosed, expert demands of an institutional market with all the "retail" and individual-family needs of a tax-free accounts. It can be daunting for advisors used to dealing mainly with HNW individuals and families. Remember: the "institutional" part of the term comes first. Always.
Without strong and evolving institutional protections for the accumulation of assets during an employee's work life — there would be no individual assets to manage at retirement.
For most RIAs, this is brand new territory. You are going to need new tools and formal processes. You are going to need to learn – a lot. You will need support and education, training. You will be presented with many new products. You will need a lot more support than just new products.
We have worked as marketers in this market for many years — let us tell you the bad news. It is a very long sales cycle. Yes, there is good news.
---
---