News, Vision & Voice for the Advisory Community
DFA says this new plan will complement, not compete with, the services an advisor offers
July 14, 2011 — 2:34 PM UTC by Lisa Shidler
Brooke's Note: DFA is an asset-gathering demon, growing at a rate that is virtually unrivaled in the fund industry right now. That's largely because nobody else has found a way to work so closely with RIAs. But if there's one consolation that DFA's rivals can take it's that some investors and advisors still demand active management. Now it appears that DFA is prepared to take away that comforting thought by adding a bigger dollop of active management to its generally passive approach.
Dimensional Fund Advisors unveiled details of its new managed defined contribution plan in an effort to propel its position in the 401(k) space and push participants into saving more for retirement, but some worry that it will be difficult for smaller companies to implement. See: DFA and RIAs unite over post-meltdown 401(k) opportunity at Chicago event
The new program represents a notable swerve for the giant mutual fund company, which is known for its longstanding passive approach among RIAs. Under the new managed DC plan, which will begin in November, participants' accounts will be rebalanced monthly.
The course shift was announced Wednesday at the company's first-ever Defined Contribution Conference in Chicago's Booth School of Business named after DFA's own David G. Booth, chairman and co-chief executive officer. See: Dimensional Fund Advisors gins up its first conference dedicated to the 401(k) market
Booth even joked about his 30-year-old company's traditionally passive approach. "As we've gotten older, I've started calling ourselves active. We work so hard it's a shame to call us passive. But on the other hand, if you want a passive manager – then we're passive."
DFA's new strategy will allocate a participant's funds based on a number of factors including the person's annual earnings, age and amount they save each year.
The Austin, Texas-based firm has $231 billion in assets with about $125 billion of those assets coming from RIAs. It was the fastest-growing mutual fund company in the United States for the 12 months ended May 31 with a 38.77% jump, according to Financial Research Corp. See: Dimensional Fund Advisors still has low RIA acceptance rate and stunning growth.
Taking aim at target date funds
The managed defined contribution plan will go head-to-head against the popular target date funds. Indeed, it was specifically designed to address many of the criticisms of those products, which determine a participant's portfolio balance based solely on their retirement date.

Robert Merton lent his thoughts at
the conference about the shortcomings of
target-date funds.
Target date funds are filled with problems that the new managed DC plan will solve, says Robert C. Merton, a professor of finance at MIT who won the Alfred Nobel Memorial Prize in Economic Sciences and serves as resident scientist for DFA.
He argues such funds are flawed because they have no income or wealth goal and their focus is solely on the volatility of the portfolio as opposed to the client's ideal annual income. See: What the alternative is to ill-conceived Target Date Funds.
Merton says the new plan also directly tackles the industry criticism of target date funds which is that two people planning to retire in the same year may require different strategies and shouldn't necessarily have the same portfolio, for instance if one person is aiming for a retirement income of $100,000 and the other person is seeking a retirement income of $50,000.
Really active
The DFA Managed DC plan will have four underlying funds, three which are fixed income and one that is global equity. Participant strategies will be decided individually based on their age, income, contribution rate and marital status.
Merton says a key to this strategy is that it recognizes that participants approach their retirement by looking at the amount of monthly income they hope to have in retirement and not necessarily when they intend to retire.
The new system will be so active that participants will receive e-mails alerting them if they've fallen behind in their retirement goals.
DFA has been using this approach since 2006 in the United Kingdom with three big firms. The plan is awaiting SEC approval for use in the U.S.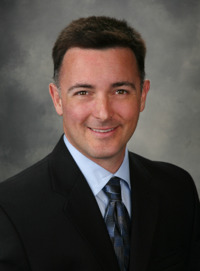 Erich Reinhardt: It's a mentality shift.

Added value
Addressing concerns that the plan will compete with advisors, DFA says this new plan will complement the services an advisor offers to employees.
The product will cost 45 basis points, according to BethAnn Dranguet, vice president of Dimensional Retirement. At that price, she says, advisors can still charge their own fee on top of the cost of the product and provide added value to clients.
"We have a lot of financial advisors who are excited because they think they can offer it to smaller plans," Dranguet told a reporter at the conference. See: Fidelity, Vanguard and Schwab have top 401(k) brands but plan sponsors like the service of off-brands better, study shows.
One record keeper, ASPire Financial Services has already signed up to offer this product to its advisors. Pete Kirtland, president of the St. Petersburg, Fla.-based firm, says his firm is the first record keeper to step up to the plate to offer this product in the fall.
He, too, agrees that advisors will be able to add value because by offering this strategy to clients they'll be able to show in a few years' time how participants' have increased their chances of saving enough for retirement.
ASPire provides record keeping for 7,000 advisors with 125,000 participants and has $4 billion in assets.
"This will improve participants' chance of retirement success and it's very positive for advisors to show this improvement to plan sponsors," Kirtland says. "It will also drive up the advisor's assets under management because people will be saving more."
Too dramatic?
It's likely this program will be accepted by larger plans first, says Gary K. Allen, with Prudent Investors Advisors LLC in Arcata, Calif. He points out that many small employers simply won't have the information available on all of their employees for this strategy to be successful.

Skip Schweiss: If advisors use this
tool they can still give personalized
advice to the top 20 employees.
It's a great combination for an
advisor.
"I think a managed DC plan is a tremendous process," he says. "But we have to have systems and procedures in place."
This will work best among larger employers at first, agrees Joe Goldberg, principal with Buckingham Asset Management, an RIA. The RIA manages $3.5 billion in assets and provides services for other advisors. See: Buckingham expedites turnkey 401(k) strategy by buying a fellow DFA TAMP.
"For really large employers it'll be really effective," he says. "Our advisors are giving advice to participants and it's working. This will be a good complement but it'll take time to trickle down to small [plans]."
Erich Reinhardt, vice president of Loring Ward, which provides turnkey solutions for RIAs in the 401(k) arena, also believes it will take time for participants to get used to this new idea. His firm manages $7 billion in assets.
"This space is evolving," Reinhardt says. "I think the managed defined contribution plan is ahead of its time. Now, it's trying to show income amounts and it's a mentality shift. It can't be the only offering on a plan because it's just too dramatic." See: Head-to-head: How one advisor went up against a giant of the retirement plan world and won.
Joe in the mailroom
But Skip Schweiss, managing director of corporate services for TD Ameritrade, says he thinks this is an innovative approach and believes advisors will be eager for this type of solution.
"One of the things we hear from advisors is they can't afford to deal with Joe in the mailroom with his $2,000 participant balance. In this plan, that participant would get an e-mail to tell them they're falling short. If advisors use this tool they can still give personalized advice to the top 20 employees. It's a great combination for an advisor," he says.
Merton, as one might expect, has no doubts about the success of this new strategy. "We will manage it dynamically and are addressing all of the risks," he says. "We will make sure this works effectively."
---
Mentioned in this article:
---
---
Share your thoughts and opinions with the author or other readers.
Elmer Rich III said:
July 17, 2011 — 7:00 PM UTC
First, the editor is to be congratulated for noting that the "Noble" prize for economics is not actually a real Nobel Prize but a prize named after Nobel, awarded by a Swedish bank. This is a very misleading mistake that has be perpetrated by educational institutions and the media.
The misrepresentation needs to be corrected because it is false and it implies economics, as a field of study, is at the same level of sophistication and evidence that the physical and medical sciences are. Economics is not.
Managed accounts are problematic. There is little evidence that any form of active management or managing "dynamically" is superior. Also, "addressing all the risks" is highly problematic — regardless of the academic prizes one has won.
We have had managed account solution clients. It's is a set of solutions and market that needs a great deal more work and study.
---
---