News, Vision & Voice for the Advisory Community
The updated user interface was built on the same technology at Gmail and it shows
July 12, 2011 — 3:14 PM UTC by Heather Underwood
Nevin's Note: I spoke with Greg Brown from Interactive Advisory Software at the T3 conference in February, and he explained that the reason I hadn't heard of his company before was that it had been catering to a fairly static clientele since it was founded a decade ago, but that it had recently received a great deal of venture capital and kicked things into a higher gear as a result. Despite my distaste for the marketing lingo that's been spread pretty thickly on its new website and conference booth, I have to say that its new user interface is really impressive — worth checking out if you're in the market for all-in-one advisor software.
Based out of Atlanta, Ga., Interactive Advisory Software is stepping out of its "hidden gem" history with new investment, a new CEO, and a brand new look. It currently has about 50 employees, and has added about 50 clients over the last 18 months. "I think momentum is definitely the right word for it," says John Philpott, the new CEO.
IAS, which combines portfolio management, financial planning, CRM, back-office services/reconciliation, client access portals and rebalancing, was founded in 2000 and has about 200 firms on its platform, 90% of which are RIAs.
The company didn't do much marketing for most of its life, but recently raised a combined $5 million in venture capital from TechOperators and Total Technology Ventures, and is hiring heavily in the marketing and sales department as a result.
Philpott comes from a wealth management and tech background. He founded a wealth management and family office firm in 2004 and was one of the original employees of the S1 Corporation, which does online payments and was founded in 1995.
"We think we have a pretty unique value proposition with the single consolidated platform and single consolidated database," says Philpott.
IAS in a nutshell:
| | |
| --- | --- |
| Release Date | Founded in 2000, a reincarnation of the early 1990's company IFS |
| Price | High-end pricing based on number of account; low entry point pricing around $1000/month |
| User Base | about 200 firms, 1000 users |
| Competitors | Tamarac, Orion Advisor Services, LLC, Advent Software, Black Diamond Performance Reporting, and many others. |
| Web or Desktop | Web-based, SAAS distribution model |
| What does it do primarily? | portfolio management, CRM, financial planning, rebalancing |
Jeff Bernier, president and chief investment officer of Tandem Growth Financial Advisors, has been using IAS since starting his firm in late 2002. "I wanted to provide holistic wealth management and be free to use whatever money manager or insurance provider or custodian; I didn't want the delivery of my advice to be limited by where I held client assets," says Bernier.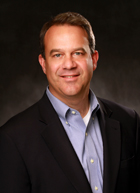 Jeff Bernier: What the software has
allowed us to do is to
create tons of systems and processes
that are repeatable; all the things
we could systematize, we've systematized
With five employees, only two of which are full-time, Bernier emphasizes the automation capabilities, product integration, and simple batch reporting with IAS. "What the software has allowed us to do is to create tons of systems and processes that are repeatable; all the things we could systematize, we've systematized," says Bernier.
Underneath the various functions IAS serves is a single database system that IAS touts as its biggest differentiator and the key to its holistic product offering.
Why a single database?
There are several software companies taking the holistic all-in-one approach to building their product. Tamarac's Advisor X, (See: A close look at Tamarac's Advisor 9 and its strategic use of Schwab software), a direct competitor of IAS, has also turned its attention to offering advisors a single solution for the same functions.
IAS has taken a single database approach to data storage. One advantage of this approach is no need for data synchronization since there is only one copy of everything. Another advantage is greater flexibility in terms of data retrieval. For example, advisors do not have to hit multiple databases and export information to compare CRM data with portfolio management data, so it's simpler to sort clients by criteria that span both worlds.
Tamarac, in comparison, has focused on integration and building APIs for data synchronization and single-sign-on that give its platform the appearance of a single database system, while accessing multiple.
Matt Stroh, vice president of marketing at Tamarac, says: "A challenge for technology vendors is to architect and design a solution in such a way that the advisor (system user) only perceives there to be a single database, while at the same time, provide the flexibility to integrate with other third party applications."
According to Stroh, the advantage of Tamarac's approach is a higher degree of flexibility when integrating the growing list of third-party platforms. "Closed systems with a single database lack this flexibility," says Stroh.
Syncing multiple databases has become simpler as the Web has become standardized. But unless the system is meant to be very modular, which is not IAS's approach, there really isn't any reason to have more than one. If I were writing a piece of software to do what IAS does, I would probably use a single database too.
Pricing…varies.
"It depends on the firm," says Greg Brown, senior VP of sales and marketing. Although primarily based on the number of accounts, several factors contribute to price such as additional back office services and optional rebalancing capabilities. Though IAS describes itself as "high-end," a small firm could have an entry price point as low as $1000 per month.
Bernier, whose firm serves 130 households and has $85 million in AUM, acknowledges that the initial investment in IAS in terms of cost was substantial — about half the cost of one employee. "It's a really good investment if you look at the time-cost of doing it another way," says Bernier. "And now I don't know how I could do it any other way, I think it's part of the reason we're as profitable as we are."
AUM is not factored into the price equation. "We never penalize the client for their success in growing their assets," says Brown.
A $5,000 setup fee covers, among other things, historical transaction migration into the IAS system.
The "NextGen User Experience"
IAS began the NextGen User Experience project in February of this year. The new user interface was designed by California-based company Spring Studios, and then turned into code by IAS's in-house team using Google Web Toolkit, the same framework that Google itself uses to develop popular applications like Gmail.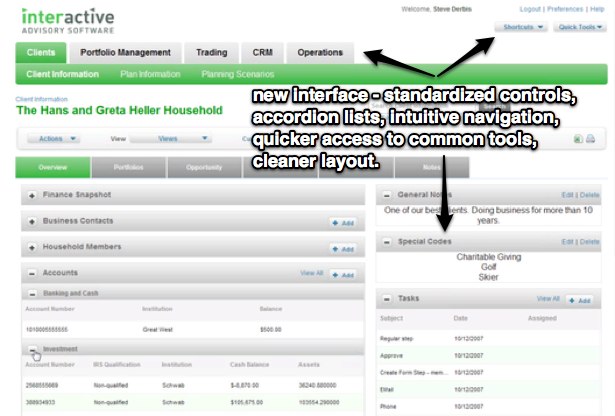 The new NextGen user interface.
The simplified navigation, clean layout, shortcuts and quick tools definitely give IAS a more modern look, and really do seem to make using it more intuitive.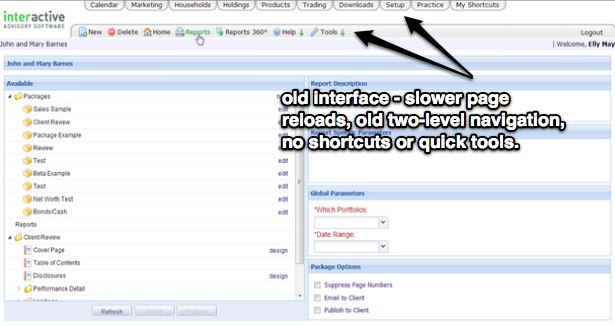 The old IAS interface
Although Bernier hasn't had hands-on experience with the new UI, he notes that he had no usability issues with the old product. Bernier says that becoming familiar with the old IAS product and its functionality took some time. "We invested a lot of time doing all that, but to me, that's what we're getting paid for today."
IAS says that the new version will be much quicker for users to catch on to.
(Not your standard) client portal
Some cool differentiators from the web-based client portals we've seen in the past:
There is a"client task" section that pulls information straight from CRM.
Clients can share information and documents with multiple advisors via email when they upload a document.
Calculators allow clients to get a picture of their current financial situation based on their portfolio data, play with the parameters (for example retirement age and savings) and get a new picture of future outcomes in real time.
Reports 360
IAS has also been working on a new reporting platform called Reports 360. The new platform is currently in beta, running in parallel with the old reporting platform. In order to simplify the transition process, the new reporting tool will continue to run side-by-side with the older model as the NextGen UI is rolled out.
---
---
Share your thoughts and opinions with the author or other readers.
Alex said:
February 17, 2012 — 9:45 PM UTC
See how Interactive Advisory Software and other mentioned in the article products stack up against about 30 other retirement planning tools on www.retrian.com/compare.jsp . Emphasis in review is made on advanced features related to asset allocation, retirement risk analysis, and optimization.
---
---