News, Vision & Voice for the Advisory Community
Mary Hepler was hired on behalf of an unidentified private equity group to catch up to Advent, Tamarac, and PortfolioCenter in features and tech
July 1, 2011 — 5:59 AM UTC by Heather Underwood
Brooke's Note: The list just keeps expanding of smaller-but-solid competitors providing portfolio management systems to RIAs. Cornerstone is another one that appears poised to gain a higher profile in the industry.
Mary Hepler was not happy. Her early-morning call to the help line of a software firm had gone directly to voicemail. An all-too-common occurrence but particularly galling in this case because Hepler is president and CEO of the very company she had just called. One of the hallmarks of customer service under Hepler's tenure is that a client gets a human on the phone more than 90% of the time.
In 2008, Hepler was handpicked by a private-equity fund to bolster Cornerstone Revolutions Inc., a then-small and behind-the-curve portfolio management system provider.
| | |
| --- | --- |
| Release Date | Founded in 2002, started selling PowerBroker software in 2003 |
| Price | $4000 per year per seat with module add-on pricing |
| User Base | 130 firms, 200 users |
| Competitors | Tamarac, Advent Software, Black Diamond Performance Reporting, Orion Advisor Services, Interactive Advisory Software, Schwab PortfolioCenter |
| Web or Desktop | Desktop with remote access through a Remote Desktop Protocol (RDP) |
| What does it do primarily? | Portfolio management, trading, rebalancing, reporting |
Hepler's mood brightened minutes later when she received a call back from the help desk and learned that all her reps had been on the phone with East Coast advisors.
It is this attention to detail – Hepler an incessant quality-checker who has licenses to a number of competitive portfolio management software makers – that has played a large part in turning the firm around.
"Before 2008 the company was struggling along. The software was good, but it's not what it is today," says Hepler, a Colby College graduate who was a software developer and before that had a 14-year career in banking. "We're about 90% of the way there,"
In 2008, Cornerstone had more than 100 legacy customers for its portfolio accounting software PowerAdvisor, but none of the trading, rebalancing and billing features that most modern system providers have today – and it couldn't be accessed by the web. Add to that the fact that Cornerstone had little brand reach with no market plan and you have the recipe for obscurity.
Cornerstone has now rectified those problems and also upgraded its fixed-income reporting on the strength of a cash infusion from the private equity fund that owns it – the fund that was responsible for hiring Hepler. The fund is partially owned by an RIA who has since converted to PowerAdvisor. And a major principal of the fund made his money with a big software firm where Hepler formerly worked for 11 years, overseeing sales and running technical support. She declined to name her former software employer.
Push for recognition
PowerAdvisor's push for recognition in the marketplace includes a strong presence at the FPA conference in Los Angeles this month. If you happened to be at the conference and purchased PowerAdvisor, you'll know that a fully loaded iPad incentive is now part of Cornerstone's marketing initiative.
Aside from promising a high level of service, Hepler believes PowerAdvisor can win in the marketplace by virtue of its simplicity and good pricing.
"Hands down, we're easy to use. People choose us because of value. We're typically much less expensive than Black Diamond, PortfolioCenter and Advent," she says.
Scaling up
The company's decision to make its desktop software web-accessible has helped it retain at least one loyal customer.
George Waters of Infiniti Wealth Management in New York, started using PowerAdvisor in September of 2003 but after he made an acquisition, he needed a technology upgrade.
"When we bought another firm in 2010, we doubled our assets, and I realized I couldn't be doing daily reconciliations by hand. So we decided to go with the web portal and hand all that stuff off to PowerAdvisor. It's made our lives easier," says Waters.
Split between Michigan and Portland, Ore., PowerAdvisor's 20 employees hope to see more growth as a result of increased exposure. PowerAdvisor is working hard to catch up to companies like Advent, Tamarac, and PortfolioCenter in terms of features and tech, and it shows.
The suite of Cornerstone's product offerings has grown to include PowerOffice for back-office solutions, PowerTrade, and PowerPortal for online client access. PowerTrade has been live for almost two years, PowerPortal for roughly a year and a half, and the new PowerAdvisor user interface was just released this March. Although Cornerstone was founded in 2002, the last two years have definitely seen the lion's share of this company's momentum.
"We think we're very strong, we think we have some of the best stuff in the marketplace, and we are totally focused on customer service," says Hepler.
(Almost) web-based
The "web-based" solution PowerAdvisor offers is not a typical browser-based system. Rather, advisors login to a remote desktop application to access their remotely hosted PowerAdvisor system. It's only slightly more work than a browser-based app, and as long as your "iThing" has a remote desktop application installed, running PowerAdvisor on a Mac, iPad, or iPhone is no problem.
Although most of Cornerstone's clients are RIAs who prefer to stick with the desktop software, over half of PowerAdvisor's new clients are opting for the web-based solution. "Now it doesn't matter where I am…I have access to PowerAdvisor," says Waters. "It definitely comes in handy."
Failed incentive
Currently, PowerAdvisor has 200 users (about 130 firms) and is adding three to four clients per month, most of which are RIAs. "We get a lot of calls from RIAs who are with B-Ds who don't like the B-D platform, so we have offered some of these B-Ds sight unseen PowerAdvisor for 60% off what they're currently paying," says Hepler. PowerAdvisor hasn't gained any new business from this incentive.
Trading and rebalancing
Rebalancing accounts around models or combinations of models is one differentiator that was noted during the demo, and sets PowerAdvisor apart from its competition. Although PowerAdvisor's internal rebalancer isn't a Tamarac competitor in terms of functionality, "it doesn't take months and months to set up," says Hepler.
The learning process surrounding rebalancing should not be rushed, according to Matt Stroh, director marketing for Tamarac.
"It's a misrepresentation for rebalancing software vendors to set an advisor's expectations that they can be up and running in hours… Tamarac's six week implementation schedule includes; discover, analysis, training, consulting, testing and assisted trading—and it's why firms that work with Tamarac reduce their time spent on trading activities by an average of 80%."
Tell me a story
PowerAdvisor's custom reports will cost clients from several hundred dollars to up to a couple of thousand for a very complicated report. "This is much less expensive than what we hear our competitors get for custom reports," says Hepler.
The popular Executive Summary report was highlighted not only for its customization capabilities, but also for its ability to tell clients a story. There are 72 reports in PowerAdvisor, and if an advisor suggests a new one that seems like it will be used by others, PowerAdvisor will add it to the system at no extra cost.

Executive summary report is customizable, and
tells a clear story for clients.

Compliance reporting is also an important aspect of PowerAdvisor's platform. "PowerAdvisor tends to be a very compliance-heavy application," says Andrew Kehoe, Cornerstone product engineer, pointing out the integration of compliance information into account screens.
Pricing
PowerAdvisor is competitively priced and allows for client customization at reasonable add-on costs.
Pricing is based per seat (i.e., per login), not on AUM or number of accounts. "The first seat at today's prices is $4000/year. If they want the trading platform that's an add-on, if they want portals, that's an add-on," says Hepler.
PowerAdvisor also offers back office services with or without reports for an additional cost.
Aesthetics & navigation
The look and feel of the new PowerAdvisor UI is consistent and easily searchable. The split-screen "select grid" and "detail grid" design was conceived in part by Angie Taylor, chief operations officer of Cornerstone, and developed in-house. Taylor has 25 years of experience in the investment business and knows that navigation and information access need to be intuitive in the software. The split screen design, while requiring some horizontal scrolling, allows advisors to quickly search in the left grid, and see the detailed search result in the right grid – unique and functional.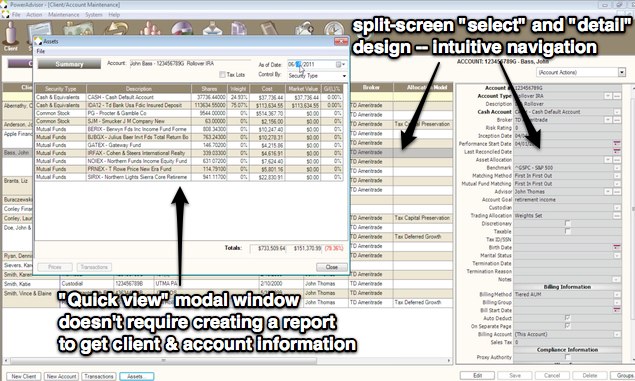 Split screen design offers a searchable
view and detail view for easier
navigation and access to information. Quick
views allow advisors to access client
and account information without running a
report.
"It has all the functionality, but it's going to look easier because it is," says Kehoe. He pointed out the simplicity of the drill down menus and modal detail windows that make for intuitive navigation.
One big differentiator for PowerAdvisor is what it calls "quick views." These modal detail windows offer the advisor account information in a searchable, query-able, grid view without requiring report creation. "This is really helpful if you have a client call-in and want to be able to quickly access their account and answer questions," says Hepler.
Nice and simple
For a self-proclaimed non-tech-savvy user, Waters was insistent on the ease of use. "It's just right for doing what I need to do," he says, making the point that PowerAdvisor can be as simple or as complicated as an advisor wants it to be without any changes to the software itself.
---
---
Share your thoughts and opinions with the author or other readers.
---