News, Vision & Voice for the Advisory Community
The firm is eying fellow IBDs as customers and it aims to gain footing with Pershing and NFS
June 3, 2011 — 1:17 PM UTC by Brooke Southall
LPL Financial confirmed yesterday that it is pulling out all the stops to make its sleepy clearing business into a lively effort for growth.
The San Diego-and Boston-based subsidiary of LPL Investment Holdings Inc. will leverage its hire of David Akellian to bring its clearing capabilities to the fore, making them competitive with the likes of Pershing LLC of Jersey City, N.J. and National Financial Services of Boston.
This will include enlarging its target market to include fellow independent broker-dealers – an approach industry observers say could be successful but complex because of potential channel conflicts.
Competing in a business where massive scale is the name of the game will have its challenges.
"Clearing is an increasingly complex business, and National Financial has been successful in part due to its 30 years of experience and expertise…National Financial can harness Fidelity's scale and technology to bring brokers superior service and competitive pricing. NF's asset under administration are $483 billion," said Steve Austin, spokesman for Fidelity's National Financial Services.
See: National Financial Services records some wins to ease the pain of Bank of America loss
Pershing declined to comment.
Akellian was chairman and CEO of Century Securities Associates, a Stifel Nicolaus & Co.-owned independent broker-dealer. Previously, he served as president and head of global clearing and execution services for Merrill Lynch. Before that, Akellian was COO and head of investment manager services for the Pershing division of Donaldson, Lufkin, & Jenrette.
Historically, LPL has used its clearing capabilities, which it built in 2000, to service its own IBD account. But since 2005 LPL has brought on seven outside clearing customers with a cumulative 4,000 financial advisors. LPL declines to name its customers but Axa Advisors LLC is one of them, according to reports.
Branding and expanding
The branding and expanding of LPL as an outsourcer of clearing is already underway.
"We're in discussions with a number of organizations," says Jon Eaton, managing director at LPL Financial, a 14-year company veteran to whom Akellian will report. "We see that we have a unique value proposition…we think there's much more than a niche; we think we have a better solution."
Much of that differentiated value proposition derives from the company's ability to use its experience as a broker-dealer and confer that knowledge on others, Eaton says, specifically by virtue of LPL's ability to mitigate regulatory risk and to make the sales process more efficient and productive for advisors.
Craig Gordon, director of RBC Advisor Services, says that bringing its IBD smarts to bear on the sale of clearing services could indeed find a receptive audience.
"I think there's a lot of merit to that. There's a greater appreciation for [the challenges of] running the business. Advisors are looking for a business partner. You can always find a tech vendor or processing partner."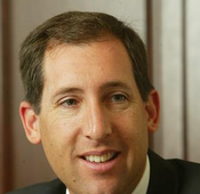 Craig Gordon: Advisors are looking for
a business partner. You can always
find a tech vendor or processing
partner.
Courting independents
LPL's primary focus will be brokerage units of small banks and large insurance companies, but the major independent broker-dealers could also be in play.
"We wouldn't rule out independents," Eaton says.
The strategy of courting independents could succeed in certain circumstances; perhaps not so much in others, according to Ryan Shanks, CEO of Finetooth Consulting of Springfield, Mass.
"It might be [appealing] for an IBD that never considered LPL a competitor to begin with," he says. "But will the broker-dealer have to sign a contract saying they won't recruit [from LPL]?"
Gordon agrees that LPL could face challenges if it tries to pursue IBD business.
"The firms in the clearing business that have an IBD business have a tough time [of building a separate clearing franchise]. Raymond James Financial Inc. is a good example."
Competitive complications
Here's why: An IBD considering LPL clearing capabilities puts their sales forces in the position of selling the merits of a competitor.
"Why wouldn't I go directly to LPL?" Gordon asks.
He adds that RBC successfully sells clearing and custody but doesn't have the conflict of having its own IBD.
"We don't compete with our clients. To be an IBD rep, you have to join one of our correspondent firms. We're in the employee-based model."
Undeterred, Eaton says that LPL has found its own way of making clearing a fruitful part of its business model for over a decade.
"It was revolutionary at the time but we viewed it as critical to our strategy," he says.
---
Mentioned in this article:
---
---
Share your thoughts and opinions with the author or other readers.
Stephen Winks said:
June 3, 2011 — 4:33 PM UTC
The advantage LPL has relative to today's custodians is the custody business stops at the waters edge when it comes to supporting advisory services and the fiduciary standing of the brokers and advisers they serve. Essentially the custiody business as it is structured today only supports brokers. Thus the LPL opportunity is to provide the same advisory services support for fiduciary standing through its custody business that it provides its advisers. This preempts every custody firm in the business today which do not support fiduciary standing in tangible quantifiable ways for fear of being prescriptive in their support which would incur fiduciary liability. LPL already must manage fiduciary liability, so by extending the support of fiduciary standing to its custody business—it gains a massive competitive edge, presuming it supports expert fiduciary standing.
The support of expert fiduciary standing takes the form of (a) an expert prudent investment process (asset/liability study, investment policy, portfolio construction, monitoring and management) authenticated by statutory documentation confirmed by expert opinion letters which makes advice safe, with a means to prove fiduciary standing, for each of the ten major market segments advisers serve, (b) advanced technology in support of continuous comprehensive counsel and transparency in cost and compensation required for fiduciary standing, (c) work flow management tied to a functional division of labor (Adviser, CAO, CIO) which makes advice scalable, easy to execute and manage as a business enterprise, (d) conflict of interest management, not just disclosure which perpetuates conflicts, so that it is literally possible to act in the client's best interest and (e) expert advisory services support for each of the ten major market segments advisers serve.
Importantly, LPL can make expert fiduciary standing safe, scalable, easy to execute and manage. Depending on how it designs portfolio construction, LPL can foster fiduciary standing less expensively than a packaged retail product which is neither transparent nor client specific, while giving the adviser a significant increase in compensation.
Should anyone be paying attention? You bet they should because LPL can put into play innovations that are culturally difficult for todays custodians to even discuss which would materially change and render the conventional custody business obsolete based on both value and price.
The size of the opportunity is a function of the innovation advanced. If it is just another custody platform, there is no significance. If expert advisory services in support of fiduciary standing is integrated into a custody model—it is a game changer, especially for small b/ds that do not have the scale, intellectual and financial capital and business accumen to execute. LPL will own a significant slice of the industry that has an enlightened self interest to act in the consumer's best interest.
Importantly, cost structure will become a major consideration and our largest wirehouses will have to defend the value proposition and associated cost and adviser compensation they bring to the table. With the right innovations, LPL can make its much larger competitors high cost low value added competitors. Similarily, other custodians can certainly follow suite, but none have the scale of the existing LPL b/d to leverage off of, so LPL has a massive cost and potentially value advantage.
SCW
---
---