Scattered dollars: Asset pockets can be found across the country from Los Angeles to Trenton, N.J.
Brooke's Note: We published this Esri data once before and RIAs appreciated it. See: Which metro areas are the most fertile ground for advisors? Here it is again, updated, with some interesting thoughts from advisors about the geographic decisions they make.
It is a truth universally acknowledged that advisors are constantly in search of affluent clients. But where do the wealthy live?
Sure you'd expect to find them in New York, Boston and Los Angeles – and you'd be right. See: Six things to know about how and where RIAs are growing.
But how about Los Alamos, N.M., Trenton, N.J. and Watsonville, Calif.? Those locales top the list of metro areas where households have more than $200,000 in disposable income, according to data the research firm Esri produced for RIABiz.
And would you expect Santa Barbara, Calif. to fall below Manchester, N.H. on the list of the nation's most-moneyed families? It does.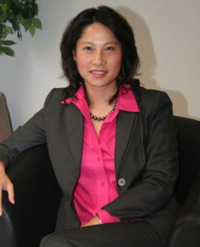 Janet Wan handpicked a location, Newark,
Calif., for her RIA. It's perched
between Oakland and San Jose and
her firm will soon add satellites.

Place
2010 Total Households
Percent of Households with Disposable Income $200,000+
2010
2009
2008
San Jose-Sunnyvale-Santa Clara, CA Area
621854
8.09%
7.75%
7.38%
Bridgeport-Stamford-Norwalk, CT Area
332615
7.84%
7.94%
8.42%
Los Alamos, NM Area
8064
6.01%
6.41%
6.46%
San Francisco-Oakland-Fremont, CA Area
1626171
5.55%
5.39%
5.53%
Jackson, WY-ID Area
12724
4.54%
4.96%
4.96%
Naples-Marco Island, FL Area
132398
4.33%
5.34%
5.98%
Boston-Cambridge-Quincy, MA-NH Area
1745031
4.10%
4.09%
4.50%
Washington-Arlington-Alexandria, DC-VA-MD-WV Area
2054654
4.07%
4.62%
5.05%
Santa Cruz-Watsonville, CA Area
93671
3.95%
3.92%
4.00%
Trenton-Ewing, NJ Area
132073
3.64%
3.73%
4.62%
Oxnard-Thousand Oaks-Ventura, CA Area
264529
3.59%
3.60%
3.96%
Edwards, CO Area
22803
3.53%
3.91%
4.27%
New York-Northern New Jersey-Long Island, NY-NJ-PA Area
6921533
3.49%
3.62%
3.98%
Napa, CA Area
49256
3.38%
3.37%
3.57%
Boulder, CO Area
118270
3.29%
3.58%
3.81%
Los Angeles-Long Beach-Santa Ana, CA Area
4288531
3.05%
3.02%
3.44%
Sebastian-Vero Beach, FL Area
64018
2.96%
3.67%
4.21%
Gardnerville Ranchos, NV Area
20644
2.95%
3.18%
3.42%
Santa Rosa-Petaluma, CA Area
181696
2.94%
2.92%
3.03%
Seattle-Tacoma-Bellevue, WA Area
1369762
2.91%
3.29%
3.55%
Austin-Round Rock-San Marcos, TX Area
656710
2.90%
3.29%
3.61%
Silverthorne, CO Area
10844
2.90%
3.11%
3.42%
Torrington, CT Area
75124
2.90%
3.02%
3.31%
Dallas-Fort Worth-Arlington, TX Area
2334568
2.87%
3.30%
3.73%
Manchester-Nashua, NH Area
154533
2.86%
2.92%
3.25%
Santa Barbara-Santa Maria-Goleta, CA Area
143873
2.85%
2.81%
3.21%
Chicago-Joliet-Naperville, IL-IN-WI Area
3500875
2.85%
2.86%
3.47%
Denver-Aurora-Broomfield, CO Area
1006111
2.84%
3.08%
3.19%
Ann Arbor, MI Area
138715
2.81%
3.01%
3.59%
The right fit
But after locating asset-rich locales It's important that advisors have an affinity for the area and the people in it. Then it's a perfect match, says Mindy Rosenthal, executive director of the Institute for Private Investors.
"Any person who is developing a practice needs to identify where the clients are," she says. "You need to be in an area where you can see your clients. It's important to understand your community."
While it's not always possible for advisors to live in the same neighborhoods as their clients, it's helpful if they live in surrounding towns.
Some areas in the West have become hot spots for vacation homes for the ultra wealthy such as Jackson, Wyoming, says Rosenthal.
"The West is becoming very popular. You can have a really big private ranch," she says.
Setting up shop
When Janet Wan was starting Sierra Pacific Financial Advisors some five years ago, she wanted to be in an area that would be ripe with affluent clients.
Wan decided upon the San Francisco-Oakland-Fremont area (No. 4 the list) in a town called Newark, California because of it was near the mid-point of that turf.
Wan's firm has more than 50 clients whose average assets are just shy of $1 million.
"Location is very important," she says. "We're facing high competition because during the financial crisis more and more advisors who worked at wirehouses became independent. We're very lucky to be located in the most affluent areas of the country. It's really helped our business."
The firm soon expanded, opening two satellite offices in Oakland and Cupertino. Cupertino is in the South Bay of the No. 1 area on the list, San Jose-Sunnyvale-Santa Clara. In that office, her firm works with clients of publicly traded giant tech firms such as Google, Cisco, and Apple. Her focus there is on issues like stock options and tax planning.
Wan says that the firm's Oakland office primarily offers traditional financial services such as inheritance and retirement planning for pre- and post-retirees including professors of University of California at Berkeley.
"Because the nature of employment opportunities in Bay Area of California, our firm also has a very diverse clientele who came from different countries and are now working in tech industry," she says.
Coast to coast
But in the Internet age, physical proximity to clients is not always a must. John Smartt, an advisor with Financial Counseling and Administration SCA in Knoxville Tenn. says he's grown his business through connections made from volunteering. Smartt works less than three days a week and has more than 50 clients in nearly a dozen states. He manages about $20 million in assets.
On the days when he's not providing investment advice to clients, he's often seen building a roof for Habitat for Humanity and says that's brought him business. Through hammering out houses, he's met new clients. In addition, those new clients have turned into national referrals from clients he's never met before.
"The internet has made my business," he says. "I've got clients I've never laid my eyes on before."I've got clients from coast to coast."
Quality of life
One advisor chose to start his business in an area not known for its affluent clients and has discovered that you can build an advisory business in an area that's not filled with rich clients.
Ten years ago David Blain couldn't even spell New Bern, N.C. But even though he grew up in affluent Washington D.C (No. 8 on the list) and his wife was raised in Atlanta, the couple chose the quaint North Carolina town in which to raise their family.
Blain was attracted to the area because it was a resort community with warm weather and close to the water.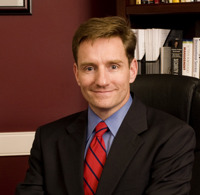 David Blaine: It's laid back and
there's not much pressure on kids
and career. We wanted this quality
of life.
"It's a place where we wanted to raise a family," he says. "It's laid back and there's not much pressure on kids and career. We wanted this quality of life."
Blain of D.L. Blain & Co. LLC chuckles when he thinks of the amount of affluent potential clients in Washington D.C. compared to his small town – which doesn't make the list of most affluent cities.
"Up in the D.C. area, it seems like you just trip over people with a million dollars," he says. "Here, it's just fewer and farther in between. There's only 100,000 people in the whole county here and the county I grew up in – Fairfax County has 1.2 million people."
Still, he says that in his short time in the area, he's established a solid reputation, becoming well-known in the community and forging friendships with local politicians. He has about 75 clients and manages more than $60 million in assets.
Blain may yet expand to Washington D.C. sometime down the road. Right now, he's got about five to 10 clients in the Washington D.C. area and likes the idea of purchasing a practice and having a location in the D.C. area. But he intends on staying in New Bern.

Esri Data Note:
This table lists Esri's 2008, 2009, and 2010 demographic estimates. Coverage area includes all U.S. CBSA metropolitan areas.
Disposable Income is after-tax household income. Market Potential data measures the likely demand for a product or service in an area. A Market Potential Index (MPI) compares the demand for a specific product or service in an area to the national demand for that product or service. The index of 100 represents the average demand for the U.S. A value of more than 100 represents high demand; a value less than 100 represents low demand. For example, an index of 114 implies the demand in the area for using financial planning counsels is likely to be 14% higher than in the U.S.

Sources:
Esri's Updated Demographics – 2008 estimates. GfK MRI.
For more information about Esri's data products, call 1-800-447-9778 or visit www.esri.com/data

---
---
Elmer Rich III
Nice piece. Asset gathering is ultimately a "time and motion" problem. That is, how can resources be allocated across time and geography optimally.
The article also highlights the diversity, growth and segmentation of wealth markets. Some of this is unexpected or not well known. The population is always growing so new markets are always opening up.
Silicon Valley pops up repeatedly as having double the wealth of other HNW areas.