Roger Hewins: It was worth being there when you got there.
Brooke's Note: Schwab excludes reporters from its EXPLORE conference. But thanks to observations from attendee Roger Hewins, copious notes taken by Schwab's Susan Forman and an interview with Bernie Clark, I was able to piece together what happened at what is inarguably the highest-voltage-per-RIA event on the annual tour.
Roger Hewins' third time at the Schwab EXPLORE conference was not a charm – a least to start with – when his flight from Minneapolis got delayed and made him miss the opening festivities on Wednesday night. See: A glimpse inside Schwab's EXPLORE conference
The president of San Mateo, Calif. and Minnesota-based Hewins Financial Advisors missed a dinner, music, fly-fishing lessons and sweeping views of mountains and valleys from the patio of Bachelor's Gulch Ritz-Carlton near Vail, Colo. Each advisor had been asked to in advance what their best investment was. That investment showed up on the bottom of each advisor's badge and proved to be effective conversation starters.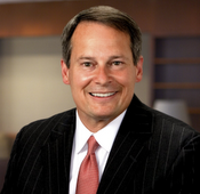 Walt Bettinger: We will crack that
code on how to unleash the
power of social media.
Hewins finally arrived at midnight and had a few choice words for United Airlines, though he was pleased about the 25-minute flight from Denver to the event's Avon, Colo. location.
"It was worth being there when you got there," he said. (Hewins would go on to tell me this may have been the best conference he has ever attended though he offered plenty of peccadilloes that he shared for this article.)
The next morning he got into the swing of things with 160 other advisors – all principals – from 160 practices composed mainly of Schwab RIAs but also including a handful of big-time prospects. Hewins' firm manages about $2.5 billion.
Bernie Clark, head of Schwab Advisor Services, kicked off the conference, letting the RIA principals know that they represent a combined $200 billion in AUM and make up 5% of the RIA market's assets and are making rapid gains.
Stock market averages were up about 13% in 2010 but net new assets among advisors in the room grew 27% — compared to overall with 17% asset growth among all advisors. Over the past four years, while the RIA industry grew at 7% annually, this group grew 10%.
"You are the industry," Clark said.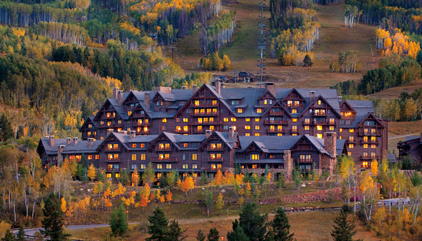 The Bachelor's Gulch Ritz Carlton was
hard to reach but got no
complaints.
Advisor ecosystem
The asset acceleration was fueled by an ecosystem of trends that had been predicted by industry sages since the 1990s including TAMPs, a booming technology sector and consolidators. Capital is also flooding in, Clark added.
"We're at a point in our history when we will start to see changes," he said citing factors that will allow RIAs to take share and differentiate themselves over the next decade:
Regulation – Successful firms will be prepared to operate in a dynamic regulatory environment. Dodd-Frank is just the beginning. RIAs will need to learn to adapt, evolve and be nimble.
Growth – Successful firms will have a solid strategic plan in place. While RIA optimism is strong and advisors are back in growth mode, 80% see barriers to growth. "How you grow is more important than ever. Having a strategic plan in place is no longer a "nice-to-have," Clark said. This message was preached at a smaller Pershing event last week; See: Tibergien uses brutal honesty to captivate big Schwab RIAs and others at San Francisco event
He added that client retention is at record highs but that advisors still make the mistake of lacking succession plans, not building in the capacity to grow and serving all clients the same way. Segmentation of clients is important. (Schwab has created an eight-week program to on these topics. Look for more on that later this week in RIABiz.)
Pushback
Next, Schwab CEO Walt Bettinger addressed the crowd along with Jim McCool, Schwab's executive vice president for institutional services. Bettinger gave a quick overview covering Windhaven (Schwab's ETF manager), the firm's independent branch strategy and the company's new 401(k) strategy.
McCool made mention of Schwab Intelligent Integration, its consulting services, and the company's efforts to better serve RIAs and their clients from Schwab Bank.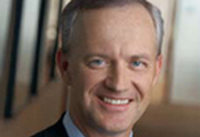 Jim McCool said Schwab Bank will
do more to serve RIAs.
The corporate leaders' talks were a bit of a let-down, Hewins said, in the sense that they told the advisors virtually nothing that they hadn't heard before. Still, he added that it's good to hear the information coming directly from the leaders.
Hewins added that one advisor asked if Schwab wasn't undermining his value proposition with the focus on cost – after Bettinger emphasized the low costs associated with the new passive-investing 401(k) program. Another advisor made the point, half-jokingly that Bettinger sounded like John Bogle, the founder of Vanguard Group. See: Schwab's CEO engages in a Q&A about how his company's deep-discount, more-advice 401(k) plan will work
Another advisor had a question related to social media. Bettinger acknowledged the burdens imposed by regulations but said at Schwab was "listening and watching behavior." He noted Schwab's RIA Twitter channel and said, "We will crack that code on how to unleash the power of social media." For Schwab's research on social media, See: 9 things worth knowing from Schwab's newest advisor study
Hewins added that there was a notable lack of questions on two of the potentially more contentious topics: Schwab's franchise plans and its purchase of Windward (now Windhaven.) Both efforts are potentially competitive for assets with RIAs.
Regarding the franchises, Hewins said: "I don't think anyone knows what to make of it, frankly." See: Schwab spells out the details of its franchise plan
Government problem
Next on the agenda: New York Times columnist David Brooks spoke about how U.S. culture that has moved from "self-effacement to self-celebration," which he says has led to more individualism and partisanship in recent years.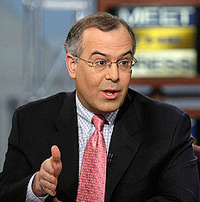 David Brooks: We don't react with
horror any longer at pushing debt
down to our grandchildren.
Brooks noted three consequences of this shift:
-The impact on how people live: "Personal spending is commensurate with self-worth" and this helps to explain why personal debt is 173% of GDP.
-Willingness to absorb public debt: "We don't react with horror any longer at pushing debt down to our grandchildren."
-Rise of polarization – "the other side (politically) is just in the way."
Brooks ended on an optimistic note: "We have a government problem, not a country problem."
Sales machine
Later in the afternoon, there was a panel discussion among advisors facilitated by head of Advisor Services sales, Jon Beatty. The topic was Capitalizing on Growth Opportunities and the panel consisted of John Burns, Jr., Burns Advisory Group; Peter Speros, Harris SBSB; and G. Randolph Webb Jr., president and CEO Signature Financial Management and Doug Wolford of Convergent Wealth Advisors, LLC.
Wolford talked about sales being "a system – a machine." Using a car analogy, he said many people focus just on the vehicle's engine but to grow smartly, you need to focus on the rest of the car too. He talked about the role of business development officers and the importance of their drive and cultural fit since they are out selling your company. Developing a good compensation plan is key, Wolford said, so that "compensation isn't a distraction."
Speros talked about the importance of referrals, and the impact of seeing competitive data through Schwab's Benchmarking Study that spurred his firm to change focus to faster growth areas. His firm ended up with a "5 in 5" program where business development officers are actively cultivating 5 "ideal client" prospects according to the firm's client profile, and 5 centers of influence to keep the pipeline full.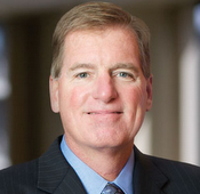 Bernie Clark: We're at a point
in our history when we will
start to see changes.
Webb brought a M&A perspective to the discussion, talking about how his firm developed a strategic acquisition approach. He stressed the importance and challenges of marrying two cultures, the need to have all your "artifacts" in place as you enter this process and the importance of communicating clearly and often with all stakeholders in the deal.
Webb said business reporting compatibility was as important as the financial metrics of the business. He also talked about the intense "get-to-know" investment his firm made in the target firm stressing the importance of developing a strong relationship on the front end as critical to getting you through the negotiation process. In all, Webb said, the firm's first acquisition was a seven-month process.
Hewins said that hearing these strategies from fellow advisors stoked his ambitions. "I want to be that person in business development and that person in M&A. Most people in the room weren't doing nearly as well" in those areas.
That evening involved, Hewins made up for some of the fun he had missed the night before, taking a ski lift 2,000 feet up the local mountain for dinner and more networking.
Market patter
Friday morning began with a panel discussion on M&A and succession transactions moderated by Nick Georgis. Advisor panelists were Chris Cordano, RegentAtlantic Capital LLC; Dave Giocomo, Investment Security Group Inc.; Gary Pollock, First Republic Investment Management; and Howard Sontag, Sontag Advisory LLC. Each panelist related their "deal" story or stories and answered lots of audience questions. "Internal" and "external" deals were discussed, as were experiences with investment banks as deal brokers, and employee ownership strategies as major drivers of loyalty and performance.
Next was a discussion on "Developing an Informed Investment Philosopy" led by Liz Ann Sonders, Schwab's chief investment strategist; and Steve Cucchiaro, chief investment officer, Windhaven Investment Management.

People wanted to hear more from
Steve Cucchiaro about his core investment
philosophy and less about the Japan
earthquake.
The investment experts talked about debt ceiling, the impact of the Japan earthquake, global weather disasters and the resulting food production impacts and oil prices.
Hewins said he found this session to be the most disappointing because it was "like CNBC"."
"I was disappointed that they simply gave market commentary, like CNBC, instead of addressing the title of the session, the core investment philosophy of an RIA firm. Part of that is personal, as I place zero value on that kind of market commentary…I was expecting to hear an exposition on how an RIA firm ought to be presenting their core investment philosophy to the market." For more on Cucchiaro, see: A look inside Schwab's big deal with a small asset manager
Final thoughts
The official conference agenda ended with a talk on customer loyalty by Simon Cooper, president of Marriott International. He spoke about how to inspire from within to make a deep and lasting impression on your clients.
Hewins' final impression was of conference – especially because of the quality of the networking – was positive, saying the only thing approaching its quality was a DFA event in Santa Monica year ago where investment bankers came in to discuss succession planning.
This EXPLORE conference is "unmatched," he said.
See: Fidelity holds exclusive annual conference and gets an unforeseen jolt of energy from Bin Laden's death
Final Note: My last conversation with Roger Hewins occurred while he was in the Denver airport and his flight was set to take off for Minneapolis right on time.
---
Related Moves
December 10, 2019 – 2:05 AM
---
---
---
---
Mentioned in this article:
Team Hewins
RIA Seeking to Hire Advisors
Top Executive: Roger Hewins
---
---
---