Richard Bernstein: This is the world's greatest story – U.S. small caps.
Despite the love many advisors have for emerging markets funds, industry leader Richard Bernstein is adamant advisors should steer clear of them.
President of Richard Bernstein Advisors LLC, Bernstein says advisors and investors are turning a blind eye to the numerous problems associated with emerging markets because they're convinced their loyalty to this sector will reap big rewards. They're spending too much time looking at past performance and aren't looking with a clear eye to the future, he says.
Bernstein has attained a near cult-like following in the industry stemming back to his days at Merrill Lynch where he was voted to the Institutional Investor All-American Research Team for 18 years and named to the "first team" ten times. Now, he runs the Richard Bernstein Multi-Market equity Strategy Fund for Eaton Vance.
Bernstein spoke this week at the second annual Innovative Alternatives Strategies Conference sponsored by Financial Advisor magazine held in Chicago's Palmer House – a longstanding landmark nestled in Chicago's Loop.
The case against emerging markets
Bernstein points out investors and advisors are so concerned about U.S. inflation, which has risen from 1% to 3.5% this year alone, that they have ignored the fact that emerging-market countries have seen even steeper inflation.
On top of inflation, these countries have begun to report negative earnings and are also having internal struggles about how to handle their problems.
"We know all of the problems in the U.S. If you turn on the TV everyone is screaming in your face all of the problems, but there are very significant problems in emerging markets and no one wants to deal with it," Bernstein says.
Rather than staying strong on emerging markets, "I want you to think about what you're missing that will out-perform emerging markets in the next 10 years," he says.
Small-cap surprise
Despite all the talk of how bad the U.S. economy is right now, Bernstein points out advisors are ignoring some bright spots in small companies here. For instance, he says we still have some of the strongest corporate fundamentals that have led to some surprise earnings. A number of companies are quietly succeeding. In fact, although it gets very little attention, growth among U.S. small cap stocks has performed 50% better than Chinese stocks, he says.
"I think this is the best story and no one cares," Bernstein says. "Some groups have stopped including small caps in their lists. This is the world's greatest story – U.S. small caps."
Alternative options
While there's clearly industry buzz around alternative investments, RIAs concede that a small percentage of investors are comfortable with them
However, alternative strategies are a vital element for client portfolios, says Randal C. Langdon, president of Lindner Capital Advisors Inc., an RIA with some $600 million in assets. His firm manages assets for other RIAs, he says.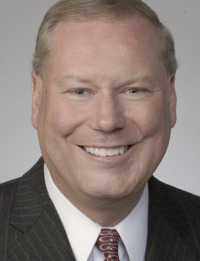 Randal Langdon sees alternative investments as
a good alternative to Alka-Seltzer for
heartburn.
Increasingly, clients are craving different types of alternative investments that will shield them from market volatility. "This is a new topic," he says. "Everyone wants something not correlated so they don't have heartburn like they had in 2008."
In fact, this week's conference included a number of sessions featuring conversations about hedging strategies and ways to make investors feel more comfortable with alternative investments. There was also talk about tax efficiency.
Lone rangers
Even though many alternatives can provide cushions for investors, there's a group of fund managers that go against the conventional grain and manage short equities. These lone rangers admit that what they do on a day-to-day basis isn't for the faint of heart.
In one session titled, "The Contrarians Panel," fund managers spoke about what it's like managing and trading stocks on a daily basis rather than taking a more traditional longer-range approach.
It's not easy being a professional bear, concedes Doug Noland, senior vice president of Federated Investors who heads the alternative equity management team. He manages Federated Prudent Bear Fund, a short equity fund.
"It's a grueling and humbling experience," he says. "Positioning against the crowd can be a very risky business."
Being a successful short trader requires active risk management and quick decision making as it pertains to risk balancing. Noland confessed that along the way it's only natural to have some sleepless nights.
The last few years were particularly draining, especially when he found himself losing against the volatile market.
"Most people don't find shorts attractive, let alone appealing," Noland says. "The element of risk is akin to professional speculation. You've got to know when to hold them, when to fold them, when to walk away and when to run."
But despite all of the stress, he thrives on the challenge.
"I believe managing a short fund is the ultimate challenge. What doesn't destroy you will make you stronger," he says. "You've got to work harder."
Lights, camera, action
In addition to the "short" panel, others featured alternative investments that many advisors may not typically consider.
For instance, in "Out of the Box Alternatives," Edward Sylvan, chairman and CEO of Sycamore Entertainment, an independent film-marketing and distribution firm, told advisors about movie investments, which involve the funding of the print and advertising for the movie.
Unlike other movie investments, investors' money isn't actually collected until the filming of the movie has been completed, he says.
investors are one of the first investors to be paid even before producers.
This investment strategy wasn't impacted by the economic downturn, Sylvan says.
"There's no correlation to the market and as people stay closer to home, they still want entertainment," h says. "Going to see a movie is one of the cheapest forms of entertainment."
---
---