Brian McLaughlin: We have nice new Nissans.
Brooke's Note: Redtail is one of those companies that seemed to come out of nowhere. One minute I hadn't heard of it and the next, people seemed to be mentioning it at every turn. I wondered how an under-the-radar firm could move so quickly into the high-buzz category. It turned out there was a pretty good, albeit multi-layered, explanation.
The company launched back in 2003, gained critical mass selling to IBD reps, but didn't start selling to RIAs until three years ago. Redtail hits on many cylinders including low prices, low conversion costs, proactively integrating with partners where it can and rewriting its technology before the reaper of technological obsolescence comes knocking at the door. (Heather covers that extensively in her review here.)
It was also in the right place at the right time. Advisors are waking up to the virtues of CRM but three of the major competitors, SalesForce, Microsoft and CRM Software (Junxure) have drawbacks for certain potential users. The former two giants are not customized for advisors and Junxure won't be in the cloud until year's end. There are other notable aspects of this company ranging from how its owners have bootstrapped its growth and avoided VC funding to its continued lean staffing. It also has a canine legacy to its name – something that wins favor at RIABiz, which recently adopted Shadow as a mascot despite his distaste for our brand.
| | |
| --- | --- |
| Release Date | Started in the IBD space in 2003, working with RIAs since 2008. |
| Price | $65/month for 15 logins for CRM platform, $49/month for 10GB of storage for Redtail Imaging services, $8/month per account for email archiving, $10/month per user for Redtail Mobile |
| User Base | 7,000 advisor offices, which makes up ~30,000 users. Adding 120-140 new advisor offices per month. |
| Competitors | Force, Microsoft and CRM Software (Junxure), Ebix CRM |
| Web or Desktop | Web |
| What does it do primarily? | CRM |
Fondly named after CEO Brian McLaughlin's red-tailed golden retriever (not the hawk or the beer), Redtail is a Sacramento-based company living the American dream.
Bootstrapping its way to the top of the CRM software industry, Redtail grew out of a small firm's need to synchronize data in 2001 and became profitable by 2005 in the IBD space. In 2008, Redtail ventured into the RIA market and is currently adding 120-140 advisor offices per month to its existing 7,000.
"We're not quite to the Mercedes for all the employees, but we're getting there. We have nice new Nissans," says McLaughlin. "We started with three employees, and now we're at 32, so it's still a pretty small shop."
McLaughlin attributes Redtail's growth to its straightforward and cost-effective pricing, which appeals to small and large firms alike.
The CRM platform costs $65 per month per 15 users. This cost also includes database transition – a huge part of Redtail's behind- -the scenes development efforts. Supporting over 70 data formats, from Outlook to ACT!, Redtail has put in the work to make database migration as simple as possible for the advisor.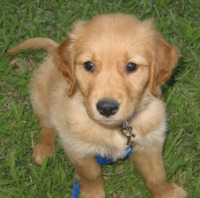 People assume Redtail was named after
a hawk or a beer, Redtail
was actually named after this dog,
Tucker.
Sunit Bhalla, RIA and founder of OakTree Financial Planning, a young firm with one employee and $10 million in AUM, began using Redtail Technology in 2008. Starting from scratch with a strong technical background, Bhalla began using Redtail because it is web-based, compatible with any browser, and has strong integration capabilities. Currently Bhalla uses several software products to run his firm, four of which integrate directly with Redtail. "If I had to copy data back and forth or move it manually, I'd be very unhappy," says Bhalla speaking to the ease of Redtail's integration.
Redtail also has integration deals with a number of asset custodians including Fidelity, Pershing, TD Ameritrade and Shareholders Service Group. The company says it hopes to be part of Schwab Intelligent Integration but its growth was not slowed when it was not named by the custodian as a primary integration partner back in November.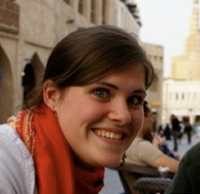 Heather Underwood: The continuity, simplicity, and
aesthetic appeal of Leapfrog was leaps
and bounds ahead of the old.

Although pricing wasn't much of an issue for Bhalla, he says that firms looking to grow in terms of staff can benefit from Redtail's simple pricing model that scales by number of logins in chunks of 15 users. Bhalla, a one-man shop out of Colorado, is looking to scale his practice with technology instead of adding staff yet still comments: "If I had to pick a solution now, I'd still pick Redtail. It fits my needs the best."
Bhalla's tech-heavy approach to business may not be for everyone, but he assured me that while his integrated software system may seem complex, Redtail itself was a cinch to set up.
Old vs. New
On Jan. 2 2012, Redtail will officially launch Leapfrog, cutting off support to the old system. Leapfrog which is a complete rewrite of the Redtail product. "We took the approach of 'If we could do this all over again, what would we do differently?'" says McLaughlin.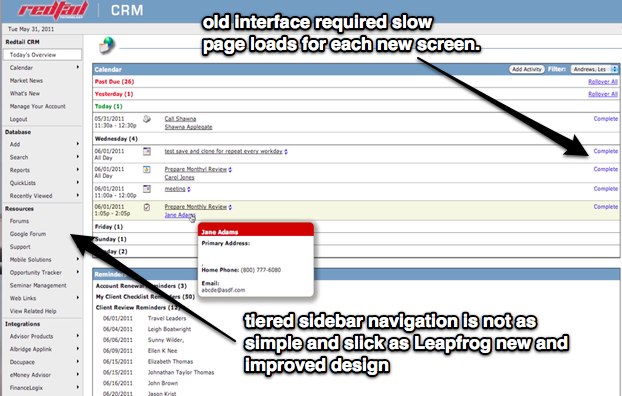 Screenshot of Redtail's old interface; less
user friendly than Leapfrog's new design

As a company-driven decision, the move to Leapfrog will not result in any migration or price changes for existing clients. The goal of this rewrite was to create a more flexible and user-friendly interface that keeps up with leading-edge technology.
As McLaughlin switched between the old and new interfaces, it was clear that the continuity, simplicity, and aesthetic appeal of Leapfrog was leaps and bounds ahead of the old. Dynamic windows have replaced slow page reloads, and the customizable home page layout gives advisors information all in one place.
"Leapfrog works much better. It's more of a web-based application that works across different platforms than the old Redtail was," says Bhalla, who runs his practice on Macs, and appreciated the browser compatibility upgrade.

Screenshot of Redtail's new interface, Project
Leapfrog, which keeps everything in once
place and makes information easier and
more intuitive to access
The new homepage dashboard pulls feed data in real time. "We pull in from pretty much every aggregator out there. We have the capability of handling more than one feed per database. So I could take a Schwab feed plus an Advisor Exchange (account aggregation) feed and merge the data together," says McLaughin.
Functionality is more clearly marked in the new interface making navigation more intuitive. Reminders are automatically generated as data is plugged in. For example, birthday reminders are generated when client information is first entered. Quick lists is a dynamic way to quickly make groups of clients based on specific criteria, and changes to criteria or client information are reflected automatically in the list. Tag groups is a way for advisors to make groups manually.
Familiar Faces
Redtail's new look has clearly borrowed some web conventions from popular sites such as Facebook and Google Calendar as well as Apple's iTunes.
When McLaughlin pulled up the "Recently Viewed" accounts from the bottom menu, I thought for a second he had logged into Facebook chat. The Facebook-blue list of accounts even has profile photos for each client.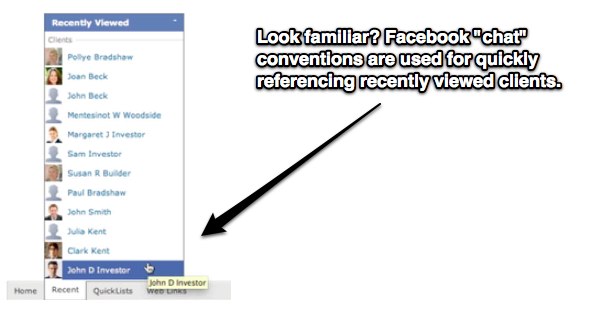 New Leapfrog UI uses conventions from
Facebook, Google, and iTunes
Standard web conventions can simplify workflows for advisors familiar with other products, but can also make a product feel disjointed if too many conventions are borrowed.
"As long as they aren't forcing a [conventional] model that doesn't fit the workflow, familiarity is definitely a benefit," says Bhalla.
Feature Highlights
Copytalk is a voice-to-text dictation service that allows advisors to record an audio message on their mobile phones, have it transcribed by an operator at Copytalk, and receive the transcription via e-mail. Using the Redtail API, Copytalk will simply drop the transcription into an advisor's Redtail account so that advisors can manage transcriptions (i.e., make notes, reminders, activities, etc.) the next time they log on.
AND/OR searches:
Although Redtail has always used a Microsoft SQL database, Leapfrog is taking the next step and capitalizing on the complex search abilities of this system. Unlike Redtail's old platform, Leapfrog allows for multi-query AND/OR searches. Basically, queries like "Clients in California AND clients named John OR clients named Jane" give advisors greater searching capacity to find the specific information they need.
Integration:
Redtail isn't shy about integration. More than just integration within the RIA tech world, Redtail is reaching out to companies like Freshbooks and Zillow.com to give advisors access to some of the leading products in invoicing and real estate pricing.
Browser independent:
Leapfrog is also leaping into more browsers, unlike its Internet Explorer-only predecessor. Now compatible with Chrome, Safari, Firefox, and IE, Leapfrog will be available on Macs, PCs, iPads, and most other devices. Speaking of mobile devices…
Mobile, Imaging, E-mail
...Redtail has been working on a specialized mobile platform to be released July 1. Unlike the mobile platform Redtail has been offering for free, the new platform will allow advisors to add and edit information, have data pulled to their device in real time, and offers unlimited storage. The new platform will cost $10 per month per user or $20 per month per database. While Bhalla doesn't use the current mobile platform much, and had some trouble getting it up and running on his phone, he is looking forward to the release of the new platform. "I'll use it more on a day-to-day basis once everything is more integrated," he says.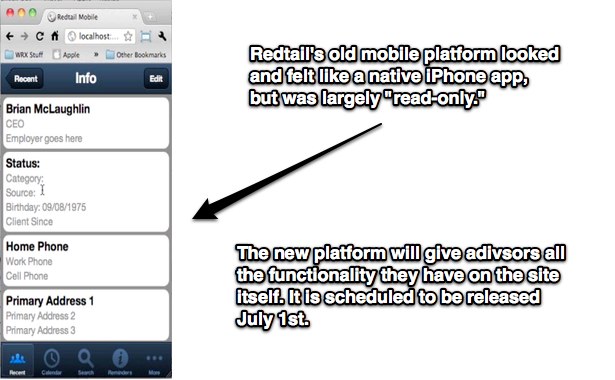 Screenshot of Redtail's old mobile platform;
the new platform will have more
of the site's functionality
There are also native apps (as opposed to a webpage running in a mobile browser) for the iPhone, Blackberry, and Windows 7 phones. Typical of several similar apps on Apple's app store, Redtail's apps are free to download but will charge for getting your data into the system.
Redtail also offers imaging and e-mail archiving services for compliance.
Redtail Imaging allows advisors to save and scan in documents such as pictures, PDFs, word files, etc. This service is $49 per month for 10 GB of storage, and has some neat features such as a Microsoft Word MailMerge plugin.
Redtail e-mail provides a complete audit trail of e-mail correspondence. The company uses automatic linking by e-mail address, which means that regardless of mail platform (Outlook, Apple Mail, etc.), Redtail will correctly map and route e-mails. Pricing for e-mail is $8 per mailbox per month.
---
Mentioned in this article:
---
---
---
John Cole Scott
Yes we are about to complete our Redtail migration and we are very excited to start using the software for our 5 users. They were very helpful in the sales/review process and the set-up/migration process. Cost wasn't the issue for us, but it web-based format and ability to connect to Orion and the custodian.
The only integration that I they need to add ASAP to keep our firm as a long-term client is integration with Google Apps Premier. I know it competes with their email hosting, but it is a platform which many business's from 1-10,000 employees utilize successfully. We are very satisfied and our email archiving provider integrates with them perfectly.
Frederick Van Den Abbeel
Redtail has done a good job reaching out to custodian firms like Trade-PMR, Inc. They were proactive and the reviews we've received from the RIAs that utilize them has been positive. Redtail was one of our first CRM integration partners back in 2008. Redtail like any forward thinking organization is doing a good job keeping up with the needs of RIAs and they should be commended.
Chris Grande
Redtail has been fantastic. Excellent product, good price, and service is outstanding. Even if they messed up, I would be very forgiving because the whole experience has been excellent. The good thing is, they haven't messed up and I will continue to use them
SKC
January 3, 2012 — 8:49 PM
Although we LOVE redtail—-we are nervous about the change to leapfrog—-we are so busy and to change to a new calendar is very difficult. The change is coming at a very busy season for our office. The owner of the company is very particular about his calendar and the new one is difficult to use when keeping a calendar for someone who wants it printed out and when you need to make and keep a full schedule for someone. All I can say is that I hope it works and that you don't foget about that end of the process.
iInvest
January 18, 2012 — 2:56 AM
Chris, I've certtainly shared my experience with them. They have not listened and I truly regret going with them as a CRM.
Chris Grande
January 18, 2012 — 1:42 AM
I would share concerns with Redtail as I'm sure they're more than eager to please – with so much competition out there.
Monique Tardif
January 23, 2012 — 8:09 PM
ilnvest,
Would you be willing to let me pick your brain about the frustrations you are having with Redtail? I currently use Salesforce but am not happy with it. I am looking at Junxure & Redtail. I could really use your insight on Redtail. Feel free to email me at mtardif@ctwealthmgmt.com.
Chris Grande
January 18, 2012 — 4:57 PM
ahh that is unfortunate:( #redtail
Tig2212
Check out Grendelonline they are going to be the next big thing. A lot better than Redtail which I used for 3 years. Much faster and you can enter the data as a household and not individuals. Just way better.
Charles
August 14, 2016 — 7:52 AM
I would not be buying everything said about Redtail Technology. A number of reviews have been found to be faked by staff members.
http://www.ripoffreport.com/r/Redtail-Technology/Gold-River-California-95670/Redtail-Technology-employees-post-fake-reviews-to-edit-business-image-Redtail-Technolog-1321659
Charles
January 15, 2014 — 4:09 AM
I really hope they start to support Google apps soon.
iInvest
January 17, 2012 — 8:53 PM
<ul> <li>The new product forces you to go into setup and setup your work hours, if an appointment falls outside of those hours you do not see the appointment nor can you scroll through the entire day.</li> </ul> <ul> <li>The new and/or search they brag about simply does not work. Just like the result of 2+6*2+1 is different than (2+6)*(2+1) you can not group your and/or so searches such as the below do not work:</li> </ul>
Advisor = "X"
Family Name > ""
Client Category <> "Several Things"
Street Address > ""
E-Mail = ""
<ul> <li>The implementation of Workflows and Checklist are simply not practical in the real world.</li> </ul> <ul> <li>They use the term family when in fact they mean those living under the same rough. Once someone moves out of the house you have to remove them from the family and then go through the steps to make them members.</li> </ul> <ul> <li>Evaluate in great deal anything you want integrated as most of the integration is done poorly and with very little or what would be expected functionality to have been considered integrated.</li> </ul> <ul> <li>The new version is missing a number of reporting capabilities found in the old version.</li> </ul> <ul> <li>There is no ability to assign several co-workers to a group meeting. So for staff meetings we have to add an activity to each person and if that meeting time/location changes it has to be manually edited by each person. </li> </ul>
Joe
November 30, 2012 — 10:37 PM
Except that the new version of Leapfrog cannot send mass email unless you host your email WITH them. Unless of course you can get your email host to open up relay for you. What I don't understand is that THEY host the email archive, and THEY have to tools to send mass email. Why can't that message be captured in the archive, without first having to be relayed off a third party host and then SENT BACK TO THEM??
It makes NO sense. Their solution is to move email hosting to them, but the service level you get with their Zimbra backend and all of the client software you have to install on workstations doesn't come close to what you get with Office365 and plain old vanilla outlook.
So.. while the new version of the software offers some great additions, a lot of their long term customers are getting left in the dust with little support as to how to resolve the issue.