News, Vision & Voice for the Advisory Community
Despite increased oversight, the one-stop-shopping model has worked for First Foundation
June 1, 2011 — 2:36 PM UTC by Lisa Shidler
Banks often struggle to establish RIAs but in a twist an RIA founded a bank on the cusp of the recession that is thriving and rapidly expanding.
First Foundation Advisors of Irvine, Calif., opened its bank First Foundation Bank on Oct. 1, 2007 just as other banks were getting reaping the whirlwind of ill-judged housing loans.
Since then, First Foundation has $400 million in outstanding loans and only one loan for $260,000 has gone bad, says Rick Keller, founder of First Foundation Advisors.
"I think the mentality on the RIA side is a little different than banks who decide to open RIAs," Keller said. "We're all entrepreneurs. We tend to be business-minded and service-minded. We've been able to bring in like-minded people and that has been very positive."
Sweet spot
First Foundation is one of the few RIAs in the country to take this step. Despite the daunting compliance logistics inherent in such an undertaking, the bank end of the business now has $470 million in assets and is rapidly growing. In fact, both companies have blossomed during this time. The RIA, which custodies its assets with Schwab and Fidelity, had $1.2 billion in assets in 2007. It saw its assets fall to $900 million during the downturn but the assets have rebounded to $1.73 billion.
Last summer, the company opened an office in Pasadena staffed with bank and RIA workers. Two weeks ago they opened an office in Palm Springs and this fall they're planning to open a location in La Jolla, Calif.
The firm's new clients in its Irvine, Calif. office are coming on board with about $10 million in assets, but the average account still hovers around $1 million in assets. The RIA has 1,200 clients and the bank has 1,300 clients. Its average RIA client has about $10 million in assets.
Last summer, the company opened an office in Pasadena staffed with bank and RIA workers. Two weeks ago they opened an office in Palm Springs and this fall they're planning to open a location in La Jolla, Calif.
"Now, we're able to offer a broader platform and service," Keller says. "We offer investment management on the banking and trust services so we can do complete lending and [offer] all of the banking products."
While there's an account minimum of $1 million for the RIA, anyone who wants to set up a checking account with the bank can do so because there are no account minimums.
But the bank certainly sets its sights on affluent clients. For instance, it doesn't typically give out car loans, instead concentrating on specialty loans for helicopter purchases and jumbo loans. But the sweet spot is real estate loans of about $1.5 million. In fact, about 65% of the bank's loans are earmarked real estate purchases, which include multi-family apartments, commercial real estate and some larger single-family houses.
Losing business to banks
Between 2005 and 2006, six banks offered to purchase Keller's RIA. When he turned them down, they warned him to prepare for an onslaught of competition. See: Banks are hungry to buy RIAs again
Keller felt he had to do something to compete with these banks that were preparing to arm themselves with RIA services. Rather than sell his RIA, he decided to build his own bank.
"It was stressful to compete in a world where investment management services are combined with a broad bank platform so I decided to open my own bank," says Keller.
One day, Keller had lunch in Irvine with Scott Kavanaugh, who had been a business associate of his for years. Kavanaugh also had success overseeing his own bank, which he had subsequently sold.
At lunch, Kavanaugh says the pair talked about the fact that Keller was losing clients because he often referred clients to banks for various services.
"When you're referring clients to places like Bank of America what concerns me is you're referring a lot of your business out and if you make one bad referral it's a lasting reminder," he says.
"Also, [banks] are going to want to handle your clients' investment management and next thing you know they'll be threatening your business."
It turns out the timing was perfect for Keller and Kavanaugh because the other banks weren't able to expand after the recession hit.
"2008 killed those plans," says Kavanaugh.
Mission (almost) impossible
By the time lunch was over, Keller and Kavanaugh a hand-shake deal and Kavanaugh began the legwork to start the bank. He
put together a board of directors together and hired a staff for the fledgling bank.
"We had a very good group of money managers. There are a ton of banks that try to start up money management thinking they can run money and they can't. I knew we had to have bankers who knew what they were doing."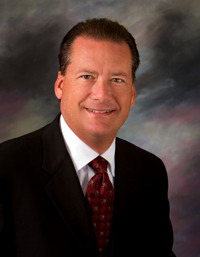 Scott Kavanaugh: There are a ton
of banks that try to start
up money management thinking they can
run money and they can't. I
knew we had to have bankers
who knew what they were doing.

Kavanaugh says that getting people to come work for a start-up bank was nearly impossible, especially in 2007 when the economy was starting to tank. Ultimately, he used his connections to find experienced bankers.
A hard pill to swallow
The partners created a holding company named First Foundation Inc. to oversee two wholly-owned subsidiaries. The RIA, First Foundation Advisors and the bank, First Foundation Bank, received their charters on Sept. 17, 2007 and opened for business Oct. 1.
Early on, the company had some issues with its marketing because they had two different brands. At the time the RIA had been named The Keller Group. To avoid confusion the RIA's name was changed in 2008 to First Foundation. The RIA was predominately owned by five principal shareholders and the RIA needed to be rolled into the holding company. A tax free exchange of the owners' shares was completed and the owners surrendered their shares in the RIA in exchange for holding company shares.
The RIA was appraised at $20 million – about $5 million less than the bank offers Keller had received. At the time, it was a hard pill to swallow.
Through outside investors and their own clients, Keller and Kavanaugh raised $32 million in capital to get the bank started.
Regulation hell
Operating a bank and an RIA is a risky affair because with one wrong step either the RIA or the bank could be headed for disaster in the eyes of regulators. RIAs are regulated by the SEC. Bank and holding companies are regulated by the Office of Thrift Supervision. Banks are also regulated by the FDIC.
As a result, starting July 21, First Foundation will have four different regulators scrutinizing its every move. The bank will be absorbed by the Office of Controller and will be regulated by that group and the FDIC. The holding company will be regulated by the Federal Reserve Bank. The RIA remains under the purview of the SEC.
This makes staffing a complicated proposition. Employees can't cross-sell. At the new locations the company has opened, strict separation between the RIA and the bank must be maintained.
"The regulation is crazy," Keller says. "There's a Chinese wall between the two companies. The client has to be interested in doing business with both sides."
The company now has 100 employees as opposed to 2007 when the RIA had just 23. About half of the employees work for the RIA and the other half for the bank.
Kavanaugh says employees at both the bank and RIA often try to procure new clients for the entire business not just one side or the other. The overlap is about 40% and company executives say both the bank and RIA feed off of each other often bringing in new RIA clients from the bank and vice versa.
"We've got relationship managers on the advisory side that are looking for prospects for company as a whole and we have private bankers looking to bring in business as a whole too," Kavanaugh says.
---
---
Share your thoughts and opinions with the author or other readers.
---