Deb Wetherby: Form a girls' group. Attitude matters – find and hang out with women who inspired you.
It's always a treat to attend NAPFA's annual conference and this year did not disappoint.
I especially enjoyed the day-long pre-conference, "Step Forward," sponsored by TD Ameritrade and the National Association of Personal Finance Advisors Women's Initiative, which was launched by Peggy Cabaniss several years ago when she retired from her role as NAPFA chairwoman. About 50 women attended.
Cheryl Holland, CFP®, founder of Abacus Planning Group, walked us through the "visioning" process she used to build a financial advisory and investment counsel firm managing over $550 million in assets, primarily for individuals.
"As the leader/founder, you are the culture bearer, your mood and mindset are important," Holland said.
Techniques
Holland also shared how she uses "appreciative inquiry" techniques and a "wheel of balance" exercise to build a highly effective team.

Cheryl Holland: We need to communicate
something at least seven times before
people really begin to absorb what
we are saying.
She emphasized that delivering praise is especially important if you work with and lead other women.
"Women are very sensitive. We are very hard on ourselves," she said.
Translation: Whatever you say in the way of constructive criticism will be amplified by the female brain.
Holland also reminded us that as leaders of effective teams – of men and women – we need to communicate something at least seven times before people really begin to absorb what we are saying, so be sure to repeat, rephrase and refocus your comments if you want to truly connect.
Becoming a communicator
Lynn Torgove and Patricia Welnmann, founders of Gabriel Communications, had us laughing, singing, breathing and humming throughout their energetic one-hour session on how to become a communicator. After identifying the many qualities embodied by confident, powerful communicators – and, on the flip side, identifying the characteristics that undermine a strong personal presence – we did a handful of exercises to improve our ability to inspire trust and build credibility.
We practiced speaking with "conscious competence" and tried to eliminate both "filler words" such as "um," "ah," "you know" etc. and "up speak" – think the "Valley Girl" lilt – and how seeming to ending every sentence as a question can undermine our best intentions.
We learned warm-up exercises used by opera singers to improve our vocal delivery and create a melodic, engaging tone. We practiced our "up faces" and our "neutral faces" and the use of "engaged eyes" and were warned never wear your "down face" or use your "Eeyore voice." We practiced delivering the headline first and then providing supporting information as a way to help people follow us when we speak.
Attitude matters
Deb Wetherby, CFA, CFP®, CEO of Wetherby Asset Management, shared how she and her team have built one of the largest independent employee-owned advisory firms in the United States. Stats like "over $3.5 billion in assets under advisement" and "nearly 50 employees" are sure to get my attention!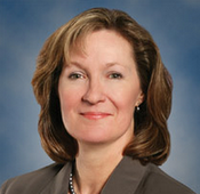 Marie Swift: It should be noted
that a few men also signed
up for the day
"Invest in your team – they are your greatest asset," Wetherby said. "Hire people with different strengths and weaknesses. Look for skills and values. You can train for skills — but you can't train in values," she said.
Wetherby also stressed the value of having a business plan and putting it in writing. She and her team have developed a "how to work well with us" document that they give to vendors, staff and other key partners. This guiding document includes "operating rules" such as how to communicate when things are not going well: be explicit, follow up, take ownership, etc.
"Watch your filters and biases," Wetherby warned "There's a difference between reprimand and feedback; judgment and coaching. Ask yourself: what do I need to be successful, where do I want to be personally and professionally in 3-5 years — and share that with your team. Don't worry about doing great things — do little things great."
And, my favorite advice from Deb: "Form a girls' group. Attitude matters – find and hang out with women who inspired you. Ask them for advice and support as you navigate the ups and downs of life."
Tales from the trenches
Kate Healy, director of marketing, TD Ameritrade, offered insights into women advisors and investors, sharing research and perspectives on working with this powerful and underserved demographic.
Bob Veres, publisher of Inside Information, moderated a "tales from the trenches" conversation with Samantha Macchia, CFP® COO of Summit Financial Strategies, a five-shareholder firm in Columbus, Ohio; Peggy Eddy, CFP®, co-founder and president of Creative Capital Management, a 36–year old financial planning firm in San Diego. Eleanor Blayney, CFP and co-founder of Directions for Women, offered insights on working with women and led a "Conversation Café" exercise.

Eleanor Blayney: Women can be our
very best clients … or our
worst.
"Women can be our very best clients … or our worst. Many are slow to trust, confused and emotional about money, unwilling to engage. But once we gain their confidence, they are loyal clients and great referral sources," Blayney said.
Men in the mix
While the attendees at the "Step Forward" pre-con were primarily women advisors — including some very well-known industry coaches such as Tracy Beckes and Diane MacPhee — it should be noted that a few men also signed up for the day to, as one of the gents told me, "explore new ways to connect with women clients and attract prospects from a underserved market that has enormous wealth and growing economic power."
Marie Swift is President and CEO of Impact Communications, Inc., a full-service marketing and PR firm serving a select number of financial institutions and affiliated advisors. Swift facilitated a lively, interactive session — with conference attendees sitting in chairs that spilled out into the hallway — on how to maximize your online presence, including the use of traditional PR, social media tools and compliance tips.
---
---
Mentioned in this article:
---
---
---