Brent Burns: Advisors who take on a fiduciary role have a lot of branding work to do.
Brooke's Note: The National Association of Personal Financial Advisors is known by most RIAs for two qualities: It is pure in it fiduciary purpose and, like other Puritan sects, quite small. So the fact that it suffered the indignity of being bumped in relatively last-minute fashion out of sinful Las Vegas by a bigger conference and landed in Salt Lake City, where many of its denizens live by Mormon tenets of purity, seems somehow apropos. As you can read in Brent Burns account here, it may have augured a favorable destiny.
The NAPFA national conference in Salt Lake City last week seemed to mark a turning point in advisor sentiment and I wasn't the only one who noticed. Attendees I spoke with noted that the tone of the event was that of hope for the future rather than dismay over 2008's financial debacle.
Even the last-minute change of venue of the May 18-20 conference of the National Association of Personal Finance Advisors turned out to be serendipitous. Some 500 attendees gathered at the Grand America Hotel. Touted as the city's only five-star establishment, it provided a beautiful backdrop for a conference that highlighted the future of client-centric advice.
NAPFA chairwoman Susan John certainly set the tone as she unveiled the organization's new logo and tagline: "The Power of Trust." John kicked off the conference by laying out NAPFA's plan to remain relevant in light of a changing industry and to lead the way in defining a business model that revitalizes the financial planning profession and rebuilds client trust.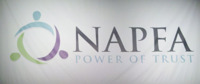 NAPFA waves its new flag.
John emphasized that fiduciary advisors need to market to the general public and highlight the differences between brokers who sell financial product and advisors who provide advice as fiduciaries.
The NAPFA board is planning a campaign — details of which it did not reveal — to create public awareness of the fiduciary standards.
Although he was preaching to the choir, TD Ameritrade president Tom Bradley punctuated NAPFA's commitment to bias-free advice with his overview of the fiduciary debate still raging in Washington.
Most notably, he said that advisors who take on a fiduciary role have a lot of branding work to do because clients still don't seem to be able to differentiate between brokers and fiduciary advisors.
Bradley drew a clear distinction between brokers as financial sales people and advisors. He didn't make a judgment call – in fact, Bradley said the world needs both. It is when the distinction between the two becomes blurred, he said, that problems occur. Bradley stressed that clients need to know what kind of service they are getting. Unfortunately, he did not give any guidance as to how advisors might more effectively brand themselves.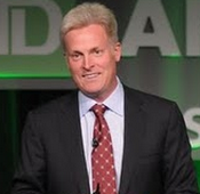 Tom Bradley said that the world
needs brokers as long as their
distinction from advisors does not get
blurred.
Trick or Tweet?
Marie Swift, president and CEO of Impact Communications, Inc., facilitated an extremely well-attended session on building an online presence and using social media in a way that is congruent with a fee-only practice. The message: Social media is permeating advisors' lives and clients' lives. To be effective you have to take a multifaceted approach because people don't just use one website (i.e. Twitter, Facebook and LinkedIn). She counseled maintaining a presence on multiple sites with a strategy targeted to each site's tone.
One of Swift's key takeaways was consistency of use. In order to establish credibility in social media, advisors have to be regular participants.
The uses and potential misuses of social media permeated discussions. Compliance people stressed caution. Many advisors, however, seemed to have made their peace with new technology as evidenced by the vigorous blogging and tweeting occurring throughout the sessions.
Speaking of Twitter, @MichaelKitce chronicled the event on the massively popular site.
Brent Burns is President and Founding Partner of Asset Dedication, LLC. Brent's deep background in empirical finance formed the basis for Asset Dedication's modeling and analysis. His work with Asset Dedication began more than a decade ago at the University of San Francisco, where he partnered with co-Founder Steve Huxley as to study portfolio performance and the impact of withdrawal rates, inflation, and market conditions.
Editor's Note: Marie Swift will offer her on take on the NAPFA conference for tomorrow through the eyes of women.
---
---
Mentioned in this article:
---
---
---