Rob Major: If you have 200 reports that do everything but cook you breakfast in the morning, you have a system that is unaffordable for 80% of the advisors that are out there.
It was the Big Bang of advisory software: Two weeks ago Advent Software, the industry leader, announced a deal to buy Black Diamond Performance Reporting, the industry's biggest disrupting force.
Some believe that the $73-million purchase could create a juggernaut. But when so much power is consolidated in one place anything can happen. Pricing, differentiation and innovation could improve. They could also be adversely affected. See: Why Advent and Black Diamond are merging and how advisors look at the deal
With the portfolio management system business in such flux, it is important to keep in mind that the 2011 landscape differs dramatically from that of 2002 when Advent Software acquired Techfi and its product, AdvisorMart.
These days, there are plenty of other emerging disruptors like Orion Advisor Services, LLC, Morningstar, Inc. and FinFolio poised to pounce on any sign of weakness from the would-be behemoth. Schwab PortfolioCenter is still a countervailing force and companies like are rattling sabers. See: Giant of the broker-dealer tech world takes aim at Advent
Stealth firm
One smaller but fast-emerging firm is AssetBook. Based in McHenry, Md., it has burst onto the portfolio management software scene thanks to a recent marketing push and now has 150 firms using its services. This is AssetBook at a glance:
| | |
| --- | --- |
| Release Date | Started beta testing in 2004, product went to market in 2008 |
| Price | $24 per year per account |
| User Base | 160 firms, growing by 5-10 clients per month |
| Web or Desktop | Entirely web-based |
| What does it do primarily? | Portfolio management, automated billing, reporting, customization, easy integration with third-party products |
AssetBook's founder, Rob Major, was a co-founder of Techfi. Believing that product development may have moved too rapidly at TechFi, Major took his time developing and testing the AssetBook product. He began laying the groundwork in 2004, beta testing with 50 users including 15 former Techfi customers. Three-and-a-half years later, he brought the product to market in 2008.
Leery of reports
The result: AssetBook offers RIAs no-frills flexibility at a competitive price point. Black Diamond Performance Reporting was able to differentiate itself with its focus on reports, but AssetBook is actually leery of them, believing they can get in the way of quick access to information.
"If you have 200 reports that do everything but cook you breakfast in the morning, you have a system that is unaffordable for 80% of the advisors that are out there," says Major. AssetBook offers performance reports but fewer of them and charges advisors extra for extra customization.
Completely web-based and architected by an industry veteran and company founder, AssetBook's portfolio management system is offering a time-tested, high-functioning product.
But success did not come immediately for Major's brainchild.
"I think they hit a brick wall for a while," says Joel Bruckenstein, producer of the T3 conferences.
It was simply a matter of going at a pace where AssetBook could get things right, according to Major.
A new challenge is Techfi's other founder, Matt Abar, who launched a new venture with FinFolio (See: FinFolio looks to offer unprecedented flexibility and power, with an intuitive interface) in 2010.
In the last year, however, AssetBook has started actively marketing its system and it is now growing by 5-10 new firms per month. The firm is working with TD Ameritrade to cover the costs for breakaways coming to AssetBook – including advisors departing LPL Financial – which has helped drive its growth.
Still, AssetBook is working to overcome it image as a product for very small RIAs. Bruckenstein, for instance, says that he sees it as a competitor primarily for dbCAMS and Captools Company.
"[Major has] built what I would call a niche product. I don't see them competing head on with Black Diamond or PortfolioCenter but they offer good value for the money and the market is big enough," he says.
And perhaps getting bigger:
"Initially small RIAs wouldn't go to the web but now it's just the opposite; and they prefer it," says Bruckenstein.
Converts
More than 50% of AssetBook's new clients are converts from PortfolioCenter and Advent systems. See: Schwab PortfolioCenter may be poised to shed its utilitarian image
One recent convert is Ravi Dattani, principal of Schiavi & Dattani Financial Advisors, which manages $280 million of assets from Wilmington, Del. Dattani has been using AssetBook since last November after meeting Major at the National Association of Personal Finance Advisors conference in Boston.
Dattani, a Fidelity advisor, switched to AssetBook from PortfolioCenter attracted by AssetBook's client portal, web-based system, historical transaction migration and competitive pricing.
Dattani joined RIABiz during a demo with AssetBook to provide advisor-tested feedback on the product.
Client Portal
"One of our 'pain-points' was doing the quarterly reporting for our clients," said Dattani, who was tired of printing, addressing and mailing myriad of client reports. These reports are now available for clients online via AssetBook's client portal.
The client portal is becoming a popular supplement to paper reports for getting data to clients. Allowing clients to log in, see their data, get reports and view documents uploaded by the advisor not only reduces work for the advisor, it gives the client a way to interact directly and be involved in the process.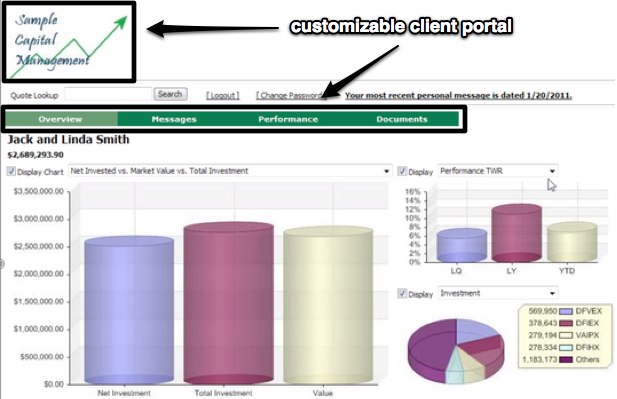 AssetBook's client portal allows clients easy
access to all their information online.

AssetBook's portal is completely customizable. Information in the client portal automatically reflects changes made in AssetBook. Advisors can also choose to send reports and documents to the client portal by checking a box in the report generation process; no need to upload it separately.
Historical transaction migration
Converting and migrating historical transactions is a painful but necessary part of switching systems. "It's not something we make money on…but we know it just has to be done," says Major. "You can't just pretend that everything that happened before you switched systems didn't."
This service proved a big selling point for Dattani. "[Black Diamond] didn't want to bring over the historical transactions…that was one of the things that was a deal-breaker for me."
Black Diamond's chief solutions officer, Dave Welling, explained that there are several options for advisors using Black Diamond.
"For data conversion we have several options including bringing over pre-calculated performance history and historical transactions or recalculating performance based on the transactional detail. The latter is an option if advisors either don't have or do not have confidence in their performance history," says Welling.
For a more in-depth look at Black Diamond's offerings, see our Black Diamond tech review: Already known to be cutting edge, Black Diamond shoots for the bleeding edge with total rewrite of its software.
A New Take on Reporting
There has been a "reports" section in almost every tech review RIABiz has written: custom logos, fancy graphics, etc. Reporting and report quality are important aspects of a portfolio management system, but having to run a report every time you need data seems tedious to the folks at AssetBook.
Dattani was a key player in designing this point-and-click data access system. "The fewer clicks the better to get to what you're looking for. I don't want to run reports, I want point-and-click-access."
"I kinda put out the idea, and a week later it was done," says Dattani.
AssetBook does offer performance and quarterly reports with custom logos, fancy graphics, etc., but for retrieving data on a daily basis, no report generation is necessary.
Instead, the firm has chosen to set its sights on customer service and customization rather than joining the race for best reports.
'Eighty percent of our firms are just fine with the reports that come included with the system, but it's the 20% who want to do something a little different," says Major. For this 20%, AssetBook's services can be purchased to create the customized reporting tools the advisor is looking for.
No-Nonsense Pricing
AssetBook's pricing is simple: $2 per account per month, or equivalently, $24 per account per year. There is also a one-time $2,500 implementation fee, which includes set-up and customization.
With a $400 per month minimum, small and large firms alike can take advantage of AssetBook's complete product.
AssetBook's focus on customer service and its client-driven development model has given clients like Dattani the opportunity to ask for custom features in the product.
The 'hub and spoke' of Integration
The general industry push toward widespread product integration appeals to Major. Already a partner in the TD Ameritrade integration effort, AssetBook is excited about its future. "Integration is going to start off pretty basic, but ultimately we'll all just be sharing data…I definitely think that's the way of the future," says Major.
Several "hooks"; in the product, including a few controls for exporting data to Principia and Trade Warrior, hint at AssetBook's integration capabilities. Most of its integration with products like Tamarac, ByAllAccounts, and Redtail Technology, happens behind the scenes.
"We're all about integration; we'll integrate with anybody. It's easy in a way for us because we're the central hub and spoke of integration because we're housing all the data," says Major.
Automated Billing
Dattani spoke at length about AssetBook's automated billing process. He was skeptical when Major told him they could automate the firm's complicated manual billing system. AssetBook delivered, taking complicated excel spreadsheets and formulas and automating the entire process.
This customized service costs advisors an extra $100 per quarter, but for Dattani this was a small price to pay for the time savings it created.
Tech specs
The completely web-based system works with most browsers but Internet Explorer is preferable – and you can take your chances with Chrome but there are no guarantees. Its compatibility with Safari means it works on the iPad (See: Bill Winterberg outlines the potential benefits and shortcomings of the Apple iPad for advisors).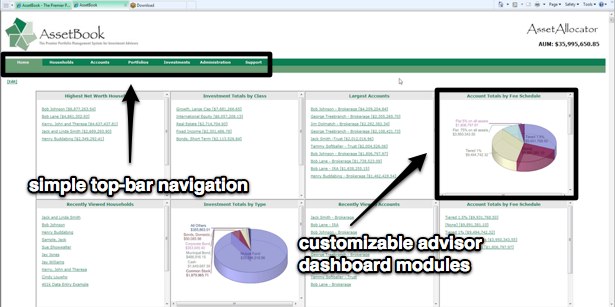 Customizable advisor dashboard gives advisors at-a-glance
information about accounts.
AssetBook has a no-frills interface with a simplistic top-bar navigation system. It uses a new browser tab for each window, so when you're looking for a "home" or a "back' button, you won't find one. Just close the tab you're in, and you'll be back where you started.
All of the data in AssetBook is hyperlinked for easy access (and a lot of new tabs in your browser). And the advisor dashboard is a customizable overview of at-a-glance account information. Automation and alerts, or "agents" are features of AssetBook that simplify work flow and increase efficiency.
Looking forward
When asked if the current level of service and customization is a scalable model for AssetBook, Major responded: "It's scalable to the point that we keep growing the company."
Doubling in size in the past year to 14 employees, AssetBook is hiring to keep up with its growth.
AssetBook seems positioned and prepared for continued growth. As word continues to spread about its no-frills, high-function model and stellar service, RIABiz predicts a classic tortoise-and-hare story for this slow-but-steady company.
---
---
Mentioned in this article:
---
---
---