Wayne Winthrow: A philosophical shift.
Earlier this month, the biggest and staunchest TAMP provider finally relented on its one-delivery-mode-fits-all approach and, after prolonged negotiations with AIG Advisor Group, has struck a deal.
SEI Advisor Network and the New York-based owner of three broker dealers: FSC, Royal Alliance and SagePoint Financial now operate under an arrangement that allows the reps of these IBDs to buy SEI's strategic asset management expertise without having to log on to its system.
SEI has never allowed this unbundling of its turnkey asset management program, although competitors like Russell Investments went that route years ago. The Seattle-based firm made the switch in 2007.
Now reps choosing to operate under the new framework will never need to leave the trading platform of their own broker dealer. Under traditional turnkey asset management programs, advisors relied on these outsourcers for virtually all services including asset custody and operations. SEI will continue to provide this full-on offering for most of its advisors — including many from AIG's IBDS.
Beyond $2 billion
SEI of Oaks, Pa. also sees benefits to selling its manager-selection service in unbundled fashion to a certain slice of the advisor market..
"It's a philosophical shift… it's accessing a new segment of advisors. The traditional business we do today remains intact," says Wayne Withrow, executive vice president of SEI and the head of the SEI Advisor Network.
SEI has long held to its approach of selling a single bundle of management and operational services to avoid the potential of finger-pointing and lack of accountability that comes from having more than one provider helping to deliver a service, according to the company.
But the company is also seeking new ways to grow. SEI isn't adding new new assets at the rate of competitors like Envestnet-PMC and Genworth Financial Wealth Management
SEI has about $31.5 billion of traditional TAMP assets including some $2 billion through the reps of AIG's various broker dealers. SEI plans to use the new arrangement with AIG as a blueprint for deals with a select handful of other broker dealers.
The issue for both companies is that the $2 billion figure has been relatively static for years and they both want to boost that, according to Bruce S. Levitus, head of product sales and senior vice president – investment advisory services for the Advisor Group of AIG. The Advisor Group has about 4,800 brokerage reps.
Revived partnership
"Advisor Group has a long history with SEI but our relationship has been somewhat 'dormant' for the past several years. Through our revived partnership with SEI, our advisors will gain full access to SEI's award-winning practice management and business building programs," says Levitus. "The development of our new wealth management platform was a key driver in our new relationship."
Michael Winnick, managing director, U.S. sales and partnerships of Russell Investments, says that his company benefitted from stripping out its non-management services in 2007.
"For Russell, it's been a great strategy and let us better align with our partners; a lot of this has to do with the evolution of the business. A lot of broker dealers [now] have their own managed accounts platforms."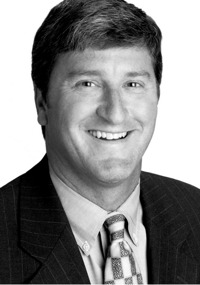 Mike Winnick: A lot of this
has to do with the evolution
of the business.
The moves of Russell and SEI reflect the new reality that broker dealers are making fee-based platforms a core part of their value proposition and generally have less need for the operational infrastructure found in TAMPs because they've built their own, according to Charles "Chip" Roame, managing principal of Tiburon Strategic Advisors.
"Russell, and now presumably SEI, believe that (the value they add) is in its portfolio construction and their ability to secure key managers for its funds," says Roame. "One generally can not buy funds in a supermarket but rather only as pre-assembled portfolios or solutions for clients' entire accounts. Essentially they become a manager for an entire account but the underlying technology – asset allocation, billing, performance reporting – resides in either Envestnet Asset Management or Pershing Advisor Solutions."
Cultivating relationships, growing assets
Still, Levitus says that reps will benefit from both modes of delivery from SEI. "For the entry-level advisor, the ease of using either the SEI TAMP or the SEI Model Strategies [on our wealth management platform] allows the advisor to focus on growing assets under management as well as cultivate relationships," he says.
"We see seasoned and experienced advisors leveraging the SEI model [among others] for a sub-set of their book of business; perhaps smaller accounts where the advisor does not want to offer a customized approach."
Both Levitus and Withrow declined to reveal specific cost information. Levitus did say, however, "As far as costs, both approaches are mutually beneficial to SEI, Advisor Group and our clients."
Roame says that TAMPs like SEI and Russell can earn healthy profit margins under either scenario.
---
---
Mentioned in this article:
---
---
---
Jim
I think this is a great deal. I think you will see a lot more guys using SEI who just didn't want to jump through the hoops to get approved. Though, if there is any significant fee hike involved for clients then this may have little impact at all since they can do as well using another TPMM or the firms platform. If they can stay competitve and not shoot it up to 1.4 or 1.5 then it'll be great. We'll see.