Scott Hanson, Skip Schweiss and Stuart DePina in New York
Brooke's Note: Tiburon Strategic Advisors held its CEO Summit on April 13 and 14 at the Ritz Carlton Hotel in New York City for 172 people. A few of the contributors wrote accounts of the three sessions of the conference exposed to journalists. Here are their thoughts. For my report on the last Summit, See: 10 things I learned at yesterday's Tiburon CEO Summit
Rock 'n Roame – Fast-Paced Keynote Presentation Gives State of the Financial Services Industry
By Stuart DePina
CEO, Tamarac
The Tiburon CEO Summits that I typically attend twice a year – once every fall in San Francisco and once every spring in New York City – are always time well spent. Not only do I get to mingle with 100-200 other CEOs and executives from the top companies in the financial services industry, I always find several good insights from Chip Roame's State of the Financial Services Industry keynote presentation.
Chip Roame, founder and managing partner of Tiburon Strategic Advisors, has received numerous accolades throughout the consulting and financial services industries, including being named one of the 25 most influential people in financial planning by Investment Advisor magazine. Tiburon has also been named one of the fastest growing companies by the San Francisco Business Times in multiple years.
Chip started his presentation with comments about the broad market environment and financial services industry strategies. Specific points included issues surrounding overarching world events and continual financial services industry stumbles in the news. In essence: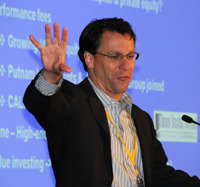 Chip Roame in New York
The US economy is still struggling
Stock markets are roaring ahead
Housing markets are still mixed
There is recovering consumer wealth but with attitudinal changes
There is limited progress on regulatory reform and resetting of the political landscape
We'll see continuing market and distribution channel evolution, continuing product trends; and strategic activity accelerating
Among events impacting the World economy, Roame said that, in terms of lives lost, the earthquake in Haiti in 2010 was more devastating than the 2011 Japan earthquake and tsunami, but the latter is likely to be the costliest disaster in history with "estimates of the damage running at $200 Billion, only $25 Billion of which is insured." On the home front, manmade disasters in the financial markets that led to the Government's responsibilities with Fannie Mae and Freddie Mac "may reach $363 billion…by far the biggest chunk of the Bailout."
On the US economy's continual struggle, Roame said "consumer households lost $4.6 trillion of real estate equity since the peak in 2006, and more troubling still was that, unlike the equity markets, none of that has come back yet."
Generational shift
Regarding recovering consumer wealth but with attitudinal changes, Roame noted that the U.S. personal savings rate is up, and that many investors have become more sophisticated. "I think you're seeing a generational shift right now in relation to more self-directed activity," Roame said.
Chip went on to address the limited progress on regulatory reform on health care reform, financial services reform, and fiduciary issue, and the 12b1 issue, as well as the resetting of the political landscape. He stated that most of these issues were "a long way from being settled right now."
See: The RIABiz list of winners and losers in the wake of the SEC's fiduciary study.
He also reviewed the continuing market and distribution channel evolution, including those in the financial advisory markets (wirehouses, break-away brokers, independent broker/dealers, and fee-based financial advisors), institutional markets, and international markets.
He said that, "all of the growth is in the independent channel…all other channels have shrunk." Regarding the break-away broker trend he said "it's not accurate to say that they're breaking away from the wirehouses" to go independent as "2/3 of those who left wirehouses went to other wirehouses", and many of those reported as going independent "were fired" — which hardly supports the break-trend as broadly reported in the press.
With significant consumer attitudinal changes, Roame says we'll see accelerating product shifts such as those in mutual funds (target date mutual funds), exchange traded funds (ETFs), hedge funds (40 act structured funds), and guaranteed products. "The flows are all going to mutual funds and ETFs," Roame said. He added that the Hedge Fund industry is "rapidly maturing."
He concluded that strategic activity is accelerating, including mergers and acquisitions opportunities in the banking, mutual fund, and independent broker/dealer markets – especially as aging RIAs and independent reps begin to retire. See: Tiburon Strategic Advisors' report pegs RIAs as maturing market.
He closed by saying that because the majority of total financial services industry market capitalization is held by retail banks, that "makes banks the acquirers" and in a bit of a challenge to one of the keynote speakers, Roame predicted that "Wells Fargo will acquire UBS's brokerage business."
This fast-paced keynote presentation left us with much to talk about as conversation spilled out into the hallways for a quick cell phone break before the John Bogle awards presentation began 15 minutes later.
Takeaways
As an active participant in the Tiburon CEO Summit, here are a few other takeaways that I found interesting:
I was continually encouraged to hear consistent themes throughout the two days, which focused on how technology was being leveraged to provide scale within large institutions as well as independent advisory firms.
How consolidation is changing the landscape of the industry and introducing a different form of survival guide, which some advisors are attracted to when running their business.
No one will forget Ric Edelman of Edelman Financial Services presentation both for the insight he brought to how he approaches his business as well as for the energy and passion he clearly has for servicing his clients. See: Edelman joins ranks of TV RIAs with PBS show that will reach 20 million.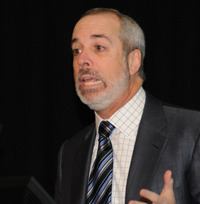 Ric Edelman is no stranger to
public speaking.
The Relentless Crusader – John Bogle
by Scott Hanson, Founding Principal
Hanson McClain Advisors
There are few individuals who have shaped the financial services industry like John Bogle, an ardent champion for the individual investor through his relentless crusade of lowering investment costs. John Bogle founded The Vanguard Group in 1974, served as chairman & CEO until 1996 and senior chairman until 2000, and today serves as the president of Vanguard's Bogle Financial Markets Research Center.
Over the years Mr. Bogle has been a recipient of numerous awards, including being named as one of the world's 100 most powerful & influential people by Time magazine in 2004 and one of the investment industry's four giants of the twentieth century by Fortune magazine in 1999. He's the author of nine books, including, most lately, Don't Count on It! (2010). He's the subject, himself, of a book titled John Bogle & the Vanguard Experiment: One Man's Quest to Transform the Mutual Fund Industry (1996 by Robert Slater).
And so it was a true honor for me to be present as he received the award from Chip Roame to recognize Mr. Bogle for focusing on consumer (and other client) needs, challenging conventional industry wisdom (innovation), and taking responsibility. Rather than just smile and say thanks when presented with his award, Mr. Bogle had taken the time to prepare remarks and gave a wonderful speech highlighting some of his greatest success and failures of his years. With equal parts humor and wisdom, he thanked Tiburon Strategic Advisors for the award, and humbly said that 15 years after a heart transplant he was "pleased to be anywhere." He briefly recounted the story of the development of Vanguard and the origins of the first index mutual fund, and said that '"time after time, Lady Luck smiled on me."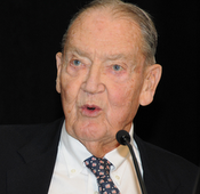 Jack Bogle in New York
One of his stories that I thoroughly enjoyed was his telling of starting Vanguard and the launching of its first index fund. Sales in the first several months were significantly behind target and, from the underwriters' perspective, it certainly wasn't a success. In fact, Mr. Bogle commented that it took more that two years to raise enough capital to purchase all of the stocks within the S&P 500. Imagine that!
At a time in life when most would be content to simply play golf or bridge, Mr. Bogle is still very active in this industry and still a champion for the individual investor. Not only is he concerned about keeping fees low, he is also concerned that investors make wise decisions.
Although sees the advent of the ETF as a great low-cost way for an individual to buy a basket of stocks, I'm not so sure he sees the ETF industry as a good thing. He cited a study that showed a five-year return of all ETFs returning a 3% profit, while investors realized a loss of 3%. Why? Because investors sold ETFs when they were underperforming and purchased other ETFs that were outperforming. The classic selling low and buying high.
I've often wondered how our industry would be different without John Bogle. I realize he wasn't the only one looking at indexing as a viable investment option, but he was definitely the biggest player in making indexing a respectable, if not superior, investment option.
Mr. Roame invited Tiburon CEO Summit XX attendees to pose questions to Mr. Bogle. One attendee asked Mr. Bogle about continuing to challenge conventional wisdom, and Mr. Bogle commented that "I love a good fight", saying "it's even better when you win."
Mark Casady Proves that Nice Guys Can Finish First
By Kirk Michie, Partner
Triton Pacific
There's a old saying that holds that "nice guys finish last" in business, but Mark Casady, chairman & CEO of LPL Financial, is proving that adage to be outdated or completely inaccurate. Casady arrived at LPL Financial in 2002, and in the words of one of his colleagues, "Mark joined LPL to take it public, and fell in love with advisors along the way." Since taking the reins from iconoclastic founder, Todd Robinson, Casady has grown the rep force from approximately 4,200 to more than 14,000, including all registered and affiliated advisors. See: 10 reasons why LPL Financial could pull off a hot IPO in a cold market
Beyond that he took the firm public in the most successful offering in 2010, continues to serve on the FINRA Board of Governors, participates in numerous industry groups, and has advocated for registered representatives and the broker/dealer model on Capitol Hill during a time that Casady himself effectively summarizes with the statement, "make no mistake folks, our model is under tremendous threat."
Yet, even with all of that activity and pressure, Mark Casady, when sitting down with Chip Roame, founder and managing principal of Tiburon Strategic Advisors to accept one of the industry service awards, came across as gracious. He was quick to give the bulk of the credit to his management team and the firm's reps. In fact, he was downright affable. Casady, like John Bogle, founder of the Vanguard Group, and the other Tiburon CEO Summit award recipients, personifies the criteria for Tiburon's recognition:
Focusing on the consumer: Casady is clearly passionate about the need for advice, and the critical role of the financial advisor in helping consumers to meet their financial objectives. When discussing LPL's original 1986 commitment creed with Chip Roame, Mark passionately emphasized "...the important work…" of the firm's reps, and the "...critical role…" reps of

LPL

, and other independent firms play in providing unbiased guidance to consumers at many levels of wealth.
Challenging Conventional Industry Wisdom (Innovation): In many respects, Mark Casady, in his own words, has carried on this tradition at

LPL

Financial by remaining "true to Todd Robinson's vision as a 27-year-old former Smith Barney broker." Indeed, Casady takes little credit for innovating or challenging conventional wisdom in his spoken words – yet he lives it with the day in and day out work of running the largest independent broker/dealer firm in the World.

Mark Casady: The SEC study was
actually pretty good.
Taking Responsibility: Here Casady seems to have aggressively pursued this principal in multiple ways, including employing two different lobbying firms for work on behalf of

LPL

and the independent broker/dealer model. "in Washington D.C., if you're not at dinner, you're on the menu," Casady said. He has also take a strong leadership role via the

LPL

Foundation and its support of educational programs.
When Chip Roame invited Tiburon CEO Summit attendees to pose questions to Casady, several attendees were curious about Casady's thoughts on the fiduciary issue. He said that "the SEC study was actually pretty good" and that "the standard, as written by the SEC, would work" in reference to unbiased advice and LPL Financial's dually registered advisor model.
Mark Casady, clearly proves that nice guys can, and do finish first and, more importantly, Casady seems a long ways from finished!
Putting On the Ritz
By Marie Swift, President and CEO
Impact Communications
One hundred seventy-two of the financial services industry's top executives met in downtown Manhattan, April 13-14, for Tiburon CEO Summit XX, an elite gathering of C-Suite and EVP individuals. This exclusive event is by invitation only. All attendees are clients of strategy consulting firm Tiburon Strategic Advisors (https://www.tiburonadvisors.com). My firm, Impact Communications, was pleased to manage onsite logistics and media relations for Tiburon Strategic Advisors.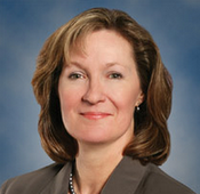 Marie Swift handled PR surrounding the
CEO Summit.
I've attended the Tiburon CEO Summits for several years now and always walk away with new insights and fresh perspective. Tiburon CEO Summit XX did not disappoint. The opening night cocktail party was a private affair that took place on the 16th floor of the Ritz Carlton in Battery Park. Conversations spiked as guests arrived and enjoyed hot hors 'd oeuvres and cold drinks as the sun set majestically over New York Harbor with the beautiful Statue of Liberty in the background.
Over the course of the next two days, there were over 20 planned sessions. Along with Tiburon's Managing Principal Chip Roame, Tiburon CEO Summit XX featured the third annual Tiburon CEO Summit Awards presentation to John Bogle (Founder, The Vanguard Group) and Mark Casady (CEO, LPL Financial). Tiburon's CEO Summits have come to support three central themes and Tiburon created its CEO Summit Awards to recognize industry executives who exemplify these attributes. Those themes are:
Focusing on Consumer (and Other Client) Needs: Tiburon has long been known for promoting the importance of staying close to (and listening to) clients and focusing on clients' needs, arguing that the financial services industry conducts too little consumer research, opting to design products before listening to consumers. To foster such a focus at the Tiburon

CEO

Summits, Tiburon starts every

CEO

Summit with a review of consumer wealth and sentiments and many Tiburon

CEO

Summits have included three related panel discussions representing three levels of clients; these include the Ask the Consumers, Ask the Advisors, and Ask the Gatekeepers panels, all of which allow direct open dialog with industry clients.
Challenging Conventional Industry Wisdom (Innovation): Tiburon has long perceived certain segments of the financial services industry to be caught up in group think and the firm has become known for challenging conventional industry wisdom. Tiburon's Managing Principal Chip Roame does this through research and sharing factual data that often calls into question commonly perceived industry truths. Tiburon welcomes and encourages this critical thinking as part of its

CEO

Summits. Furthermore, Tiburon is most often engaged in moving beyond factual data to help its clients develop innovative business strategies. In this light, Tiburon appreciates the innovators in the industry and seeks to recognize them, whether they are employees within large financial services firms or entrepreneurs leading smaller firms.
Taking Responsibility: Tiburon appreciates industry executives who make time to address consumers' savings needs and industry development beyond their own businesses and sees such responsibility and participation as both integral to consumers' success and the industry's success. Tiburon applies this thinking at its own

CEO

Summits by requiring participation; all attendees are asked to participate in presenting and/or serving as panelists in an attempt to create open communications and wide-ranging debate. All attendees are also asked to complete feedback forms and nominate future award recipients and guest speakers.
Based on feedback from attendees at prior Tiburon CEO Summits, Tiburon predominantly invites financial services industry CEOs to be the CEO Summit guest speakers. Attendees repeatedly report that they take away the most from other CEOs in like situations, and this fosters the collaborative environment sought. Guest speakers are asked to discuss both their views on industry developments and their businesses. Tiburon deliberately structures time for questions and answers with each guest speaker, again to foster the collaborative environment. There were some spirited debates during the Q&A sessions with the speakers and the audience. Collegial conversations spilled out into the hallways during frequent cell phone breaks and over gourmet meals.
Tiburon CEO Summit XX guest speakers included:
Keith Banks (President, US Trust)
Charles Brandes (Chairman, Brandes Investment Partners)
David Carroll (Senior Executive Vice President, Wells Fargo Corporation)
Ric Edelman (

CEO

, Edelman Financial Services)
Ed Finn (President, Barron's)
Allen Thorpe (Managing Director, Hellman & Friedman)
The general session keynote opening presentation by Tiburon's Managing Principal Chip Roame regarding the state of the financial services industry was well received. Roame's presentation serves as the backdrop and overview of the entire CEO Summit.
Five breakout sessions took place during lunch on day one with topics chosen by popular vote of attendees and sessions facilitated by Tiburon CEO Summit sponsors:
Bill Crager (President, Envestnet Asset Management)
Stephen Langlois (Executive Vice President,

LPL

Financial)
Bruce Morris (Executive Vice President, Source Media)
Cheryl Nash (Global Business Head, Business Development, Investment Services, Fiserv)
Skip Schweiss (President, TD Ameritrade Trust Company)
The summit had two prestigious emcees. Gail Graham, executive vice president, Fidelity Institutional Wealth Services, moderated day one of the summit. Skip Schweiss, president, TD Ameritrade Trust Company, moderated day two of the summit.
Sterling Shea (Business Head, Advisory & Wealth Management Programs, Barron's), moderated a general session panel presentation called Ask the Advisors, composed of Scott Hanson (Co-CEO, Hanson McClain), Richard Saperstein (Managing Partner, Treasury Partners) and David Akellian (CEO, Century Securities Associates).
Chip Roame moderated the closing session, called Tiburon CEO Summit XX Insights. Tiburon client panelists shared their biggest takeaways:
Michael Kim (Executive Vice President, Genworth Financial Wealth Management)
Randy Moore (Partner, Alston & Bird)
Cheryl Nash (Global Business Head, Business Development, Investment Services, Fiserv)
Skip Schweiss (President, TD Ameritrade Trust Company)
Several long-time Tiburon clients, including Advisor Software, Alston & Bird, Charles Schwab, Dunham & Associates, Envestnet Asset Management, EverBank Financial, Fidelity Investments, Fiserv Investment Services, Genworth Financial Wealth Management, Jefferson National Financial, LPL Financial, Meridian-IQ, State Street Global Advisors, and TD Ameritrade Institutional offered financial support for Tiburon CEO Summit XX. Media sponsors included American Banker, Bank Investment Consultant, Financial Advisor, Financial Planning, Money Management Executive, On Wall Street, Private Wealth, Registered Rep, and Trusts & Estates.
Tiburon maintains a list of over 3,000 executive-level clients at over 300 companies who have engaged the firm, many of whom have actively participated in prior Tiburon CEO Summits. Attendance at each Tiburon CEO Summit is limited to 200 executives and is reserved for Tiburon's clients. If you are an executive-level Tiburon client and would like to participate in a future Tiburon CEO Summit, please contact Tiburon's Managing Principal Chip Roame (croame@tiburonadvisors.com).
I'll be at Tiburon CEO Summit XXI, at the Ritz Carlton in San Francisco, this fall and look forward to seeing old friends and new at this unique event.
Some representative Tiburon CEO Summit videos can be seen at https://tiburonadvisors.com/CEO%20Summits.html.
ABOUT
THE
CONTRIBUTORS
As CEO of Tamarac, Inc. (www.tamaracinc.com), Stuart DePina manages the long-term growth strategy of the company. His balanced leadership is rooted in deep financial experience and the belief that a solid organization is built on customer focus, commitment and thoughtful business practices.

Most recently, DePina served as CEO for Who's Calling, a web-based application that uniquely measured online and traditional direct marketing performance, where he succeeded in doubling the company's revenue base and drove profitability. He served as president and CEO of xSides Corporation, a developer of trusted computing and digital rights management technology. He was CFO for Ticketmaster Corporation Inc., and a partner in the Big 4 firm of KPMG LLP, where he provided consulting and assurance services to a number of clients in the firms' financial services practice.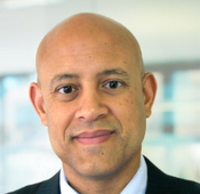 Stuart DePina
Tamarac provides an integrated web-based suite of portfolio management software and outsourced portfolio management services to over 2200 advisors, collectively managing over $200B in assets. Tamarac has the unique perspective of consulting with thousands of advisors since its inception in 2000 to improve efficiencies in their back-offices and successfully transition them to a superior portfolio management process.
Scott Hanson is a senior partner and founding principal of Hanson McClain Advisors (www.hansonmcclain.com). He is a nationally known financial expert identified as one of the 25 most influential people in the financial services industry nationwide (Investment Advisor magazine, 2005). He has been a guest on Fox News and has appeared in The Wall Street Journal and numerous industry publications. In addition to serving clients, he has taught numerous financial planning courses for both financial advisors as well as Fortune 500 companies.
Hanson McClain assists in the advisement of more than $1 billion for clients. In addition, Hanson McClain has teamed with other advisors across the country to provide marketing, administration and operations advice. This program. The Hanson McClain Retirement Network (www.hmrn.com), has served hundreds of independent investment advisors.
Scott is the author of Money Matters: Essential Tips & Tools for Building Financial Peace of Mind. He and his business partner also host a weekly call-in talk radio show covering investment and financial topics.
In 2004, Scott, along with his business partner Pat McClain, formed Liberty Reverse Mortgage Inc., to serve the growing number of seniors taking advantage of reverse mortgages. Liberty Reverse Mortgage was the third-largest reverse mortgage company in the country prior to being acquired by Genworth Financial in 2007.
Kirk Michie (www.tritonpacific.com), partner, leads all of Triton Pacific's capital markets activities, including fund raising and investor relations. Prior to joining Triton Pacific, Michie excelled in a number of client facing, strategic and senior management roles in the wealth management and investment business with Kayne Anderson, Alliance Bernstein,Wells Fargo and Bessemer Trust. He is a long-time attendee and participant at the twice-yearly Tiburon CEO Summits.
Marie Swift is president and CEO of Impact Communications (www.impactcommunications.org), a full-service marketing communications firm serving a select group of independent financial advisors and allied institutions. Swift has worked with financial advisory firms and allied institutions for over 20 years. Impact Communications works solely within the financial services industry. The firm has two service lines – one for independent advisors and one for the institutions that support them.
On the "institutional side" of the business, Impact maintains or has had business relationships with: Securities America, Financial Network Corporation, TD Ameritrade Institutional, Pershing Advisor Services, Schwab Institutional, Shareholders Services Group, Lindner Capital Advisors, Executor's Resource, Garrett Planning Network, Kinder Institute of Life Planning, Sudden Money Institute, FocusPoint Solutions, Tamarac, Financial Focus, Finametrica, fi360, Inside Information, Advisor Impact, Jagen Funds, T3 Technology Tools for Today, ASN360, Copernicus Institute, WealthVest and American Financial Network/Collaborative Services Platform.
On the "advisor side" of the business, Impact maintains or has had relationships with hundreds of independent advisory firms such as: The Wealth Conservancy, Karen Lee and Associates, Integrated Financial Group, Cooper McManus, Family Investment Center, Norm Boone and Mosaic Financial Partners, Bernhardt Wealth, & The Gensler Group.
Impact also offers group training and empowerment programs, including: Media Mastery University, Business Builder Pro, and the Web 2.0 and Social Media Boot Camp.
---
Related Moves
September 10, 2019 – 10:52 PM
---
---
Mentioned in this article:
---
---
---