Aite's Sophie Schmitt: A lot of firms are looking to move from their GoldMines and their Rolodexes.
Wealth management firms increasingly are adopting CRM software, spending more on it and using it for much more than just tracking business contacts, says a new report by Aite Group that also identifies the best-in-breed software for different-sized firms.
About 61% of the independent advisors that Aite Group surveyed use CRM software, relying on it for triggering reminders of all sorts of tasks, particularly during the intake of new clients. It's becoming a crucial component of an advisor's software package.
Wealth management firms in North America will spend 8% more [on CRM software] over the next five years. The level of spending will increase from approximately $460 million in 2010 to $620 million in 2014, says Sophie Schmitt, senior analyst for Boston-based Aite Group and author of the report.
Both Greg Friedman, president of CRM Software of San Rafael, Calif., and Brian McLaughlin, CEO of Gold River, Calif.-based Redtail Technology, says that they believe growth is much faster, based on what they see occurring in their own companies.
"We have seen higher growth then this, and frankly I would expect firms to increase their spending at a higher rate given that surveys show that most advisors/firms still don't use a dedicated CRM — for example MS Outlook instead," Friedman says.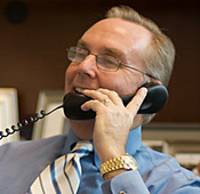 Greg Friedman: I would expect firms
to increase their spending at a
higher rate given that surveys show
that most advisors/firms still don't use
a dedicated CRM
McLaughlin says his company's growth rate is about 20%.
Growth in the use of CRM software is being driven by demands from companies like SEI, Lockwood and other TAMPs, which want advisors to use CRM, McLaughlin says.
"People are jumping on the bandwagon to get something that will help them run a business and get consistent service levels."
The move toward integration in the advisory software business is also boosting CRM use. As vendors get better at integrating, advisors have even more incentive to pick and choose the best product from each technology category, such as portfolio management, financial planning, and CRM, and zip them all together.
"I find that a lot of advisors are seeking best-of-breed solutions rather than integrated platforms," says Schmitt. "Integrated vendors say they have it all, but often they really have one core competency."
See: Advisor Tested: eMoney's automation adds the biggest benefit; account aggregation still building.
Some 50% of advisors surveyed who already have CRM software said they would spend some amount to improve their solution, compared to only 36% of ones who don't currently use software explicitly built for CRM.
Aite Group talked to three-four RIA users per CRM vendor, and surveyed 378 advisors, about 70 of them independents.
The report compares CDC Software, Junxure, Microsoft, NexJ, Pareto Systems, Redtail Technology and SalesForce, and identifies best-in-class solutions for different firm sizes. Large companies are best served with Microsoft Dynamics and NexJ; medium-sized ones by Pivotal CRM and small by Salesforce for Wealth Management and Redtail, the report concluded based on qualitative responses from the advisors interviewed.


Source: Aite Group
Ebix, Oracle, and The Sage Group declined to participate in the study.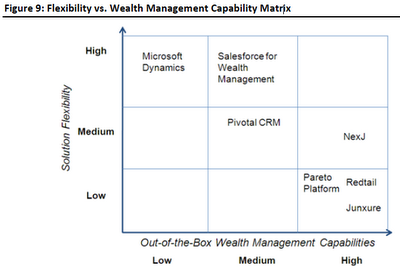 Source: Aite Group
The CRM solutions surveyed vary somewhat along an axis from more customizable to more specific to wealth management use.
Workflow-centric
"[In the past] there wasn't really a [CRM system] out there with the ability to track specific activities, to track what's been done and completed and create an audit trail," says Schmitt. "Now all of the solutions have that, and I think that gives advisors the ability to become more transparent in their processes and fulfill compliance requirements.
"A lot of firms are looking to move from their GoldMines and their Rolodexes — GoldMine is a great place to store your contacts, but" it lacks the ability to automate the client on-boarding process. Advisors who automate this process get a series of reminders that are triggered each time a step is completed, according to Schmitt.
GoldMine is a widely used CRM software made by Pleasanton, Calif.-based FrontRange Solutions.
But not everything can be automated. "The workflow tools are sending alerts to people to do things, but they're not doing things for you," says Schmitt. "It's light automation."
Less complex
"One of the key reasons why it wasn't adopted [as much in the past] was because it was extremely complex — only very technical people could actually modify things, and if you worked in a large organization and wanted to modify something, it had to be prioritized, it was costly, and it took 12 months," says Schmitt.
"Whatever you wanted to improve better be worthwhile, because it required programming and was expensive. Newer solutions are a lot more open, services-oriented, de-coupled, and easier for administrators without programming knowledge to tweak things and change or add a field if they want to start tracking something."
Ease of use and customization are hallmarks of web-based software, and Redtail and Salesforce for Wealth Management are cloud-only solutions. Junxure announced that it's building a cloud-based version that it says will be available in 2012. See: Junxure is moving to the cloud amid market pressures.
NexJ, Pivotal CRM, Microsoft Dynamics and Pareto all offer both on-site and cloud-based versions.
Pricing comparison
Most of the CRM platforms covered in the report charge on a per-user basis for their hosted version, but the prices vary quite a bit. Advisors looking at getting into CRM will find this comparison table handy: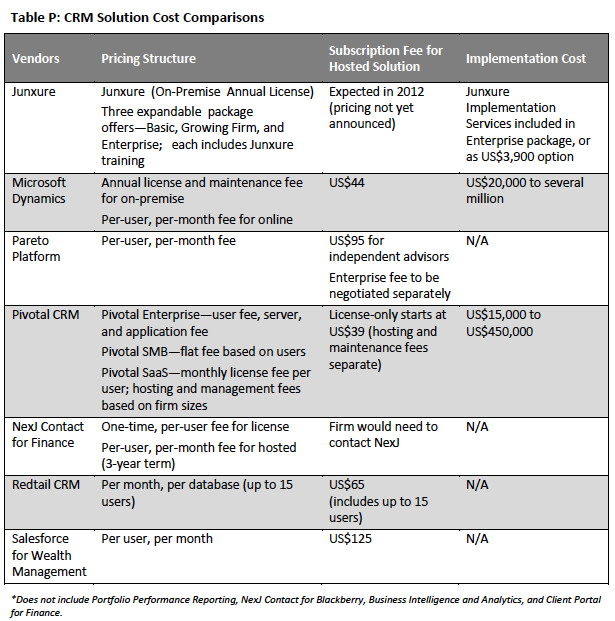 Source: Aite Group
The report concludes with a full profile of all of the platforms covered.
---
Related Moves
December 20, 2021 – 11:59 PM
---
---
Mentioned in this article:
Aite Group
Consulting Firm
Top Executive: Frank Rizza
---
---
---