News, Vision & Voice for the Advisory Community
Looks to double content, reach traders and build on 17,000 subscribers
March 30, 2011 — 2:52 PM UTC by Brooke Southall
Brooke's Note: Plenty of people in the RIA business know Tom Lydon. He is a steady presence on the conference circuit, is quoted as an ETF source in many publications and he always has a kind "hello." It's the sort of from-the-heart passion that is needed to succeed in the blog world and as a financial advisor. He's one person (if there are others, let me know) who is making a respectable run at real success in both businesses — though neither is tightly tied to the other.
Social media experts say that one good way for RIAs to market themselves and their strategies is to start a blog.
Tom Lydon did that in 2005, channeling his passion for ETFs just as they were exploding in use. Now, ETF Trends has reached a new threshold of growth: Lydon hired a Dow Jones ETF writer to help him double his daily postings from eight to 16.
Former MarketWatch columnist
The president of Global Trends Investments, which manages about $82 million of assets from Irvine, Calif., made John Spence his web editor for ETF Trends, which also has three part-time writers. Spence wrote about ETFs in a column for MarketWatch for the past seven years.
Typical postings on ETF Trends are 200-300 words.
ETF Trends was founded to educate investors about how ETFs work. It sold its first advertising in 2008 and that is now its principal revenue source. Lydon wouldn't reveal information about the website's profitability. He typically devotes about an hour a day to managing it.
Along with having advertising revenues, the site makes money by charging for a service that screens ETFs, provides model portfolios and helps with asset allocation. It costs $99 for financial advisors and as low as $14.95 for individuals.
Piece of the action
Since Lydon typed in his first words, the use of ETFs has exploded. They have gone from being a means of investing passively to a way of trading actively. Big-time traders, hedge fund managers and the like are seeking timely, actionable advice on different ETFs.
See: The basic ETF trading practices that can save your clients money
ETF Trends already has 17,000 subscribers.
"I look forward to sharing my passion for ETFs with investors who understand their potential and to help these individuals, as well as advisors and traders, navigate the complexities and opportunities of the ETF frontier," Spence said in a release.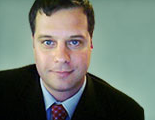 Spence is breaking away from wire
service world to an RIA-owned web
site.
One of his jobs will be to provide the kind of intelligence that traders look to review before the market opens – something that was especially difficult to do from the West Coast because of the three- and six-hour time differences with New York and London. In addition to writing, Spence will oversee three part-time writers that Lydon has on staff.
"Tom Lydon's ETF Trends wisely gathered a ton of momentum during this period, at a time when many wirehouse advisors as well as RIAs were in the process of overhauling their books of business to transition into fee based ETF practices," said Paul Weisbruch, vice president of ETF/options sales and trading for Street One Financial, who said that he has followed the site for years. "The fact that the research and constant news bulletins are product agnostic and simply "tell it how it is" was and is appealing to fiduciaries that want to simply isolate the best products for their clients, and have grown weary of the "strings attached" mutual fund marketing campaigns.
"We see the latest move by Lydon in hiring John Spence as a sign that the thirst for independent ETF/ETN coverage is and will continue to be in great demand, especially as new entrants to the space plan to launch new funds in the near term."
Some synergies
The web site has helped propel Lydon's secondary career as a media source and ETF expert. When I interviewed him yesterday, he had just served on an ETF panel at the World Series of ETF and Index Investing, an event with 225 attendees being held at the Seaport World Trade Center in Boston. Spence was there with him.
Despite the success of the website, Lydon allows that it hasn't been the catalyst for gathering a pile of net new assets to his RIA. He wins some new clients, and says that all the energy he puts into understanding ETFs for the website is helpful in investing on behalf of clients.
Lydon, who has three support staff in his RIA, also finds that it's beneficial as a communications tool for existing clients. "It shows we've got our heads in the game," he says.
One reason the website's success hasn't translated into bigger business development for the RIA is that Lydon has erred on the side of being conservative about linking the two.
"We do very, very little soliciting of business. We're respectful of people coming to the site and we're wary of the regulatory rules."
Out of bed
But ETFs are simply a passion for Lydon. "I jump out of bed every morning and hit the ground running."
ETF Trends is largely bullish about ETFs in general. Lydon says he's prepared to be skeptical if he needs to be, but notes that in his view, ETFs have recently passed two big tests.
Despite the crisis in Japan, Japan ETFs traded without liquidity problems.
And, Lydon contends, ETFs have been largely absolved from blame in the Flash Crash
Spence is a graduate of Middlebury College in Vermont, and holds an MFA in creative writing from the University of San Francisco.
---
---
Share your thoughts and opinions with the author or other readers.
Kirk Michie said:
November 14, 2013 — 7:49 PM UTC
It's a combination of 'good guys finish first' and a smart guy seeing an opportunity and aligning his brand with the gap in the marketplace….kudos to Tom Lydon/Global Trends/ETF Trends….well deserved spot in the industry! Oh, the party was AWESOME!!
---
---