News, Vision & Voice for the Advisory Community
TD Ameritrade is 'in the foxhole' in this venture and will send many referrals to these advisors
March 3, 2011 — 6:34 PM UTC by Brooke Southall
Beacon Pointe Wealth Advisors scored its first advisor in its bid to create a national roll-up-like company.
The Newport Beach, Calif.-based company brought aboard Bruce Meyer, who manages about $125 million of assets in Scottsdale. His practice will be branded Beacon Pointe Wealth Advisors – Arizona.
Meyer, who was an independent advisor affiliated with Fairfield, Iowa-based Cambridge Investment Research, is becoming an employee of Beacon Pointe, which manages about $4 billion of assets from Newport Beach, Calif.
"This is the first of many of these deals we will do," says Matthew Cooper, president of Beacon Pointe.
BPWA is not a roll-up because there was no cash exchanged in the transaction – and won't be in future instances, he adds. "Bruce and others that come onboard will be receiving equity, proportionate to the contributed net income, in Beacon Pointe Wealth Advisors."
See: The seven things I learned from roll-up executives in Princeton, including not to call them that.
Not cutting checks
"Unlike a roll-up, we're not cutting any checks," Cooper says.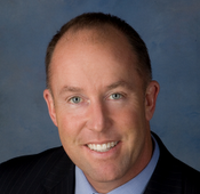 Matthew Cooper: Unlike a roll-up, we're
not cutting any checks.
The employee model came to Cooper as a brain wave after a conversation with an industry guru. "The light came on for me after talking to Mark Hurley and reading his white paper four times. It (said) that there are thousands of advisors that would like certainty around succession someday."
For a synopsis of the white paper and and link to it, see: What to make of Mark Hurley's latest prophesy that most RIA firms will go out with a whimper
Meyer, 49, a CPA and lawyer, receives equity in Beacon Pointe and the assurance that he will be bought out at fair market value upon his retirement.
Beacon Pointe will confer the benefits of size in terms of branding and manager research on advisors who become employees, Cooper says.
This scale was the primary attraction of joining Beacon Pointe, Meyer says.
I'd be a failure
He believes he can easily double his firm's $125 million of assets in the next year. "I'd think I'd be a failure if I haven't done that," he says.
One reason for his optimism is that he currently spends about 70% of his time researching managers and building portfolios. Now Beacon Pointe will assume those duties and he plans to use all that time building the business. There are a significant number of large prospects that he intentionally didn't approach under his old structure.
The other immediate perk is that Beacon has launched the new aggregation venture in close partnership with TD Ameritrade Institutional. Meyer's practice will be a primary beneficiary of the referrals generated in Scottsdale by TD Ameritrade.
Meyer says he looked into receiving these referrals previously and concluded that his four-person firm didn't have the bandwidth to keep up with the volume. "I truly figured I couldn't field it before."
Next up: the Bay area
Currently, Cooper is working hard to bring aboard his next advisory firm in San Francisco's Bay area, where TD Ameritrade has eight branches. He says the new office would ideally manage between $500 million and $750 million and that it could be the recipient of a steady stream of referrals generated by those branches.
TD Ameritrade's willingness to facilitate these referrals and make other efforts on Beacon Pointe's behalf is winning it the venture's new assets.
"Schwab was our primary custodian and there's nothing wrong with Schwab. TD has just shown more interest in getting in the foxhole with us and creating a solution," Cooper says.
Beacon Pointe is seeking to bring aboard between four and six practices annually.
Brooke's Note: some readers may recall that Beacon Pointe started a similar aggregation program a while back. That program scooped up four advisors and they all now work at Beacon Pointe's Newport Beach headquarters. This latest program was launched separately and all the advisors will be in remote locations. At the time the first venture was launched, Cooper described it as a haven for brokers making a payout of as low as 27% at wirehouses. See: Citi advisors seek potential suitors after McWhinney's tectonic pay shift Beacon Pointe planned to give these brokers a payout of up to 50% initially and as much as 70% over the long term, Cooper said in the earlier interview.
---
Mentioned in this article:
---
---
Share your thoughts and opinions with the author or other readers.
---