Ric Edelman: It hasn't proven to be a problem for Charles Schwab.
Two major RIAs – The Mutual Fund Store and Edelman Financial – are on the move again this year. Both have growth plans to equal or surpass their expansions in 2010, and Edelman Financial is looking to spread its formula even further through acquisitions.
The Mutual Fund Store, based in Overland Park, Kan., intends to open a dozen stores this year and 24 next year, says company founder Adam Bold. Houston-based Edelman is on track to open about 10 stores and intends to open that many next year, says president Ric Edelman.
Renaming
In a move that looks the guppy swallowing the whale, Edelman Financial's publicly held parent company, Sanders Morris Harris Group, has just renamed itself under the Edelman banner. See: Sanders Morris Harris Group, serious competitor to the big roll-ups, launches bid from Texas.
"My firm is the fastest-growing (among those under the SMHG umbrella) and we believe we can assist the other firms within the organization to help them grow their practices too," Edelman says. "We believe our marketing and name brand can help the other firms approve their ability to grow."
He also points out that the newly renamed firm is eyeing additional acquisitions and is hoping to bring more firms into the fold to follow his success.
Sanders Morris Harris Group Inc. (NASDAQ: SMHG) owns 76% of Edelman, as well as other advisory firms; it has total client assets of $17 billion. Last week, the company announced it is changing its name to Edelman Financial Group. The new ticker symbol will be EF.
Edelman, currently president of the company, will become the company's co-chief executive officer at the firm's annual meeting in May. He is Barron's #1 advisor. See: What lessons can Barron's #1 rated financial advisor teach us?
Serving the mass affluent
Both Edelman and Bold have ignored the conventional wisdom of many RIAs who only cater to the ultra-high net worth. Each firm has built a systematic way to dole out advice to thousands of mass affluent (or even sub-mass affluent) residents using the same processes and methodology in every store.
"The mass affluent historically have only had two choices and they'd get pushed off to call centers," Bold says. As people have heard about us and that we've done a good job for people, we've gotten new clients."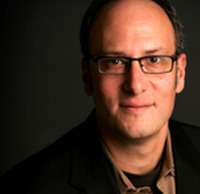 Adam Bold: I've made concerted efforts
to ensure the business continuity if
- God forbid – I
get hit by a bus.
The 15-year-old Mutual Fund Store now manages $6.3 billion, more than double from the lowest point in the market of $2.9 billion on March 9, 2009.
The store has 31,000 clients and caters to people with $50,000 to $500,000 to invest; the average client has $200,000. The company has both franchises and company stores run by registered investment advisors, Bold says.
Edelman's firm, started in 1987, is about the same size: the firm manages about $6 billion in assets and has 14,200 clients. It caters to clients who invest on average about $400,000 at its 22 locations across the country.
Edelman opened six New York offices in late 2009; client assets at those offices rose to $297 million at the end of the year compared with $255 million the company had projected for mid-2010. The company's flagship location is in Fairfax, Va.
Overall, Edelman added $197 million of net new client assets in the fourth quarter.
"There are a lot of people in need of general financial planning and they just haven't been able to find a firm that can serve them," Edelman says. "We're happy to be able to provide our services for them."
What these two advisors have done is unique in the industry, says Brian Hamburger founder and managing partner of MarketCounsel.
"Most advisors have maintained an air of exclusivity in giving advice and with Adam and his radio show, he's really taken this to the people," Hamburger says. "There should be nothing different about having an advisory firm compared to running a McDonalds. It's nice to see people taking a business model and rethinking it a whole new way."
See: Why Schwab is embracing a franchise-like strategy to fast-forward branch growth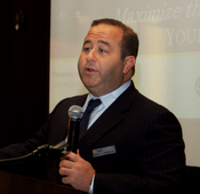 Brian Hamburger: There should be nothing
different about having an advisory firm
compared to running a McDonalds.
Widespread growth
Both firms have continually expanded, though not without encountering snags.
Bold has 73 stores: 17 company stores and 56 franchise stores, with a footprint in about 65 cities. Certain locations, including Chicago, San Francisco and St. Louis have more than one store.
He began slowly opening stores again last year after a hiatus during the recession and had planned to open as many as 10 to 12 stores in 2010 but ended up opening 8. There are 105 financial advisors employed by the company.
So far this year, one has opened in Colorado Springs this year.
Bold says the company was deliberate about not trying to push to open too many stores during the recession. "It wasn't like we tried to sell franchises and couldn't," he says. "We started opening stores in the middle of last year. We waited until things had gotten a lot better."
See: Branch openings at The Mutual Fund Store ground to a virtual halt
Edelman, who has 22 advisory offices, all staffed with employees of his firm, opened 13 last year. He intends to open about 10 to 12 this year and about that many next year.
His firm employs about 60 advisors and will have about 75 by the end of the year with nearly 300 total employees.
So far this year, he's opened two offices in Boston, and one in the Detroit area and he plans to open one in Columbus, Ohio, one in Phoenix, two in San Francisco, two in Los Angeles, one in Florida and another in the Detroit area.
There's been tremendous need in areas like Detroit because of the changes with the jobs.
Following Chuck Schwab's approach
Both men built their RIAs using their popular weekly radio shows as the foundation which has fed referrals for the business.
When asked if the company could survive without them, they both point to the success of Charles Schwab, noting that Schwab himself isn't running the day-to-day operations but has groomed a strong team to succeed him.
"It hasn't proven to be a problem for Charles Schwab," Edelman says. "We have a complete team. I'm grooming the next generation as part of our succession plan to reduce the risk so there's less dependency on me personally."
On the other hand, Chuck Schwab tried to retire in 2003 when he ceded control to David S. Pottruck. Fourteen months later the company was reeling and he was forced to return to restore order in 2004. Fast forward seven years to 2010 and Schwab, now chairman with Walter Bettinger as his CEO, is still engaged at his company. See: Charles Schwab will speak and his fellow CEOs will listen
Bold also says he's spent recent years to ensure he's got a strong team.
"I've made concerted efforts to ensure the business continuity if – God forbid – I get hit by a bus," he says. "I have worked pretty diligently to make sure The Mutual Fund Store is more than just me."
For instance, Chris Braudis, who has been with the company since 2000, is its president and Chris Elliott is the firm's CFO. Bold says Braudis and Elliott run many of the day-to-day operations.
Meanwhile, Stacey Schreft handles much of the investment strategy efforts. Before he hired her, Bold handled all of the investment strategies with nothing on paper.
"The methodologies were all in my head, and that was the problem," he says.
Advisors' perspectives
Even though the weekly radio show is popular, advisor Kristopher Bonocore, who is based in Philadelphia and has ownership in seven locations, says he believes Bold has positioned the company to exist on its own.
At his Philadelphia location, he manages $135 million with 550 clients.
"The Mutual Fund Store is much bigger than Adam Bold," he says. "It's no longer one individual. It's hundreds of people. It's much bigger than him at this point."
Stick with your niche
One of the reasons that The Mutual Fund Store's own advisors believe the firm can be successful long term is because the firm hasn't tried to offer too many services to clients.
The company doesn't do holistic planning, says Brian Jensen, an advisor, president and managing partner of two locations in Chicago. He manages about $360 million and has 3,100 clients both stores.
"We don't do estate planning or accounting. I know a lot of other advisors are trying to be all things to all people and we don't. We found a niche that we're very successful at."
However, Edelman's firm, which provides a number of services, has found success helping its clients with a myriad of issues. For instance, the firm doesn't shy away from a number of issues outside of asset allocation strategies.
On its website, Edelman offers tips on estate planning, home ownership, saving for big events such as a wedding, and teaching children about money.
---
---
---