News, Vision & Voice for the Advisory Community
Despite misgivings for 20 years, Dave Emma stayed largely for the culture and then Bank of America came along
March 25, 2011 — 1:11 PM UTC by Brooke Southall
Brooke's Note: When Dave Emma answered our pre-arranged phone call, he was in a rental car on Route 93 driving south from Manchester, N.H., to Providence, R.I. He was still in the early stages of an 11-day road trip during what New Englanders know as mud season. The Florida-based U.S. Olympian and former NHL star had stops planned next for Boston, Philadelphia, New York and New Jersey — his old stomping grounds — before heading home. His mission was to tell clients, face to face, about his breakaway from Merrill Lynch to Hightower Advisors. As much as I generally despise cell phones, I love when I get someone with an interesting story to tell and nothing to compete with but a gray stretch of New Hampshire road. This article benefited from that.
David Emma knows the retail broker business of Merrill Lynch & Co. from just about every side possible.
Disappointed client
The former National Hockey League player was a disappointed client of the firm before he became a top producer. Now, he's an alumnus. See: Merrill Lynch and Bank of America cultural tension may spin out a new round of breakaways, recruiters say
As of Friday, he's now a managing director and partner with HighTower in Naples, Fla. The practice, under the name Masterson, Emma, & Associates, has about $400 million of assets under management.
Mark Masterson, a Barron's 1000 advisor in 2010, who earned multiple awards for top advisors during his more than 14 years at Merrill Lynch, joined him in the breakaway from the Naples office of Merrill Lynch.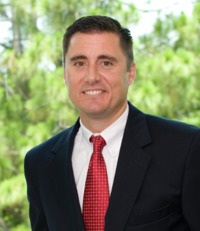 Mark Masterson, a Barron's 1000 advisor,
joined Emma in the breakaway.
The beginning of Emma's Merrill Lynch story came 20 years ago, when he was a player in the National Hockey league, for the Boston Bruins, New Jersey Devils and Florida Panthers. He became a client of a Boston-area Merrill stockbroker. Emma, 42, stayed with him for a decade.
During that time, Merrill Lynch financial advisor acted as a stockbroker – but not as the wealth manager that Emma believes he really needed.
Though the experience left a bad taste in his mouth, he doesn't blame his broker, he says, because he was truly only a stock broker, and never represented himself as anything but that.
Self-absorbed
"Athletes get taken advantage of and that happened to me. I don't blame (my Merrill Lynch stock broker). I made the mistakes. I was self-absorbed."
Emma didn't detail the issues that he regrets. Merrill Lynch declined to respond to a request for comment for this article.
Emma's hockey career was shortened in 2001 when he was playing a stint for the Florida Panthers' minor league squad in Louisville. He got hit hard from behind, which resulted in an injury that would eventually require surgery on a disc in his back.
He did some playing after that, including some time in Germany, but he was a smaller player who could only excel by being in great physical condition. He didn't want to play at a subpar level.
Another factor in leaving hockey: He was excited about becoming a financial advisor. Emma earned a degree in marketing and finance from Boston College and he had already played an unofficial role – and one he very much enjoyed — mentoring younger teammates with their finances.
Slapshots and checkbooks
"I was helping all the rookies manage their own finances – even just helping with their checkbooks,"' he says.
When he retired from hockey in 2001 at the age of 32, he decided to become a broker himself. He designed his practice to be a place where a client's finances are planned and fulfilled with the best investments. Emma starts out with clients by educating them in the basics of investing.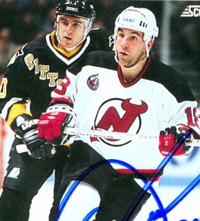 Dave Emma: I was helping all
the rookies manage their own finances
– even just helping with their
checkbooks.
"My practice is like night and day (compared with that of my own broker)."
Emma says he never really fit in at Merrill Lynch. One of his discussions with a friend right at the start of his career at the wirehouse set the tone
"I was with a high-level sports agent in New York and he said: you are a complete fish out of water."
Super agent's augury
The agent, Emma says, was aware that he was bound and determined to reinvent the way that young athletes are treated by many financial advisors. The agent was aware that Merrill Lynch is a place where product sales and high production are the name of the game – and that Emma wasn't looking to abide by that culture.
This warning aside, a number of factors kept Emma on the Merrill track including its familiarity, training program, solidity as a company, culture and the excellent people he met in the Naples office of Merrill Lynch.
He also experienced something else encouraging: overnight success. "I hit the ground running – really running."
Emma was able to draw on a pool of players he worked with – especially ones from the New Jersey Devils, where he played for five years. Athletes — including professional golfers and baseball players — still account for about 30% of his business.
"You could play with a guy for one shift and you're a friend for life," he says.
Yet, the atmosphere at Merrill Lynch became more unbearable, Emma says, over the past two years under Bank of America as his determination to put clients first and chafed against an increasingly product-centric culture. See: Why one Merrill Lynch advisor needed to break away twice to become an RIA
Fish out of water
"I didn't want to continue to be a fish out of water. We started to look at other avenues."
"I was able to (deliver wealth management and educate clients) but as things changed with the (decline of Merrill Lynch culture) in the last two years, it became more difficult."
This is a familiar tale for Elliot Weissbluth, CEO of HighTower, whose company recruited Emma's team of five that includes two support staff and an emeritus member.
"The 'Bank' of Merrill Lynch, UBS, Wells Fargo and Morgan Stanley are driving products and that's creating tension with financial advisors who see themselves as financial advisors."
Though Emma's client base includes many athletes, there's more to why the 42 year-old advisor can attract clients, says the head of Hightower, which has now brought aboard 20 teams with combined assets under management of around $19 billion.
"He has a quiet quality that radiates and instills confidence; that's the hallmark of a fine financial advisor."
The Masterson, Emma team is the second one in Florida. Curt Lyman, a Lehman Brothers breakaway, and David Weisenhaupt, a Merrill Lynch breakaway, share a HighTower office in Palm Beach
Looked hard at
UBS
Emma and Masterson considered several options and they looked hard at joining UBS because they knew that Bob McCann and his team had brought some of the old Merrill culture over there. See: 13 things to know about Bob McCann recruiting his old Merrill Lynch team to UBS
"That's when HighTower came into the mix and the dialogue was incredible. There was this instant trust."
The added infrastructure of being part of a bigger company like HighTower was also very important.
"If we had to give up 15 to 20% of our time, that was too much – dealing with compliance, technology and audits," Emma says.
But the due diligence process was intensive enough that the Masterson, Emma team "probably drove (HighTower) crazy," Emma says.
"They did not wake up one morning and say: We want to join HighTower, and we'll go cut a deal," Weissbluth says wryly.
Black Diamond, Fidelity choices
Masterson, Emma is keeping its assets with Fidelity Institutional Wealth Services and it is using Black Diamond Performance Reporting for its portfolio accounting system.
It is still choosing financial planning software. It used Financeware at Merrill Lynch and it may continue with that. But it is also giving strong consideration to MoneyGuidePro.
For Emma, who started started skating at age three, being a RIA with all the technological armaments is not a wind down from a hockey career.
"I don't feel like I go to work. I enjoy what I do more than I did when I was playing hockey. We're making a difference in people's lives."
An earlier version of this story said Emma, Masterson was its own RIA. It's actually under the Hightower RIA.
---
---
Share your thoughts and opinions with the author or other readers.
---