News, Vision & Voice for the Advisory Community
The adoption rate by advisors is still very small but the big clearing is undeterred
March 15, 2011 — 12:30 PM UTC by Nevin Freeman
Pershing is launching an Android version of NetX360 in late April that includes mobile trading capability, adding to its lead in the mobile space over other custodians.
Pershing also plans to release NetXClient, its end client portal, for iPhone and iPad later this year. NetXClient allows advisors to create customized websites for clients to view their portfolios.
"Pershing has been on the leading edge of the shift to mobile device functionality, and the inclusion of trading in NetX360 Mobile is yet another way they're demonstrating their support of the platform," says Bill Winterberg, principal of Dallas, Texas-based FPPad.com.
Pershing originally released NetX360 for iPhone, BlackBerry and Windows Mobile shortly after the desktop release in 2009, and followed up with an iPad version in 2010. The Android release will complete coverage of all of the popular mobile operating systems.
Of 105,000 NetX360 users, only 700 actively use the mobile version, and most of those users are on the iPhone and iPad. Some 2,000 have downloaded mobile versions without actively using the platform.
These meager numbers don't seem to bother the Pershing technology team. "Bottom line is that we saw the need for advisors to have mobile access and be able to operate with their clients wherever they were," says Lucille Mayer, managing director, technology products and services for Pershing.
The company is betting that current and prospective NetX360 users' interest will rise.
"One of the things that brought me 3,000 miles across the country was that Pershing actually does a really good job of knowing where the puck's going," says Mike Golaszewski, business technology officer for Pershing. "If you play hockey you know that you don't want to skate to where the puck is, you want to skate to where the puck's going to be."
Golaszewski left his job as managing director and channel owner at SchwabAdvisorCenter.com to join Pershing in November. See: A key Schwab web manager jumps cross country to Pershing.
Mobile trading

Bill Winterberg: Pershing has been on
the leading edge of the shift
to mobile device functionality.
The Android version includes mobile trading of equities, ETFs, trading, and mutual funds, which Pershing says is the number one requested feature by its mobile users. The app does not support fixed income and options trades.
The trading functionality for advisors will also be added to the iPad app, which already supports trading for Pershing's IBD clients, at the end of April.
"We are the only firm that's allowing a business-to-business level trading integration within mobile applications," says Golaszewski.
It's not yet clear how useful this feature will be to fee-based advisors who tend to trade a few times a year in large batches.
"For my advisor clients, I feel the majority will not find much use for trading on mobile devices," says Winterberg. "Independent RIAs primarily employ broad asset allocation strategies tied to a client's investment policy statement and make a few wholesale trades throughout the year. Most trades are generated in response to periodic rebalancing or a swap of one fund manager for another at the discretion of the RIA's investment committee."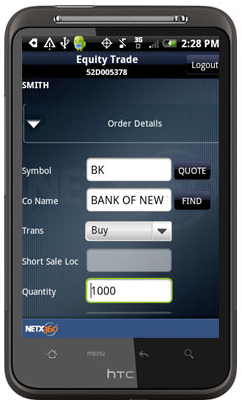 The equity trading screen on the
new Android version of NetX360
"I wholeheartedly agree with him," Golaszewski says. "RIAs won't necessarily be using mobile devices for trading but instead will be using them to deepen and enhance the relationships that they are having with customers. I suspect that they will be using things like iPad to plan for client meetings, present client materials, discuss portfolio and investment strategies, and — as it relates to their actual practice — manage workflow and their CRM activities through the device. Maybe even open accounts and collect electronic signatures. That's where we plan on taking these devices."
Winterberg also points out that advisors "are very conscious of tax consequences and changes to the investment allocation when trades are made, so they leverage PMS and rebalancing software to identify potential issues (e.g. wash sales)." Pershing declined to comment on whether or not the app will handle these situations by the time of this writing.
Setting the trend
Fidelity released an iPhone version of WealthCentral at T3 2011 [See: Fidelity releases WealthCentral Mobile for the iPhone], and Schwab and TD Ameritrade have both said that they plan to release mobile applications for advisors, but haven't yet done so. See: Fidelity, Schwab and TD Ameritrade prep for arms race in mobile technology for advisors.
TD Ameritrade says it plans to release a native iPad version of Veo in late March, and to add trading functionality to the app later this summer. Kristin Petrick, a spokeswoman for the company, points out that Veo has been fitted for mobile browsers, so users can already place trades from the iPad or other mobile platforms.
All three of the other large custodians already have consumer trading apps, which serve a much larger user base. Ed O'Brien, senior vice president and head of technology for Fidelity Institutional Wealth Services, said in an earlier interview that his team was able to recycle code and design choices from the company's consumer app for WealthCentral Mobile.
"We are focusing our efforts on the development and rollout of Schwab Intelligent Integration, as we feel that this initiative will have the biggest and most long term impact for advisors and how they manage their businesses," says Lindsay Tiles, spokeswoman for Schwab Advisor Services. "Part of Schwab Intelligent Integration will include relationships with CRM providers who offer mobile apps for advisors. In addition, the turnkey platform we are developing, Schwab OneView Office, will include mobile capabilities down the road."
Just the presentation layer
Since NetX360 is more like a web application than a desktop application in that all of the data is stored on a central server and dynamically served to the user, accessing it from a mobile app is fairly simple. This doesn't necessarily differentiate Pershing from the other big custodians, who all have a similar model of storing data on central servers.
"The beauty of our architecture is that all that we're doing is building the presentation layer," says Mayer. "Our time to market is pretty efficient for adding new devices; we anticipate there will be new devices next year."
But supporting all of the major mobile operating systems is no small task. For every platform that is added, the amount of work to add a feature like mobile trading across platforms goes up.
Pershing has gotten around this by designing HTML views that can be used within all mobile apps, so that a change only needs to be made once.
Correction: Pershing has gotten around this by designing web services (server-side functions) that all of its applications, including the mobile ones, use to send and receive data, and has taken the time to build out all of its mobile interfaces with the native elements. This means each app takes advantage of the buttons and functionality native to each operating system, for maximal usability.
In contrast, the practice that is standard among most other mobile apps we've seen in the advisor world is to depend on HTML views, which sacrifice some of the niceness of native mobile apps because they lead to user interfaces that aren't quite as responsive as 100% native ones.
---
Mentioned in this article:
FPPad.com
Consulting Firm
Top Executive: Bill Winterberg
---
---
Share your thoughts and opinions with the author or other readers.
---