Jeremy Siegel: Short of a collapse in the global economy or hyperinflation people who buy gold today will be disappointed in five years.
The TD Ameritrade conference wrapped up on Friday. Thanks to this group of bloggers who sent their thoughts on the industry's second-largest gathering, with more than 2,600 attendees.
Where conservative investors should go as the rally continues
Contributor:
Joe Luby, CEO
Jagen Funds
Speaking at the TD Ameritrade Institutional National Conference in San Diego last week, Wharton finance professor Jeremy Siegel said that the stock market is not ahead of itself. With stocks at 20% below trend line, the current rally will continue, at least for a while. Siegel looks at a 209-year trend line, going back to 1802, which shows a 6.7% annualized real return over that period.
"This market is not overvalued," said Siegel, adding that, "it's not too late to get in." If advisors have clients who've been sitting on the sidelines, he suggests encouraging them to get back in while there's still time.
Bonds, however, are another story. The bond bubble, which Siegel said he predicted six weeks early, is not done yet. Treasury bonds offering thin yields and short-term bonds, paying almost nothing, could result in capital losses if interest rates start to rise.
Where should conservative investors go? Siegel recommends dividend-paying stocks. While the recent big drop in such stocks was due to the financial sector, all of the other nine sectors were doing fine. Stocks are historically cheap according to Siegel. Corporate earnings growth has been strong and he expects this trend to continue. During periods when interest rates remain at 8% or below, the average P/E of the S&P 500 rises to 19. This multiple, combined with estimated earnings for the index topping the 2007 record, shows there is still much upside in the market.
And what about gold? Not so much. Short of a collapse in the global economy or hyperinflation – neither of which are likely, according to Siegel, people who buy gold today will be disappointed in five years.
I've seen Dr. Siegel speak at other industry conferences, and while he's known for his "stocks for the long-run" mantra, I've never seen him quite so animated and adamant. His speech was well received, as attendees dined on steak, asparagus and polenta before heading to their afternoon breakout session choices. The main lunch room was filled to capacity and late comers had to settle for the overflow room, with Dr. Seigel's presentation piped in. Glad I made it into the main room on time!
Challenging Siegel
Contributor:
Brooke Southall, founder
RIABiz
I missed the Thursday lunchtime speaker, Jeremy Siegel, the Russell E. Palmer Professor of Finance at the Wharton School of the University of Pennsylvania and frequenter of the speaking circuit. (Hundreds of us went to an overflow lunch area when all the seats were taken) Fortunately Joe Luby took notes and reported it (see above) but I also got a close up of him when he attended the media dinner and sat across from me.
Economists are known to have views that vary from business people and financial seers because they have no on-the-ground exposure to what's going on in commerce. Siegel, who is quite bullish right now on the prospects for equity prices made an effort to allay fears that he didn't talk to real people right off the bat.
"Whenever I go to a city, I ask my (cab) driver what he's seeing for economic activity." Siegel added that his San Diego driver was emphatic that business was booming in his city. He says he is hearing this message consistently from other drivers in other locales.
What I wanted to know is how Siegel – who frequently speaks to groups of financial advisors at conferences — handles his own personal investments. I asked him about his own financial advisor. Answer: he does not use an advisor, never has and has no plans to do so.
The Philadelphian keeps an account with Vanguard Group of Malvern, Pa. and he praised the company profusely. He mostly uses the company's index funds and a few ETFs. He doesn't believe in going overboard with investing with equal emphasis on stocks and bonds and keeps most of his assets in equities.
The one exception: He's also a long-time and aggressive investor in junk bonds. He's wild about their yield and not terribly concerned about their creditworthiness. When I told him that I tend to favor investing in small caps, he said that his studies show that with the exception of a period in the 1970s after small caps were beaten down to nothing that small caps haven't outperformed large caps. Siegel keeps some assets in cash.
One other question I asked him was his view of where the inflation rate is headed and he expects it to go significantly higher into the three to four percent range. It was the one point I challenged him on because he mentioned energy prices. I said that energy prices have been soaring for a while with little effect on inflation — and that labor prices seemed in check. He conceded that my points had validity and I'd like to think that in his mind he at least took his projections down to 3.9% inflation on the upper end.
I would like to have asked Siegel more questions but he had a flight to catch at 10 p.m. flight, which was apropos of the 2011 conference. With weather crazy all over the United States, you caught flights where you could – even if they interfered with dessert.
The Zen of Creativity
Contributor:
Judy A. Stewart, principal
Stewart Financial Services
I attended one of the most amazing and inspirational sessions I have ever had the good fortune to attend while at the TD Ameritrade Institutional conference last week. Our speaker was Dewitt Jones, a former photographer with National Geographic Magazine (www.dewittjones.com). He is now a speaker in much demand and I can certainly understand why. He took us on an extraordinary journey with the many beautiful and unique photos captured over the years. But instead of just showing us photographs, he used each picture to convey his message of "falling in love with the world" and "celebrating what's best in the world." His purpose was to teach us how to be creative, to think outside the box and to always search for a better answer. He demonstrated this by showing us many photos of a particular scene that he was trying to capture. Most of the photos were very good but there was usually one that so clearly stood out and captured the essence of what he was trying to get the viewer to experience, that it took your breath away.
In my own financial planning practice, I am always looking for the right solution for the client and most of the time I can come up with the right one. But Dewitt showed us that while we may have the right or best solution, there might be a better one out there and don't give up until you get it! In order to get that better solution, you need to let yourself be fully engaged and fully in love with the process so that the creativity can flow and you do come up with that better answer.
Dewitt is clearly a man who loves life and all that itoffers. A man who always looks at the glass as "half full", an eternal optimist who believes that our world is an extraordinary place. He used an example from a meditation class that he attended. He had a difficult time concentrating on his breath in meditation as his mind continually wandered. His teacher told him to try the one breath meditation. Take it all in with one breath and give it all back. Take in everything the world can give you and give it all back out again. As a yogapractitioner myself, this totally resonated with me and my yoga practice will never be the same again. Thank you, Dewitt, for a most inspirational afternoon.
Get Exposed – Tips and Advice for Working with the Media
Contributor:
Marie Swift, CEO
Impact Communications
Three big name journalists and one extremely media savvy advisor took the stage during a standing-room-only breakout session led by yours truly, Marie Swift, at the TD Ameritrade Institutional conference last week. In our session "Get Exposed: Media Tips and Tricks," attendees heard what journalists think of various tactics advisors take.
Sydney LeBlanc, a 35-year financial services industry journalist, author, publisher and marketer who as founding editor helped establish Registered Rep magazine, the nation's first trade magazine for stockbrokers in 1976, said she had some "real doozie" stories—and indeed she did. Faux paus ranged from offering to pay the journalist directly for a writing a profile (or to evaluate the journalist's investment portfolio for free in exchange for being a part of a story) ... to speaking for an hour and then saying, "of course all of this is off the record" "Arg. What a big waste of time, that was!" LeBlanc gushed. One time, an advisor had his mother call to serve as a reference for an Outstanding Advisor award ("After all, who knows him better than me?" the mother said). More commonly, many times advisors call to ask if she got their press release (sigh). "Assume I got it and I'll be in touch if it peaks my interest," she said. "Don't waste my time unless you have something new to add."
LeBlanc has written and consulted for numerous financial services publications and is currently the editor of RIA Central Magazine.
Liz Weston, personal finance columnist for MSN Money and author of four books, said she is annoyed when advisors don't even read her column before pitching her. "They clearly don't know what I do or don't write about," she said. Weston also cautioned the audience to avoid the "me too" syndrome. "Don't tell me you could have could have contributed to a recent column because you're also an expert in the field, without offering fresh ideas or a way to advance the subject to a new level."
Another big no-no: Spamming/stalking—"repeated pitches (by email, tweet, whatever) or insisting I 'have' to cover a story," Weston said. "Or button-holing me at personal appearances or public events for more than a minute or two. If you're not sure if the level of contact you're proposing is appropriate, think about your busiest day at work, and multiple the contact you're considering by 25 times for a mid-market journalist, 50 times for a large-market journalist and 100+ times for a national market journalist. That's a fairly realistic picture of how often we get pitched," she said.
Joe Giannone, a senior correspondent for Reuters, has for the past eight years covered every corner of the financial services industry. For the past year Joe has led the expansion of Reuters' print coverage of the wealth management industry in the United States and Canada. What not to do? According to Joe (with the other two journalists nodding in agreement):
If you offer your insights to a reporter on a breaking news event, don't then spend the rest of the market day in meetings. Be available. "Call back immediately—if not sooner," chimed in Liz Weston. "Seriously, journalists are on ridiculous deadlines and some of us are real procrastinators, so if we don't hear back from you quickly we have to move on." If you schedule a conversation, don't field other calls. If you are in a meeting, put you Blackberry away. And if you are going to offer some constructive criticism, be brief and to the point … but sandwich your criticism between cordial opening and closing comments—that's just basic common sense and good personal communication," Weston said.
If a reporter picks up the phone and calls, respond by phone not by email. "No speakerphones, no cell phones," added Sydney LeBlanc. Also, don't call too early or too late unless invited to do so—now that our phones can find us anywhere, that can be a real problem," said LeBlanc, who's been roused from sleep as early as 4:00 am on Pacific coast time. "And pleased don't pop in unannounced at our offices," she added. Short and sweet is always best. "Media people are like five years olds with short attention spans," Weston said. "Talk fast and get to your point quickly." "Reporters are smart, but please use plain English to express yourself," added Giannone. "Pretend you are explaining something to your mom."
Financial news is all about individuals and specific companies. Journalists have little patience for sources who only speak in broad and general terms for fear of offending anyone. Don't be afraid to take a stand and express your opinion. "Don't use one-word responses to interview questions…no, yes, no, yes," LeBlanc said. "Talk about real life examples. You can be a tremendous resource just by sharing client scenarios and how you handle them," said Giannone. "Put some heart into your story/pitch. Add a touch of humor," LeBlanc added.
Don't keep flipping between on- and off-the-record. Even the best reporter can get confused. Your job is to be a thoughtful guide. "Discuss ground rules upfront, in terms of your comments being on the record, completely off the record (never to be printed) or on background (which means we use the info but keep your name out of it)," said Giannone. "That saves a lot of time and heartache.
Diane M. Pearson, advisor and shareholder, Legend Financial Advisors (www.legend-financial.com), also added valuable insights to the panel discussion. Diane has been selected three times by Worth magazine as one of "The Top 250 Wealth Advisors" in the country. Diane has been quoted in numerous publications including Wall Street Journal, Money magazine and Financial Planning magazine. Clearly, she's doing something right.
Legend promotes media exposure using e-mail announcements, and also promotes TV and radio appearances through social media by linking directly to videos, articles, etc.
They have found success by preparing ahead of time for interviews, responding to reporters the way they prefer (periodically, when they have a good story idea or news item to pitch—typically through e-mail,) replying honestly if they do not know an answer, following-up with specific details in a timely manner, sharing areas of expertise for future stories, supporting the direction of the story with both facts and perspective, keeping on topic with their story/agenda, and never bombarding reporters with press releases (only sending if they are timely and newsworthy).
The firm tracks all media interviews over the years—last year they counted over 200 interviews and received numerous media mentions. This has given them measurable goals and a point of comparison for the coming year, and helps them monitor whom they speak with most frequently.
"Always call or write back and thank the reporter/editor," said LeBlanc in her closing comments. "Say what you liked about the piece and offer more information. Offer additional resources for quotes (CPA or attorney alliances). That endears you to editors. And, one last thing, immediately upon phoning, ask if the writer/reporter is on deadline…that shows consideration for their time."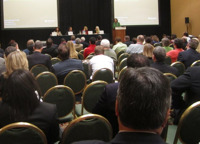 The public relations panel.
Colin Powell: A leader creates the environment in which people thrive
Contributor:
Randal Langdon, president
Lindner Capital Advisors
With a heartfelt introduction by former Marine Zohar Swaine, TD Ameritrade's managing director of institutional strategy, and a crisp acknowledging salute, Colin Powell took the stage at the company's 2011 national conference. The former Secretary of State and Chairman of the Joint Chiefs of Staff spoke of the optimism he is seeing across the country and expressed a wish that he could take it to Washington, pour it over the legislators and tell them to "get on with it!" His own sense of optimism and confidence in America was evident. "It is our destiny to be a shining city on a hill."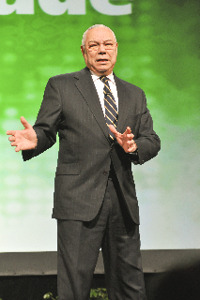 Colin Powell sees it as an
RIA's responsibility to serve his or
her fellow citizens.
Using humor and describing his own experience of being drawn into the world of twitter, blogging and digital communication, Powell talked about the current "transactional" world and the unstoppable flow of information. Contemporary leaders are functioning in an environment that is totally different from that of just 20 years ago, and being a successful leader is increasingly more difficult.
According to Powell, it is the responsibility of leaders to put their followers in the best possible environment to 'get the job done.' Leaders who have intensity and passion can instill a sense of purpose in their followers. In the RIA space, it's about serving one's fellow citizens and always striving to do better. "If you do your best for your clients, you will do your best for yourself."
The 2,600 people attending the 2011 TD Ameritrade Institutional conference seemed to wholeheartedly agree, giving General Powell a long and loud standing ovation. As a long-time RIA and sub-advisor to my independent advisor peers, I'm a big TD fan. I was both impressed and moved by General Powell's speech and give high marks to TD's meeting planning team for bringing such a high caliber speaker to the conference in spite of short notice and bad weather situation across much of the nation.
While Tony Blair was originally slated to deliver the opening conference keynote, General Powell was a wonderful replacement. It was a classy thing for Mr. Blair to record a personal video greeting and explanation of why he could not deliver the keynote speech he had planned due to the crisis in Egypt and being called in to help with the volatile political situation there.
Is it a coincidence that the TD conference theme this year was "Take the Lead"? I think not!
The key to balancing the budget
Contributor:
Gordon J. Bernhardt
President and CEO, Bernhardt Wealth Management
According to co-chairs of the National Commission on Fiscal Responsibility and Reform, Alan Simpson and Erskine Bowles, balancing the budget is a matter of addressing the substantive areas of Medicare, Medicaid, Social Security and defense. "If you don't cut these," said Simpson, "you have to cut everything else by 75%." And earmarks? "A sparrow's belch in a typhoon," he added, with the folksy humor that colored his comments throughout the discussion hosted by Skip Schweiss, president of TD Ameritrade Trust, at the TD Ameritrade Institutional National Conference in San Diego.
The speakers addressed the question of how their recommendations can work without hurting the growth that is so essential to the recovery. Explaining that the phase-in of their recommendations doesn't start until 2013, Simpson repeated what they have been telling critics, including legislators, who have come to them to complain. "Why don't you read the report before you call us and start whining?"
Ultimately, legislators will have to take action. "If we don't," said Bowles, "the bond market is going to kill us." In order to achieve growth in the face of spending cuts, tax reform is required. The commission's report addresses getting rid of loopholes, broadening the base and simplifying the tax code. By getting rid of the $1.1 trillion of earmarks in the tax code, "we can take the rates to 8 percent up to $70,000, 14 percent up to $210,000 and 23 percent above that, with a corporate tax rate of 26 percent." At that point, they agree, America will again be a great place to start and grow a business.
Best practices in social media
Contributor:
Gordon J. Bernhardt, president and CEO
Bernhardt Wealth Management
I was pleased to attend not just the session above but many others during the three-day TDAI conference. Another "stand out" session was "Building Your Online Presence," a special double-length breakout held Friday afternoon. Marie Swift of Impact Communications, one of the best-known marketing consultants in the industry, led the session. Swift provided dozens of valuable insights and ways to wrap our arms around using Web 2.0 and social media to build business. I especially enjoyed using her "diagnostic tool," which allowed me to see the gaps in my online strategy and what I should do next. I'll be referring to Swift's handy wallet card of "Best Practices for Social Media Use" as I continue my own blogging and social media activities.
Swift was joined by attorney Michelle Jacko, who provided information on compliance issues. Stuart Rubenstein, an executive with TD Ameritrade, presented some compelling statistics on why we, as advisors, should be on the forefront embracing the Web and social media sites. Three advisors, Jessica Maldonado (See: Advisor Tested: How LinkedIn can truly build your business and not just feed your ego), Christopher Van Slyke and Ben Tobias told us how they were using Twitter, LinkedIn, Facebook, blogging, and other online tools to build relationships with current and prospective clients.
Always an innovative presenter, Swift had the attendees use a Discussion Guide to capture "best practices" as we broke into small circles of our peers during the last 20 minutes of the session. While this session came at the very end of the day, on the last day of the conference, it seemed that many of us wanted to stay and continue the conversation with our peers and the experts in the room before heading to the hosted bar and food stations that beckoned just outside the meeting room doors.
Here's more on our blog contributors:
Joe Luby, CFP is CEO of Henderson, Nevada-based Jagen Funds (https://www.jagenfunds.com), offering sophisticated planning services and private placement investment solutions for accredited investors and the advisors who serve them.
Judy A. Steward is a fee-only financial planner at Steward Financial Services (https://www.stewart-financial.com) of Carlsbad, Calif.
Marie Swift is one of the best-known marketing and PR consultants (https://www.impactcommunications.org) in the industry.
Randal Langdon is president of Lindner Capital Advisors (https://www.lcaus.com), a third-party money management and portfolio strategy firm based in Atlanta.
Gordon J. Bernhardt, CPA, PFS, CFP®, AIF® is president and CEO of Bernhardt Wealth Management, an independently owned and operated Registered Investment Advisory firm based in McLean, Virginia (www.bernhardtwealth.com). Read Bernhardt's blog at www.gordon-bernhardt.blogspot.com.
---
---
Mentioned in this article:
---
---
---