Nevin Freeman: The next decade in advisor tech will see radical new user interfaces that will make typing in a client's address seem like an arcane waste of time.
In the past, the limiting factor in efficiency of software was the speed of the computer's processor or, more recently, the bandwidth of its Internet connection. This meant that you might spend 10 minutes entering data and then wait two hours for calculations to run, or 10 seconds typing a URL and one minute waiting for the web page to load. In both cases, the time spent entering letters and numbers on your keyboard was the shorter part of the process.
This lead to vendors spending much of their development time trying to make the processing or transfer faster, and not much on the efficiency of data-entry fields.
These days the reverse is often true — we spend more time entering letters and numbers than we do waiting for pages to load or calculations to be run. The result is that vendors are beginning to turn their attention to making data entry more efficient.
"It used to take an hour to run a scenario [to predict different bond-centric portfolio options], and now we can run multiple scenarios in a couple of seconds," says Brent Burns of Asset Dedication, a Mill Valley, Calif., firm that helps financial advisors to build bond portfolios.
Bonds and online pizza orders
Burns says his software's data-entry workflow has been optimized to be as simple as possible, and compared it to ordering a pizza online from Domino's. Still, the entry process still takes much more time than the couple of seconds of processing.
The next decade in advisor tech likely will see the relationship between entry time and processing time change: radical new user interfaces will make typing in a client's address seem like an arcane waste of time. Your mobile phone will recognize a client's voice and tell your futuristic laptop to show you everything you need to know about them, including the data directly related to the question they just asked you.
A few already-available technologies alone could deliver these kinds of super efficiency gains:
Touch-sensitive displays have lots of potential for speeding up input of data that can be represented graphically. You may be able to simply "draw" a new portfolio model within your rebalancer by dragging asset classes and flicking sliders.
Voice recognition, while still very flawed, may be a serious contender in the coming decade. You may be able to politely ask your device to rebalance Mrs. Smith's portfolio with the new model you just drew.
RFID chips are already on a trajectory to become ubiquitous world-wide. You may be able to skip any manual entry into your CRM system if your new client sets their ID card on your RFID-sensitive desk.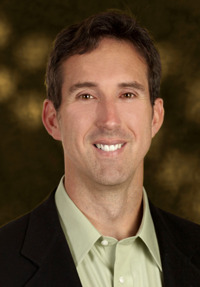 Brent Burns: It used to take
an hour to run a scenario
You might still have to press control-alt-delete from time to time.
Not so incredible after all
If these sound a little like the flying cars that haven't showed up yet, consider the technologies we're seeing today: Cloud-based computing and mobile devices. These seemingly came on to the scene as a surprise, but when we look at the underlying technologies that lead to their arrival, the indicators were clear a long time ago.
Everyone knows that today's computers are slow by tomorrow's standard, but the constancy of this trend is still a surprise when you look closely. The number of transistors that can be placed inexpensively on an integrated circuit has doubled approximately every two years since their invention in 1958. This phenomenon is referred to as Moore's Law, named after Gordon Moore, Intel co-founder, who first wrote about the trend in 1965.
But it isn't just the number of transistors that has been changing rapidly. Though they don't necessarily follow the same exponential curve, data storage has become extremely cheap, and network bandwidth has gone up significantly.
Imagine you're a software developer for a second to see what this means: Processing a chunk of data that used to take an hour now takes less than a second, and you can send it over the Internet and store it as long as you need to for negligible cost.
The economics of this new situation make cloud computing and mobile devices obvious logical steps; now that passing data from your laptop or phone to a server in Utah is fast and cheap, it makes more sense (and takes less battery life) to store it and process it on that server and just view it remotely in your browser or a lightweight app.
What about integration?
What about integration, I hear you asking. Isn't that the big push now? It is. Vendors in the RIA tech industry tend to focus on improving the portion of the workflow that can be sped up the most per amount of development investment. Right now, that means integration with other systems — getting data from other places that have already been laboriously keyed-in by a human.
As soon as this low-hanging fruit is properly harvested, the user interfaces that humans use to key-in the data in the first place will be next apple up the tree. Since the efficiency of handling the nuts-and-bolts data is a big factor in how much in AUM per employee a firm can take on, there will be a huge incentive for advisor tech vendors to use innovative interfaces that open up this next bottleneck.
The underlying development frameworks
Another way to see what advisor tech will look like in a few years is to look at the consumer world. Most software applications are made with the same few development tools and run on the same operating systems.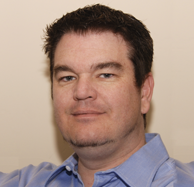 Matt Abar: Most of FinFolio's [supporting]
technologies weren't around 10 years ago
"Most of FinFolio's [supporting] technologies weren't around 10 years ago," says Matt Abar, CEO of FinFolio. "Our technology stack has resulted in a much better product." FinFolio is built with Windows Presentation Foundation (WPF), a framework that came out in 2006 and is still being actively developed by Microsoft.
Abar is in a unique position to observe the differences because he built, ran, and sold Techfi, an early portfolio management system, 10 years ago. See: The executive Advent bought and buried is back with a vengeance.
As frameworks like WPF continue to get better, all of the applications on top of them will improve as well. Since advisor-centric software is complex and slow to develop, with many more security concerns than most types of software, you'll see these improvements in consumer software first and will know what's coming to the advisor world soon after.
But the style of interfaces is just as connected to the artistic design trends of the day, which aren't necessarily tied to development frameworks. This is particularly pronounced in web applications, since developers have far fewer default UI elements (like buttons and menues) to work with than they do for desktop software.
Out of all of the advisor tech applications that RIABiz has demoed, we haven't really seen any UI innovations that are specific to that application only. For example, we liked Pershing's use of 'mega menus' within NetX360, and FinFolio's use of Excel-like 'ribbon-strips', but neither were new ideas — they both re-use ideas that have worked before.
Most eyebrow-raising vendor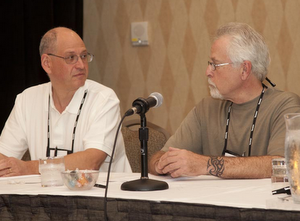 Joel Bruckenstein [exchanging a glance with
partner, David Drucker]: User experience and
usability will rule.
Some innovations are beginning to show up.
"Notice the buzz that Figlo generated [at T3]? It's all about the user experience," said Bruckenstein, co-organizer of T3, told RIABiz. "Ditto Android, the iPhone, iPad, etc. Usability and user experience will rule."
Figlo is a Dutch financial planning software vendor that is just now breaking into the U.S. market. The buzz they generated was over their touch-screen drag-and-drop interface that was undoubtedly the most eyebrow-raising demo on the exhibit hall floor.
Jenze Bosma, president, enthusiastically pulled me over to his booth at T3 when he saw that I was the youngest face in the crowd.
Bosma is convinced that the young generation of RIAs is where vendors should be looking. Figlo's UI, while not perfect [Bosma had to repeatedly tap a few times to get what he wanted], is very different from other applications we've seen, and could indeed be the beginning of the next stage of innovate-and-copy within the RIA tech ecosystem.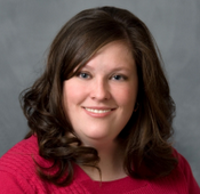 Jessica Maldonado: I was looking for
a solution that would allow us
to provide a planning tool to
clients without us having to do
all of the planning internally
"We're planning on using Figlo for our new RIA firm, Allos Investment Advisors LLC," says Jessica Maldonado, VP of Searcy Financial Services Inc, an integrated wealth management and planning with $140m in AUM. Allos Investment Advisors is Searcy's middle-market, fee-only solution.
"Figlo allows us to unleash clients in their own planning portal and run various scenarios that we can then discuss with them. It also notifies the advisor when a client is logging in, so we can follow up in a timely manner to … make recommendations and answer questions."
A glimpse into the past
If you have any doubts remaining about how many more leaps advisor tech can take in the future, just take a look at how far current vendors have taken their technology.
Consider Axys. Maybe you're one of the advisors still using this classic work-horse of a platform that has been a major force in the RIA business. A side-by-side comparison to Advent's APX says a lot about how UI style and operating system capability has progressed.


Advent's Axys v. APX: The new
UI brings data to the user,
rather than requiring the user to
go looking for it
Likewise with Abar's original product, Techfi, versus FinFolio:


Techfi v. FinFolio: The difference that
comes in ten years of UI-design
improvements.
---
Related Moves
November 20, 2019 – 10:19 PM
---
---
Mentioned in this article:
---
---
---
Nevin Freeman
Ben, good points. Incidentally, I've noticed in talking to many of these tech vendors that a large portion of them started as an advisory shop and eventually just started selling the software they had developed for their practice, so they ought to be fairly in touch with what it's like to use on a day-to-day basis. That said, they probably don't use their platforms any more the way Googlers do.
On the eye-tracking point, Ed O'brien of Fidelity told me that they do major usability testing (including eye tracking, and finger tracking for mobile apps), and I suspect that this practice happens fairly commonly among other major custodians and possibly the bigger tech vendors. Still, evidence about how users approach one's current design seems like it would be insufficient to inspire the new design ideas that can significantly change the workflow efficiency of an app.
Elmer Rich III
February 16, 2013 — 2:46 AM
Eye tracking, etc is fine but there is little (no?) proven theory about how these kinds of physiological measures relate to behavior or information processing, e.g., we don't really know what it means or if it, most important, predicts anything that can be measured.
Ben Utley
This is a great article. In my opinion, the advisor-centric world of software leaves much to be desired where the user interface is concerned.
Developers are still committing major usability gaffes, like tiny fonts, grey fonts on white backgrounds (or worse, white font on grey background), tiny controls, having to click "submt" or "enter" with every data point, mixing "pretty" graphics in with vital data, and the list of violations of the commonly accepted best practices regarding UI design goes on and on.
Google seems to have mastered much of this, but the guys at Google use the software they purvey.
Until the people who make the software begin using the software (and I mean day-in, day-out use) or begin doing time and motion studies and eye-tracking analysis on real, live users, I'm not sure how things will improve. It seems that all UI designers should at least peruse the usability info on Jakob Nielsen's site at http://www.useit.com/.