Mark Palmer will manage aggressive growth plans for Presidio Financial Partners LLC.
Mark R. Palmer, who was Cetera's national sales director, has left the company to take over management of one of the largest RIAs on the West Coast.
Palmer, who was also a former Schwab managing director, is now the head of wealth management for Presidio Financial Partners LLC, which manages more than $4 billion of assets from San Francisco. Cetera Financial Group is the Los Angeles-based umbrella for Financial Network Investment Corp., Multi Financial Securities Corp., and PrimeVest Financial Services Inc.
Palmer, 45, is taking on the newly created role to help handle the day-to-day efforts required to execute the ambitious national plan for growth. The wealth management arm of Presidio has 34 employees including 12 advisors. The rest are client service and operations staff. Presidio also has an investment banking side, which brings its total headcount to 60.
The company already has offices in Los Angeles, Dallas and San Francisco. It has one advisor in Chicago and plans a formal office there. It is also eyeing an expansion to New York City.
"We have clients on the Eastern Seaboard that might take us there," Palmer says.
M&A-minded
For now Palmer, a Presidio managing director, plans to concentrate developing systems and processes that will make scaling the business easier. He also believes he will next be busy recruiting wealth managers to the firm and looking for possible acquisitions over the next three to five years.
"We've worked with Mark closely and were always impressed by his extensive knowledge of the industry and best practices in firm management, as well as by his professionalism," said Brodie L. Cobb, Presidio's managing director, CEO and founder in a release. "We need a strong leader to achieve the aggressive growth goals we have for wealth management group and are confident Mark will more than meet them."
For quotes from Palmer from his Schwab consulting days, see: Schwab study shatters three RIA myths.
In his role as managing director, business consulting at Schwab, he worked with big firms like Presidio in charting and executing strategy.
Presidio's wealth management arm was originally just an effort to serve investment banking clients dissatisfied with their choices after cashing out of their venture. It has now become the focus of the company but it still focuses on first generation wealth and so-called serial entrepreneurs looking both to have assets managed — and capital and expertise for their next deal.
In August of 2010, Palmer left Schwab for Cetera in El Segundo, Calif. He joined Presidio by November. See: Cetera finds talent again at Schwab to fill national sales director position.
Cetera has been on a tear hiring top talent from around the RIA and IBD world. Cetera Financial Group is financed by deep-pocketed Lightyear, a private equity firm that has invested $3 billion only in financial services companies and is run by former Paine Webber CEO amd UBS U.S. chairman, Donald Marron.
See: Cetera Financial shores up its technology as it prepares to take on LPL for big hybrid RIAs.
Quick phone call
"I worked with Presidio when I was with Schwab. I was a quick phone call for them to make," Palmer said.
Palmer said he enjoyed working for Cetera and called it "fabulous" but he missed the Bay area and particularly his 13-year-old daughter, who continued to go to school in San Francisco and live with her mother.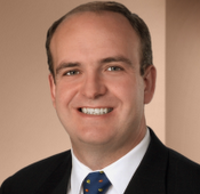 Barnaby Grist: We are searching
for a new national sales manager
and hope to have an announcement
soon.
"Yes, Mark left Cetera and moved back to San Francisco due to personal family reasons. We are searching for a new national sales manager and hope to have an announcement soon," said Barnaby Grist is executive vice president, wealth management at Cetera Financial Group.
Prior to joining Schwab, Palmer spent several years with Comerica's wealth management division, serving as regional sales manager and introducing consultative sales training. He previously served as senior vice president of marketing and strategy for Wells Fargo's private client business. He started his financial services career with Wells Fargo as a private client manager advising high net worth clients.
Licensed attorney
Palmer received his juris doctorate and a master's degree in international finance and marketing from Georgetown University. He has been a licensed attorney since 1992, serving also as a member of the trusts and estates, and business law sections of the California State Bar. He earned a bachelor's degree from Claremont McKenna College.
---
Mentioned in this article:
---
---
---