Bob Veres: In my mind, this is the place you come to find out where the future is.
Brooke's Note: Conferences go by in a blur with so many vendors and attendees to meet and debrief. It takes a small army to cover them — even a smaller event like T3. Fortunately, RIABiz had many boots on the ground. Here is the final wave of infantry — last but not at all least. I picked up several interesting items in editing this selection of blog pieces. Meanwhile, stay tuned still for the retrospective of the conference and the technology industry for advisors as a whole that Nevin Freeman, or chief technology writer, is working on based on his observations at this event. He's still in Miami at a relative's house with an ocean view and time to think. It should be interesting.
Marie Swift, President and CEO, Impact Communications
Last week, David Drucker and Joel Bruckenstein, two of the industry's best known practice management and applied technology gurus, held their annual "T3" conference in sunny Weston, Florida (just outside of Ft. Lauderdale).
Attendance for this year's event – the 6th annual T3 Technology Tools for Today conference – hit an all-time high. While the conference organizers are still tabulating the final headcount, meeting planner Phil Galanty of Aim Meetings estimates that the final tally will come in at just under 500 people.
Technology companies and outsource-solutions providers for RIAs who returned their sponsor forms too late last year were disappointed to learn that the exhibit hall had sold out. The exhibit hall is, according to Galanty, one of the highlights every year. That certainly appeared to be the case as the exhibit hall was a-buzz during all open hours. There were 75 booths at the T3 2011 conference.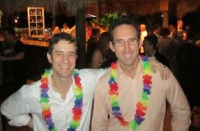 Matt Stroh, of Tamarac, and Brent
Burns, of Asset Dedication, showing that
T3 is an end-to-end of the
day solution.
"We've been swamped," said Conrad Foster, a tired but happy Platinum Plus sponsor as I caught him breaking down his booth to catch a return flight home. Foster, who's supported the T3 conference since inception, is founder of CEO Image, a company that provides comprehensive solutions for electronic records management, workflow and automated data capture. "This is definitely the most important technology conference of the year for financial advisors," Foster said. "The best and the brightest providers come here. That's why we keep coming back."
According to Galanty, the exhibit hall hours in 2011 were extended to allow more time for advisors to visit with the rainbow of service providers. This was based on attendee feedback last year. Surprisingly, during the closing "wrap up" session (facilitated by industry influential Bob Veres), this years attendees again asked for even longer open hours next year.
"I just can't get around to all of the booths I'd like to visit," said one attendee, with several others nodding. "I'd like to be able to sit with more vendors, do a demo, ask questions and give advice," said the advisor. "We'll take that into account for next year," replied Bruckenstein.
As in past years, I was pleased to rove the hallways, Flip Cam in hand. While running from session to session myself, I tackled as many people as I could. You can watch the 10 video interviews I got – including the first 10 minutes of Bob Veres' conference wrap-up session – by visiting the T3 Conference blog.
The big-buzz topics at the conference were about cloud computing, mobile devices and integration. Bob Veres joked that six years ago, at the first T3 conference, Drucker and Bruckenstein were "pushing this paperless thing." He got a big laugh when he said there were probably still a few troglodytes in the audience but that he wasn't pointing to anyone in particular, especially well-known planner Ben Tobias. Veres noted that at the first T3 conference, six years ago, we had the first pre-cloud conference. "The cloud hadn't even been invented yet," Veres said.
"Three years ago, Dave and Joel went out on a limb and told us that this mobile computing thing was going to be big – not just for recreation but as a financial planning business tool – and we all thought they were insane.," Veres smiled. ("I remember you saying that to me," Bruckenstein chirped.) "Now we just saw the two wireless presentations and everybody's talking about integrating with mobile devices," Veres quipped. "Two years ago there was this advance buzz about client-facing planning tools. The first time I ever saw that being done was at this meeting. So, in my mind, this is the place you come to find out where the future is. What are we seeing here? Trends. An advance warning of what's coming," Veres said.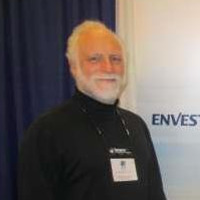 Bob Veres: What are we seeing
here? Trends. An advance warning of
what's coming.
No wonder this year's T3 conference was all a-buzz. While I'm not known as the same type of visionary Veres is, I'll go out on a limb and project that T3 2012 will be double the size of this year's conference. Advisors and industry technology providers who want to know what's coming – and to be a part of it – will certainly be there.
Chad Blythe, Vice President of Sales, PIEtech, makers of MoneyGuidePro
I've long considered T3 to be THE showcase for Advisor Technology – and this year did not disappoint. As one of several people manning the booth for MoneyGuidePro (MGP) each year, I've got exposure to the most influential and world-of-mouth oriented advisors in the Industry. Better yet, they're only here to learn about technology. As a Sales Manager I easily justify the time and resources dedicated to T3 in immediate Sales Value alone. However, as an officer of PIEtech, and someone concerned with the long-term development and strategy of MGP, I can personally say that T3 is an untouchable educational and networking resource. This is why the first day of T3 is the first day of my conference calendar year.
T3 is the only conference to which we send almost the entire management staff of PIEtech – unlike other conferences, we don't just send the sales team. Bob Curtis, CEO of PIEtech, participated in three sessions at T3 2011, including our annual State of MoneyGuidePro Pre-Conference update. Most of the management staff of PIE participated as well, making it a fun and educational session rather than just a sales presentation. The fact that I was immediately talking to a custodian I'd love to partner with after our session obviously makes it worthwhile to make these sessions something special. Ever since its inception, T3 has been a great source for our firm identifying opportunities and creating new partnerships with other technology solutions providers. The benefit to RIAs is that we are able to bring new solutions and state-of-the-art ideas to the industry in record time. In fact, some of the most important conversations happen when the advisor attendees are in sessions.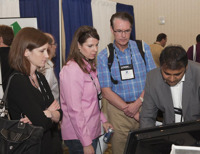 Sam Vassa of Figlo gives a
demo to Laura Seymour of TorchLight
Advisors and Johannes Fure of Fure
Financial. Woman on far left as
yet unidentified!
In Bob Veres' wrap up session, one participant told how she was frustrated with a particular piece of software. As she shared her concerns with that vendor, he paused after hearing her out and said, "Stay here for just a moment while I check on something." He walked down the aisle, spoke with one of the other vendors, and came back with a solution. "He told me, 'okay we can do that.' I was flabbergasted," she told the room.
The importance of this conference is all over the faces of every vendor. Every major custodian and software provider is walking the same aisles, not only learning more about what's out there but also gauging the interest their clients have at each booth. MGP's developmental target is the RIA market and only T3 can give us this level of audience. The T3 organizers even have sessions where advisors share how they use certain technology solutions in their businesses and, on the flip side, technology solutions providers explaining their strategies and designs for the future.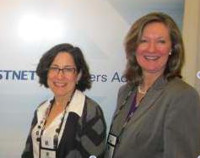 Marion Asnes of Envestnet with Marie
Swift of Impact Communications
We also enjoy the camaraderie and the ability to get "up close and personal." It's funny to hear advisors poke fun at the vendors during cocktail parties and poolside gatherings after official conference hours. They joke that T3 is the only place they see the vendors out of the exhibit hall area, in sessions, actually trying to learn something from advisors and other vendors. It's a valid observation. I know I attend more sessions at T3 than I do anywhere else.
Janet Davis, CPA, CFP®, President, Trusted Advisors Consulting
At 8:45 on Saturday morning, Bill Crager, president of Envestnet, addressed a somewhat bleary audience about Unified Managed Households (UMH) – a feat of account aggregation that, he said, industry observers once compared to Shangri-La and Sasquatch.
Why was the audience bleary-eyed? Not because they didn't want to hear Bill Crager speak. Many of them had stayed up a bit too late, drinking at the bar, sharing ideas poolside at the Tiki Hut gathering hosted by Tamarac and Asset Dedication, or playing poker at an after-hours poker party hosted by Docupace, MoneyGuidePro, Redtail and MarketingLibrary.net. But now the Starbucks was kicking in and Crager had their full attention.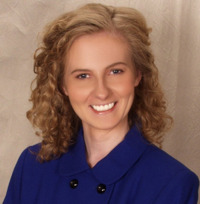 Janet Davis: Bill Crager emphasized that
the trust and authority an advisor
gains by offering UMH services also
puts him or her in a
position to become the lead advisor
– or even sole advisor –
if the client decides to consolidate
accounts.
A true Unified Managed Household, Crager explained, would keep track of all a family's holdings, including investment accounts, retirement accounts, trusts, 401(k)s, and 529s, on a daily basis – even if the advisor did not manage them.
Why is this important? Don't you already know how your clients invest their money? The surprise is that, although you think you do, you probably don't.
Most affluent investors do not have all their money with a single advisor. Even when they do, certain accounts must remain elsewhere, such as 401(k)s and 529s. If both members of a couple work, by midlife they may have accounts all over the place. The most engaged financial advisor may see all of a client's holdings only once or twice a year.
With a UMH, the advisor can tap Envestnet's multitudinous data feeds and combine all the client's accounts into a single profile, and in the process maintain an asset allocation and risk profile that encompasses all the accounts. If a holding gets out of line in an account not managed by the advisor, he or she can counsel the client about appropriate actions – or allocate around it. This gives the advisor power to serve the client more effectively and build trust.
On a more businesslike note, Crager emphasized that the trust and authority an advisor gains by offering UMH services also puts him or her in a position to become the lead advisor – or even sole advisor – if the client decides to consolidate accounts.
I like that notion. Becoming the trusted advisor. Perhaps it's no coincidence that my company's name is Trusted Advisors Consulting.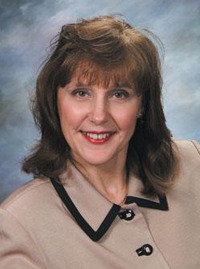 Roxanne Wieland: Who knows, advisors may
be posting their own solutions as
apps for others to leverage.
Thoughts from a Broker Dealer Perspective
Roxanne Wieland, First Vice President, Field Technology, Securities America, Inc.
The T3 Conference was a perfect forum for me, as an employee of an independent broker dealer, to compare technology challenges and expectations faced by independent RIA firms to those of a full-service independent broker dealer. It also provided a forum for learning new technology services and trends.
Both RIAs and broker dealers are challenged with increased compliance, high operations costs and competition. Both focus on business growth and want to implement productive sales and marketing practices using mobile computing solutions and the 'cloud.' Both are analyzing their processes to ensure readiness for working with the next generation of investors who already use technology to satisfy their increasing demands and who expect online information delivery and client collaboration and who will embrace electronic signatures.
Both want to leverage social media while maintaining regulatory compliance, to move beyond simple paperless storage to efficient paperless workflow processes, to understand when and what to outsource to experts and what to keep within their control so they are leveraging technology appropriately. The conference sessions addressed all of these topics.
The exhibit hall was exceptional. Vendor representatives (often company executives) were available to work directly with the advisors and each other to explore new integration opportunities 'on demand.' Other exhibits lead with scalability and infrastructure instead of functionality and integration. It was interesting to hear how the various applications can meet individual advisor needs. The third-party vendors offering solutions for independent RIA firms are often the same as those used by independent broker dealers at a different scale.
So, what trends and concepts did I walk away with? The traditional account-level reporting has made way for contact/client-centric system design – relationships are key. Unified household management is the next step to account aggregation and reporting. Last year's buzz word of 'cloud computing' has been replaced with 'integration' and 'leveraging the cloud.' Although still in their infancy, make way for mobile devices, touch screen ease of use, electronic signatures and full cloud integration. Who knows, advisors may be posting their own solutions as apps for others to leverage. It's more important than ever to select partners to outsource staff and technology so that advisors can focus on their clients. The ability to quickly scale using technology instead of people is key, but application functionality and data integration is critical.
As an independent broker dealer, Securities America supports 1,800+ investment representatives, of which nearly 300 are independent investment advisor representatives that depend on the broker dealer for providing back office and compliance supervision support. Another 1,300+ conduct advisory business under Securities America Advisors, an SEC-registered investment advisor firm. All are independent entrepreneurs that leverage Securities America for such functions as supervision, document management, data security, practice management and product due diligence. They have the ability to select their own technology solutions working with Securities America on client data security vetting services. Thanks to great conference opportunities like T3, we continue to offer great services for RIA firms.
Required disclosure: Securities America, Inc., is a Registered Broker/Dealer, Member FINRA/SIPC. Advisory services are offered through Securities America Advisors, Inc., an SEC Registered Investment Advisory firm.
About the contributors:
Marie Swift is President and CEO of Impact Communications, a full-service marketing and PR firm serving a select number of financial institutions and affiliated advisors. Swift presented a pre-conference session at T3 2011 on how to maximize your online presence, including the use of social media tools and compliance tips. Her presentation slides and a self-diagnostic tool are available on the T3 conference website, www.technologytoolsfortoday.com. You can follow @marieswift on Twitter and/or read her blog at www.marieswift.com
Chadwick Blythe is the Vice President of Sales for PIEtech, the makers of MoneyGuidePro, and has been with PIE since 2000. Chad oversees all aspects of Sales for MoneyGuidePro. Chad received his BA in Finance from Radford University and his MBA from Virginia Tech. You can reach him through the firm's website, www.moneyguidepro.com.
Janet Davis, CPA, CFP®, President of Trusted Advisors Consulting, uses her fifteen plus years of public accounting experience, as well as experience in the financial services industry, to answer financial advisors' tax questions and solve their clients' tax problems. Her many years of public accounting experience at firms such as Arthur Andersen and Clifton Gunderson have given her a strong compliance background as well. You can reach her through her website, www.trustedadvisorsconsulting.com.
Roxanne Wieland is first vice president, Field Technology for Securities America, Inc. Wieland began her career with Securities America in 1998 as an IS project manager. She was promoted to technology support manager in 1999. Promoted to director of field technology in 2001, and promoted to first vice president of field technology in 2010. You can reach her through the company website, www.securitiesamerica.com.
---
Related Moves
November 20, 2019 – 10:19 PM
---
---
Mentioned in this article:
---
---
---
Brooke Southall
February 23, 2011 — 7:00 PM
I see that Bob Veres had his doubts about the mobile revolution two years ago. I'm wondering what, in retrospect, he missed. That might give us a clue to what we're missing now.
Also, are we sure that we can declare the mobile revolution an official success?
Yes, everybody seems to be buying tablets and, yes, companies like Fidelity, Orion, Black Diamond are creating mobile apps. But does that all add up to a breakthrough? Creating a mobile capability is not such a huge undertaking. Buying a tablet is cheap. So are providers just ticking it off the list — and consumers/RIAs buying a toy? Are there signs that it's a difference maker in winning advisors and their clients?
Brooke
Bill Winterberg
February 23, 2011 — 9:19 PM
In my opinion, advisors who do not adapt and incorporate mobile platforms into their client service delivery will lose interest from the next generation of financial planning clients.
Paper and face-to-face meetings are what most Baby Boomer clients seek, but those tools and experiences will fall flat for advisors looking to target clients who are accumulating wealth in the Digital Age.
My planner lives 2,000 miles away. I work with him because he's the best planner for my family, not because his office is a convenient drive from my home.
Bill @ <a href="http://fppad.com" rel="nofollow">FPPad.com</a>
Jim Starcev
February 24, 2011 — 4:25 PM
Brooke, great question, short answer is no. I believe strongly in technology, but the danger, in my humble opinion, is not bringing personal value to the client, which is why I say we can't officially call it a success yet. We have a generation coming up that for what must planners consider cutting edge technology is just a given. What they want to see is what personal value do you bring to the technology. I don't think we are there yet, nor do I claim to know what that really looks like. But that would be a success.