Raj Udeshi: Even on a Bloomberg terminal which you pay $2,500 a month for, there is no aggregated economic data in one place, all together, where it updates in real time. We've done that for the first time here.
Nevin's note: HiddenLevers is roughly to economic analysis what BrightScope is to 401(k) plans. They each gather and analyze data that are publicly available, package them up in useful, web-based dynamic charts, tables, and PDF reports, and sell on two tiers to the retail and the advisory world. See: How BrightScope is using technology to create order in a messy 401(k) market.
Raj Udeshi and Praveen Ghanta of HiddenLevers have set out to bring the kind of quantitative economic analysis that Wall Street and hedge funds rely on to independent advisors. HiddenLevers' new RIA-focused product, released two weeks ago, offers portfolio-specific scenario analysis and PDF reporting to help advisors show their clients the economic undercurrents that support their portfolio.
"If there really is a municipal bond crisis, or if the Euro zone really does go into a free fall, what happens to Joe Smith's portfolio that I'm managing and the specific positions that he holds?" asks Ghanta. He says that HiddenLevers is the first service geared toward RIAs that is meant to answer this question.
"There's a complete lack of data," says Udeshi. "Even on a Bloomberg terminal which you pay $2,500 a month for, there is no aggregated economic data in one place, all together, where it updates in real time. We've done that for the first time here."
A big obstacle the duo faces now is getting in touch with the RIA world. They need beta testers to give them feedback and either validate or disprove the premise that this type of economic analysis is useful for an RIA.
Udeshi and Ghanta gave RIABiz a demo of the site last week. The charting widgets are an impressive and innovative feat — they are the first production example we've seen of non-Flash interactive charts, built with HTML5, that still have all of the functionality that one would expect from an interactive web chart.
The site still has the feel of a startup — it's literally still a little rough around the edges graphically. But the queries come back in a snap and the workflow is simple and obvious.
T3 Appearance
Udeshi met with Suresh Kumar, chief information officer of Pershing, at T3 last week to discuss integrating HiddenLevers into NetX360. "I like the concept. I don't know if it actually works in answering the questions [about hidden economic levers]," said Kumar in an email to RIABiz. "We need to do a deeper dive with his offering which we have offered to do. That will include getting feedback from our advisors."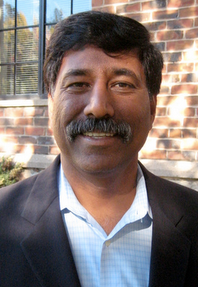 Suresh Kumar: I like the concept…We
need to do a deeper dive.

HiddenLevers is part of Mayor Michael Bloomberg's technology incubator in New York city, which is an effort to keep top tech minds from leaving the city for other tech hotspots like Sillicon Valley. Despite being part of the incubator, Udeshi says they haven't accepted any of the venture capital offers they've had, and are entirely self-funded by way of their own personal investment returns.
Udeshi and Ghanta launched HiddenLevers a year an a half ago with the retail investor in mind. This initial $30/month package got things rolling, but didn't bring in as many clients as they had hoped. Along the way they realized that the data may be more valuable to advisors, who have the sophistication to interpret it and the incentive to show their clients as much info as possible to explain their portfolio selection.
The new RIA-focused product, which costs $200/month, allows advisors to access detailed statistical info, export data in Excel format, and generate client-focused PDF reports. There are plans to automate importing of portfolios from the major portfolio management systems in the coming months, as they are able to gather beta testers to help provide feedback.
If you are interested in beta testing HiddenLevers and providing feedback to Udeshi and Ghanta that will shape the RIA version you can sign up here to get the RIA product at the retail price point for one year, an 85% discount.
Embeddable charts
But HiddenLevers further hedges its revenue model by also catering to financial media. The dynamic charts that users can generate to compare economic indicators and stock prices are embeddable, so financial writers on websites like Seeking Alpha can use them to tell powerful stories of correlation. This functionality is only included at the $200/mo price point.
Ed Leventhal of Soos Global Capital Advisors, LLC happens to be both an article contributor on Seeking Alpha and an RIA. He found HiddenLevers when he went looking for charting tools, and ended up talking to Udeshi and Ghanta as they were building the RIA product.
Leventhal pointed me to his recent post, A Funny Thing Happened on My Way to Selling Diebold, and explained that HiddenLevers' Macro Profile tool helped him uncover a few relationships above and beyond what he was able to glean from other research sites.
"It's one of the first things I've seen that ties in economic data, stock data, and commodity data and allows for some substantive economic analysis," says Leventhal. "It puts some form around the process and takes it to the next level."
In addition to being a handy tool for charting within his articles on Seeking Alpha, Leventhal says he sees potential in HiddenLevers as a tool to help select products and to manage clients.
"I don't just sit and talk to a client and say 'I pulled this out of thin air' ... this is a tool that can help explain [portfolio selection]."
Scenario Impact
Advisors using HiddenLevers can run various macro-economic scenarios and see what the expected outcomes are on their portfolios. HiddenLevers adds pre-specified scenarios for users to explore, for example "Gold Crash," or "Revolution in the Arab Street."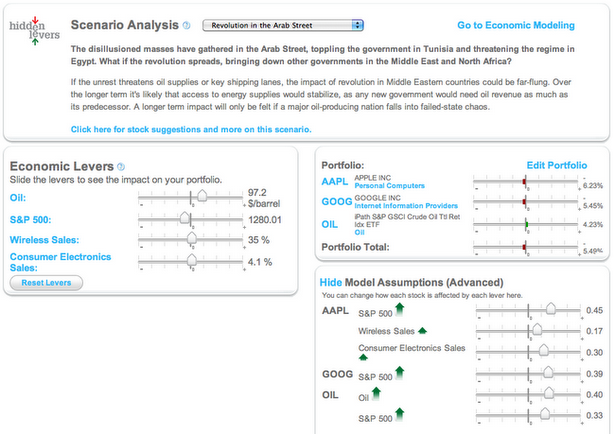 A scenario analysis for "Revolution in
the Arab Street" on the sample
portfolio containing AAPL, GOOG, and OIL

According to an advisor at the T3 conference, RIAs often don't do this type of analysis, mostly because the tools that are necessary are difficult to afford for an independent. Udeshi and Ghanta hope that their pricing will change advisors' minds, and encourage them to rely more commonly on structured macro economic analysis.
Macro Trend Screener
Users can also take a bottom-up approach, and use the Macro Trend Screener to search for stocks, ETFs, mutual funds, and currencies that are positively or negatively correlated with any of the economic indicators within HidddenLevers. For example, a search for mutual funds and ETFs within the Information Technology sector that are positively correlated with airline traffic growth turned up three funds with a strong positive correlation: Rydex S&P Equal Weight Technology ETF, Invesco Technology Investor, and Invesco Technology C.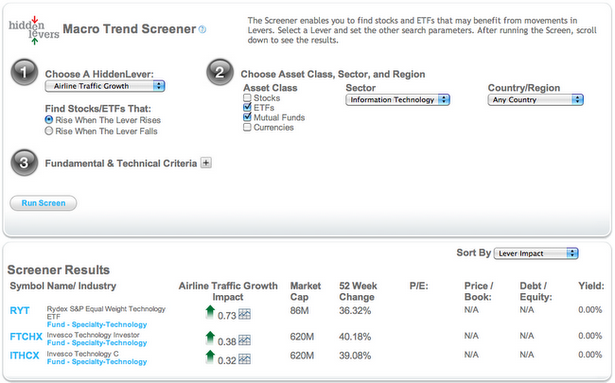 A Macro Trend Screener search for
mutual funds and ETFs within the
Information Technology sector that are positively
correlated with airline traffic growth.
---
Related Moves
January 7, 2022 – 11:40 PM
---
---
---
Mentioned in this article:
---
---
---