Joel Bruckenstein and David Drucker welcome 450+ attendees to the official start of conference
"We're pleased to announce that the T3 conference has set a record [in attendees and exhibitors]" said Joel Bruckenstein during the conference welcome this morning. But perhaps more important is the level of saturation of tech vendors — there really is a sense that anyone an advisor would want to talk to is here.
"Everybody who's anybody [is in the exhibitor hall] this year," said Bruckenstein.
The consensus yesterday was that T3 has really matured over the past few years. I asked Mike Golaszewski, business technology officer for Pershing LLC, how he would summarize the feeling in one word. He only thought for half a second: "Innovative."
I'll be updating this article throughout the day in a fairly informal manner — if you're at T3 and have a short story to tell, come find me with my big red backpack and black jacket. If you're back at the office, check in to see photos and hear what the latest buzz is.
For now, check out this panorama of the opening attendance — quite a crowd!


The turnout was very strong for
an 8:00am start.
8:30am — Brent Burns of Asset Dedication
Brent Burns gave the first talk of the morning, beginning with a joke about technology. "I don't really have much to say," he began, and paused. "Watson, take it away," he added, with a photo of IBM's Watson computer, who beat the top Jeopardy players on live TV this week. The first punch line was an error window that appeared on the slide, but just when Burns went on to the meat of the talk the conference hall completely lost power for five minutes. It gave me time to stitch together the above panorama while things got back up and running.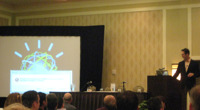 Brent Burns of Asset Dedication, with
IBM's Watson "erroring out"
Burns made a well-put analogy between ordering pizza online from Domino's and using advisor tech. He explained that the consistant feedback and easy choices all along the process are key in both cases. He also talked up many of the vendors here at the conference and stressed that for advisors who haven't taken the leap of testing out document management software, there is a lot of low-hanging fruit.
You can see a list of all of the exhibiting vendors under "2011 sponsors" here, and here is a link to Laserfische's Asset Dedication case study.
9:15am — Ed O'Brien of Fidelity Institutional Wealth Services
Ed O'Brien and a panel of three advisors on the WealthCentral platform talked about the benefits of technology integration and streamlining.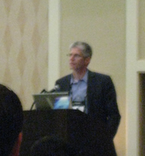 O'Brien on integration, regulation, and practice
management
Rick Adkins, who has been with Fidelity since the MS-DOS version of AdvisorChannel, stressed the usefulness of PMS, CRM and custodial data integration. He pointed out that compared to the days when someone had to spend weeks in front of the copier at tax time, his firm saves an unimaginable amount of time.
But he acknowledged that these platforms don't always speak the same language when they say they will. "When I say seamless I don't mean easy," he added. Despite the effort he had to go through to get his firm wired, he is still full-steam-ahead on the tech front, including beta testing for Fidelity's latest applications. Adkins commented yesterday for our article, Fidelity releases WealthCentral Mobile for the iPhone.
One central focus of the discussion was Fidelity's feedback cycle, aided by many trips to Boston for discussions about tech in FCAT, the lab that Fidelity has for tech development. Joel Bruckenstein recently wrote an interesting profile of FCAT for Financial Planning, called The Lab.
In addition to asking the panelists about Fidelity-related technology, O'Brien brought up regulatory reform.
Adkins responded by talking more about technology, reflecting on just a few years ago when all of their services had to be hosted in-house on a single server.
"We liked the idea of the cloud, but we really weren't ready for it," said Adkins. "[But] at the end of this year, all that's going to be left on our [in-house] server is Microsoft Office."
He told how each service is now hosted by a different vendor somewhere on the Internet. "It's like a beautiful picture with lot's of little clouds out there… I hope the SEC likes that picture," he added. "I think [the SEC is becoming] more comfortable that financial planning firms aren't going to blow up if there's some big event."
10:15am — Neesha Hathi of Schwab Advisor Services
Hathi started by stating that she wasn't advertising for Schwab, so much as the concept of CRM itself. She pointed out that each category of tech has become very efficient in its own world (PMS, financial planning, CRM, email), but that the combination still lags.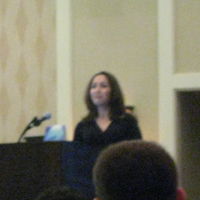 Hathi on the huge leverage available
from CRM apps
She noted that the obvious thing for Schwab to do when creating their ecosystem would have been to structure things around Schwab PortfolioCenter, her company's proprietary portfolio accounting software. Instead, her company chose CRM.
"That's because the CRM holds so much more than the custodian does about the client relationship," Hathis said. "That's the part that is going to help you excel in the part of the [business] that the RIA is known for."
She explained CRM is traditionally looked at as a way to manage contacts and not much more, and how her team thinks of it as a workflow manager that does lots of very different tasks. Some of the other tasks she mentioned were business analytics — visually and numerically representing client activity to see hard-to-notice trends — and cross-application integration — "You're really creating a user interface that allows you to manage your entire firm."
Hathi's talk shed light on the philosophy that CRM is the obvious choice because it is the closest to already being the "everything machine." Her demo showcased the ability to do as many tasks as possible within a CRM app — the beauty doesn't have anything to do with the fact that it's CRM, so much as the fact that it's a single app.
1:30 p.m. On the exhibit hall floor — a chat with two RIAs
Russell Dunkin of McKinley Carter Wealth Services, a firm near Pittsburg with 25 employees and $500 million in AUM, is at T3 "trying to figure out if the silver bullet actually exists." He said the kind of integrated systems that Fidelity and Schwab talked about in the general sessions are what he's after, but expressed some hesitation about whether they would be as effective as they are meant to be.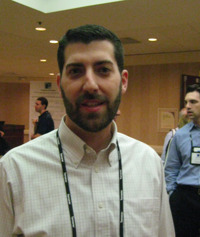 Russel Dunkin: You have to be
where your audience is.
Dunkin told me that he talked with an admin-type over dinner the night before and that they agreed that there really are many tiny steps to getting data into a system and moving it around that are very difficult to get around. He's focused on the (seemingly) simple task of avoiding typing the same information into multiple locations, and said that overall he hasn't seen a huge change in his firm's back office efficiency since he joined in 2006.
Many advisors like Dunkin are hopeful, though, that the new platforms being talked about will reduce the amount of manual tasks as promised.
One area Dunkin and his firm are excelling in is the use of social media. He explained that he's agnostic to the medium, and more than willing to communicate via Facebook or SMS to prospects and even current clients. "You have to be where your audience is," he said.
But Dunkin isn't just trying to be trendy. In addition to publishing blog posts on his firm's site, he repurposes the articles in more traditional ways, emailing them to their subscriber list and printing some out to share with folks who aren't interested in going on the web to read about the firm's views.
Sunit Bhalla gave me a different perspective all together — he has a solo practice in Fort Collins, Co. After working for years in the consumer tech industry as a manager for HP, Bhalla made the transition to financial advising in 2008. He's at the conference to keep his finger on the pulse of RIA tech, and to share his experience of running the whole advisor software stack on a Mac.
Bhalla had many interesting insights, and showed me a diagram of his whole setup — if you're curious, there may be a Mac-centric article to come based on our conversation. He uses Black Diamond in the browser and NetX360 via a Windows emulator, and overall seems to have a very efficient workflow.
One reason for that efficiency is his relentless use of productivity apps — Bhalla showed me apps for quickly managing passwords, email actions, digital signing of PDFs, one-key creation of documents from templates, and bootable backups.
"My goal is to stay small, and to use software to help me do that," he said. Bhalla has 10 million in AUM, and says that when he gets to 25 clients he'll pause for a while to see if it makes sense to take on any more.
2:00pm — Advisor Websites
Too many sessions for any one person to attend are happening today, including "What's new in…"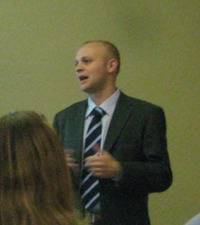 Bart Wisniowski of AdvisorWebsites.com
Financial Planning
Document management

CRM

Desktop and Online Portfolio Management
Along with panel discussions on:
Rebalancing
Aggregation
Touchscreen Technology
Client Reporting
Advisor Websites
Security
iPad
Emerging Advisor Tech Models
Outsourcing Desktop PMSs Online
Institutional Technology Partners
I decided to drop in on Advisor Websites to see what Bart Wisniowski of AdvisorWebsites.com and Michael Wilson of Morningstar had to say about web presence.
Wisniowski told the story of a new prospect; they hear about you from a current client, you schedule a meeting right away, and then they immediately Google you. What do they find? In most cases, your firm's site along with any social media profiles you keep.
AdvisorWebsites.com offers simple, editable websites tailored to advisors, along with some social media and analytics tools.
Wisniowski gave a handy demo of Google Analytics, which generated quite a bit of interest among the audience. If you have a website and don't already take advantage of this free tool, I second Wisniowski's recommendation to try it out.
One audience member pointed out that at $200+ per hour, if an advisor is editing their website on their own, "they're doing something wrong." nonetheless, the AdvisorWebsites system looks dead simple, and for many advisors seems like a good solution.
Another asked who Wisniowski recommends for social media content archiving, and he pointed the room to Arkovi.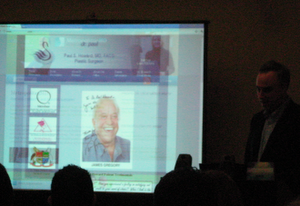 Michael Wilson's example of a bad
plastic surgery website
Wilson gave the results of a survey of advisors on the MorningStar platform. 92% of the respondents had a website, though the results might have been skewed since the survey was via email.
Of the advisors with websites, 46% built their own, and the other 54% hired a 3rd party. Only 34% said their websites had been optimized for search engines.
Wilson gave an example of a website that need work vs. one that gives the right message by looking at two plastic surgery websites [he hinted that showing bad advisor websites would have been easy, but didn't seem like a smart move]. The website in need of work got a few good laughs, and communicated his point well — what shows up behind your picture is just as important as the strategic backgrounds behind a news anchor or a politician on TV.
My impression after hearing both of the speakers is that Wisniowski is in the right business — every RIA needs a website, and his solution is the kind of plug-and-chug cloud service that the industry as a whole seems to favor.


The view from the back of
the Advisor Websites talk
The closing buzz from Friday – 7 p.m.
As Friday winds down, one starts to see vendors returning from their rooms in jeans, but the action isn't really over. "We come to party!" said Linda Lubitz Boone of IPS AdvisorPro®. This was evident from her orange hair and basket of cookies.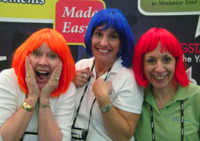 Linda Lubitz Boone and colleagues at
IPS AdvisorPro
Lubitz Boone seemed happy with how the event has gone so far. "It's a great place to get together with our colleagues in the industry, learn about what they're doing, share our latest updates and enhancements," she said. "50% is to connect with other technology vendors and the other 50% is to have potential subscribers."
She said that she had had several useful conversations, and that she may integrate with Envestnet based on an in-depth conversation today.
The two purposes of the conference are very clear at this point: vendors talking shop and working out deals and integration plans, and advisors shopping for new software and giving feedback to their current vendors.
"If I were an advisor and I were evaluating tools, this would be the best place to do it," said Tyler Resh of ECHELON Partners. "There's no better time to be an advisor looking to adopt new technology."
He said that the combination of the major asset custodians' push to integrate and the fervent entrepreneurial spirit of small RIAs and small tech vendors makes for a vibrant set of technology offerings, with firms nimble enough to go out and seek the best.
Mark LaSpisa of Vermillion Financial Advisors, an RIA in Chicago with 250 million in AUM agreed. "This is probably the best exhibit hall," he said.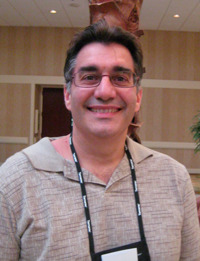 Mark LaSpisa: This is probably the
best exhibit hall
Mark is here to do some serious investigation; he explained to me that handing off tech choices to anyone who isn't going to be interacting with the technology on a daily basis has never worked out very well. He likes to talk directly to the vendors, and said that he has to take quite a bit of time to evaluate a possible solution before he changes anything.
But he pointed out a few shortcomings in the event. He noted that the descriptions of talks were lacking in detail this year, and said he had to go to some talks for the first fifteen minutes before he knew what the meat of the subject was. He also thought the organizers could bring in many more RIAs with a little additional marketing.
See you next year!
Overall, there is an air of opportunity at T3 2011. Many vendors told me of releases that are just around the corner, and many also agreed that the momentum in the RIA space is only accelerating. I got to talk extensively with a number of vendors who all had interesting stories and some exciting plans — expect articles next week!
---
Related Moves
November 20, 2019 – 10:19 PM
---
---
Mentioned in this article:
---
---
---
J Brian F
There was mention of an RIA using a Macintosh, and the possibility of a Mac-centric article. It would be interesting to hear what the pulse of the community is regarding using hardware other than Microsoft Windows-based systems. Such an article could do it. I am surprised this was not a specific topic at the conference (I did not attend, so maybe it was).
Nevin Freeman
Hi J,
There was indeed a session at T3 specifically focusing on the Mac platform. I didn't get to attend, but spoke at length with one of the panelists and do hope to write just the article you're hoping for in the near. I think there could be a lot of movement in that areas in the next few years, particularly due to the inspiration from everyone getting iPads.
Peter Hess told me at T3 that the Advent developer team had to buy a bunch of Macs to start their iPad development project — I suspect the same is happening at other vendor shops, which may well lead to some more thought about desktop apps on Mac OS.
Nevin