News, Vision & Voice for the Advisory Community
'Entrepreurial' energy will help fuel a plan to increase retention of assets, say execs
February 14, 2011 — 3:22 PM UTC by Brooke Southall
The Charles Schwab Corp.'s new plan to expand its retail branches with independent operators rather than employees is a way to jumpstart net growth through the branches, especially by improving asset retention, Charles "Chuck" Schwab and Ben Brigeman told analysts at a Feb. 3 meeting. See: Ben Brigeman is exiting Schwab and his position atop its retail business — perhaps portending bigger changes.
The company's plans – and the strong support of senior executives – became clear as I listened to more of the analysts' meeting. The risks of the strategy are also readily apparent, however: the two executives fielded tough questions about whether using non-employees to staff branches would damage the company's brand, and what the incentive system would be. See: Schwab eyes massive branch network expansion using independent operators.
In a wide-ranging discussion, Chuck Schwab made several comments in support of the plan, which is mostly seen as the creation of Schwab CEO Walter Bettinger.
Asset retention
"I like how we're looking in a very emphatic way at more boots on the ground; we've had 300 (branches)," said Chuck Schwab. "It's been pretty static to say the least…when we look back in five or six years, I think it'll be a real add-on for net revenue growth," he said.
The branch plan is difficult to analyze because Schwab is offering few details about how it will be structured (the first pilot branches are expected to be in place late in the year) but it is clear that company believes it could be a more cost-effective way to accelerate growth.
"Franchise growth is always faster — with all the employees and infrastructure — whether it's financial services or sandwiches. That's why those Subway shops are exploding," says Philip Palaveev, president of Fusion Financial Network of Elmsford, N.Y.
Bettinger said the company has already had some inquiries from RIAs who might like to convert their business into a Schwab branch.
Franchise label
Though Schwab isn't calling the new branches "franchises," it is not a stretch to throw that term around because the growth scheme has key components of a franchise — an independent operator using the Schwab brand and following Schwab's exacting dictates about how business is done, says Seattle-based Palaveev, a former partner of Moss Adams consulting business. "I label this a franchise."
Chuck Schwab, 73, made several comments supporting the new plan widely seen as being determined by Bettinger. The company plans pilot offices later this year, which will help determine how the agreements with the new branch office operators will be structured, executives said.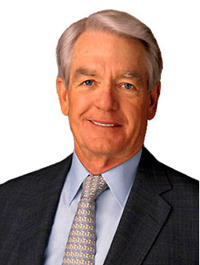 Chuck Schwab: When we look back
in five or six years, I
think it'll be a real add-on
for net revenue growth.
The analysts meeting took place only about a week after Chuck Schwab had been released from the hospital from heart valve replacement surgery in December.
Ben Brigeman, executive vice president of Investor Services for Schwab, says that the branches could help bolster his company's asset retention efforts. In 2010, the retail business attracted $125 billion of assets, but it also experienced outflows of $112 billion.
"Just a small fraction of retention (improvement) would help," he says. "...The boots on the ground are something we're very excited about…Personal relationships are important."
Chuck Schwab believes the company's brand can be extended. He cited his company's success in building Schwab Bank to $55 billion of assets just since 2003 as a prime example of how the company's brand could be extended to drive growth.
He also believes that his company still has a chance to pounce in an atmosphere of fewer competitors – or tarnished ones.
"We washed out a lot of competition – not just in the direct area," he says. "...Some of the traditional companies had to regroup. We never had to enjoy TARP."
Indeed, Schwab is brilliant to be looking for a rapid deployment of its brand at a time when brands have either vanished — like Wachovia — or been tarnished, like Goldman Sachs and Merrill Lynch, Palaveev says.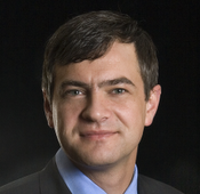 Philip Palaveev: If you have a
good brand, it's worth a lot.

Brand vacuum
"If you have a (good) brand, it's worth a lot — especially at a time when people can't tell the good guys from the bad guys. There's a lot of space a big brand vacuum right now to rush in and fill as fast as you can."
Chuck Schwab allows that his company did suffer the indignity of the YieldPlus lawsuit, which he referred to as a "pimple."
"That was a matter of liquidity and everyone wanted to get out at the same moment. We paid a price for it, but we have it behind us."
Despite the possible advantages of having a greater dispersion of branch personnel in strip malls and other office locations around the United States, Tim Welsh, president of Nexus Strategy of Larkspur, Calif., said that the new strategy is still a "sharp departure" from what Schwab has attempted in the past – and reflects a shift in outlook by the company.
He says that when he was a director of marketing at Schwab that brand-stretching strategies were quickly rejected because of concerns of harming the company's reputation. For instance, he says the company considered – and quickly passed on – the idea of acquiring independent broker-dealers.
Expressing skepticism
Indeed, the analysts in the audience expressed skepticism about the new branching plan – wondering aloud how it would work in practice. They wondered how Schwab could maintain quality while abdicating so much control.
"Quality control and brand image is what we want to preserve," Brigeman responded. The new branches will not only have the same products and services at their fingertips, but the independent branch personnel will enjoy the same Schwab branch support services as company, he explains
"We're not worried about it. We're sure we have the capabilities, governors and guardrails."
Ameriprise has experienced tension with its independent operators as it tries to find the right guardrails. See: Ameriprise Financial clamps down on franchisees with new rules
Unsatisfied, another analyst asked why — if Schwab wants more boots on the ground — it doesn't simply put them there conventionally by opening more stores on its own.
To the latter question, Brigeman responded by saying that he believes that independent operators can drive growth because they have "skin in the game" and that their "entrepreneurial" energies will drive growth.
The economics of running a company branch have deteriorated over the years as staffing and bricks-and-mortar prices rise. At the same time, two big sources of branch incomes — trading commissions (once $29.95 and now less than $10) and profit margins on money market accounts (all but eliminated) — have continued to shrink, Welsh says. Indeed, Schwab's approximately 400 branches in 2003 are now about 300 branches.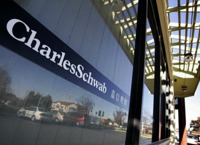 Brigeman says consumers should perceive no
difference between company and independently operated
branches.
Indiscernible
Yet in response to a question about how the independently operated branches would differ from company stores from a consumer perspective, Brigeman said that a customer shouldn't be able to discern a difference.
"Our intention is that if have a client walking into a branch in San Mateo (Calif.) or a new one that you would not know the difference. You will get the same service and products.'
The timing is good for launching big strategic efforts is right, according to Chuck Schwab.
"I think the company has never been as well-placed as it is today," he says.
Editor's note: Schwab laid out another ambitious plan in the analysts meeting. See: Schwab to make long-awaited move in 401(k) market with an all-indexed mutual fund and ETF strategy for more about it.
---
Mentioned in this article:
---
---
Share your thoughts and opinions with the author or other readers.
---