News, Vision & Voice for the Advisory Community
In which your correspondent sees the day-to-day operations of RIABiz, not to mention a coyote
December 29, 2011 — 3:59 PM UTC by Dina Hampton
Brooke's Note: After Dina ventured from New York City to California to work with us for a few days, I asked her if she'd make a little article out of the experience. She writes in warm spirit, which I am grateful for during this holiday week.
A recent study has questioned the value of social media in the financial advisory industry. See: Early adopters of social media, RIAs are growing disenchanted with its power to drum up new business. But it certainly brought me good tidings in 2011 when an unexpected message popped up on my LinkedIn page back in May.
"Hi Dina, I was perusing profiles… Are you really writing a book? Other editing? Cheers, Brooke."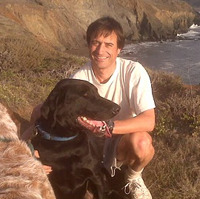 Founder and editor-in-chief Brooke Southall with
my first-line-of-defense against rampaging coyotes, Shadow.

Aside from being pleased to hear from him — we had worked together for three years when he was a reporter for InvestmentNews — I was intrigued. Having edited many of Brooke's stories, I knew him to be a talented reporter with an infectious knowledge and passion for his beat.
Brooke had left the paper more than a year before I did and in that time had started RIABiz. I followed the progress of the publication with fascination as Brooke and his team brought its mission to life: Chronicling the progress of the RIA movement with depth, timeliness and a touch of humor.
Coast to coast
When I called him, Brooke asked if I'd like to do some editing for the RIABiz, then approaching its second year. See: RIABiz has its second birthday and reaches new milestones. I accepted eagerly, knowing I'd be working not only with him, but with two other talented former colleagues: Frank Noto, now business manager at RIABiz, and indefatigable reporter Lisa Shidler.

Chicagoland reporter Lisa Shidler with her
children Chance and Liz.
Together, we put out the daily publication across three time zones: Brooke, Frank and Nevin Freeman — RIABiz' talented young technology director — working from Mill Valley, Calif.; Lisa filing stories from Chicago; and me from New York. So it was with excitement I accepted an invitation to fly out to California for a few days in December to work with the team in non-virtual proximity at RIABiz' headquarters.
Raccoons, coyotes – and palm trees!
I hadn't been to the Bay Area in 20 years so it was a thrill to cross the Golden Gate Bridge, catching a glimpse of the surreal beauty of the San Francisco skyline across the water.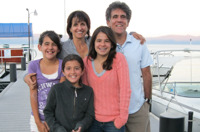 Frank Noto, chief of business affairs,
with wife, Roni and daughters Sophia,
Lily and Isabel.
Downtown Mill Valley is just 10 miles north of San Francisco; a charming town with a gentrified hippie feel, as evidenced by the impressive ratio of artisanal coffee houses to residents. It's surrounded by an astonishing variety of flora — centuries-old redwoods alongside transplanted palm trees — and an amazing (and even alarming, to this city girl) diversity of fauna. Accompanying Brooke and his black Labrador, Shadow, on a nighttime walk on the beach we saw a raccoon (they're big critters!) and a coyote, which Brooke assured me the fearless Shadow would keep safely at bay.
Teamwork
RIABiz' office, just off Mill Valley's main street, is in a newly constructed office building that still has that new-paint smell. We could hear the hammering and drilling next door, where a nightclub is under construction to replace the famed Sweetwater.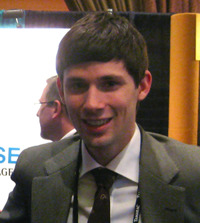 Chief tech officer Nevin Freeman
It was a pleasure to get to know the RIABiz team. Although Brooke and I had worked together for years, we had actually met only a handful of times. Knowing he lived on a boat in nearby Sausalito and is one of the Bay Area's biggest boosters, I was surprised to learn that he was born and raised in Maine and had only moved to the West Coast 10 years ago.
Frank, who keeps the lights on as he manages advertising inventory and finances for RIABiz, is also East Coast born and bred. He now lives in the nearby town of San Anselmo with his wife and three daughters, including teenage twins who were in the midst of the anxiety-producing process of studying for their first high school semester-end finals.
I learned that Nevin came by his rare combination of right- and left-brain smarts naturally, being raised in the culturally rich city of Ashland, Ore., by his mother, a psychologist, and his father, a noted drummer and teacher. Shadow also clocked into the office daily and, although he's clearly an integral part of its day-to-day operations, I never quite got his title.
It was a treat to spend three days working with the Mill Valley crew — to receive the benefit of the face-to-face give-and-take that's not possible even with the most sophisticated digital tools of the age and to be able to talk at length about the next steps in the growth and evolution of RIABiz.
Back East
The days went by in a blur, and before I knew it I was on the red-eye back to New York.
Now, working again from my Upper West Side apartment, it's nice to have a mental image of the office I spend my days corresponding with — a fitting cap to my six months' association with RIABiz.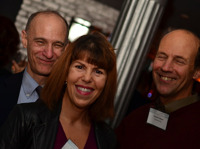 At the Cognito holiday party in
Manhattan with Jed Horowitz of Thomson
Reuters and Charles Paikert of Registered
Rep.
Being a part of a start-up publication is always an adventure, and this one more so than most as we chronicle the growth of an industry that's also charting its way and making its own rules.
The possibilities for RIABiz and the RIA industry are endless. I look forward to watching them unfold.
P.S.: Right before I left for Mill Valley, I had the chance to attend a holiday party thrown by public relations firm Cognito PR, one of whose clients, Focus Financial, has been featured in these pages. There, I had another happy reunion with two other InvestmentNews alums: Jed Horowitz, now editor, Financial Companies North America at Thomson Reuters, and Charles Paikert, editor of Registered Rep.'s Wealth Management Letter. All of these meetings helped make for a wonderful holiday season.
---
Mentioned in this article:
RIABiz.com
RIA Publication, Blog/Social Networking Tool
Top Executive: Brooke Southall
---
---
Share your thoughts and opinions with the author or other readers.
---