News, Vision & Voice for the Advisory Community
Five are joining RJ from a Buffalo, NY B-D that is closing its doors after 80 years
December 22, 2011 — 4:01 PM UTC by Lisa Shidler
Raymond James recently lured RIAs from Harold C. Brown & Co., a Buffalo, N.Y.-based broker-dealer that is closing its doors after 80 years.
Advisor Deborah Stauring, 57, has worked at Brown & Co. since 1981 and eventually became one of seven owners. She, along with three of her colleagues — Winthrop Lawrence Buck, Stephen Harts and Jennifer Roberts — is bringing about $160 million in assets. Together, they have formed Winthrop Financial Inc.
Also leaving Brown & Co. is Michael Pratt of Pratt Collard Advisory Partners, which has $108 million in assets. Pratt, who had been at the firm since, 1982, and Stauring worked together there. Pratt Collard will be located in the same Buffalo office building as Winthrop.
News from the Midwest
Returning to Raymond James in Jackson, Mo., is Steven M. Elefson of Viking Wealth Advisors who left Ameriprise Financial Services Inc., where he worked for about a year and managed about $92 million in client assets. Earlier in his career, Elefson had served as an employee advisor at Raymond James and made the decision to return there as an RIA.
In addition, Michael C. Weber of Research & Portfolio Management has established an office in Crescent Springs, Ky. He was formerly affiliated with Cantella & Co, Inc., where he managed $50 million in client assets.
On the right foot
There will be more RIAs joining Raymond James in the first quarter, predicts Mike DiGirolamo, a senior vice president at the St.Petersburg, Fla., IBD. He points out there are a number of new RIAs in the works but announcements won't come until the new advisors have completed their RIA registration — probably early next year.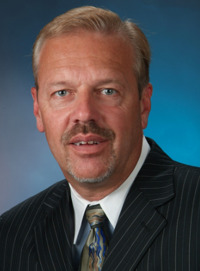 Steven Elefson is returning to Raymond
James as an RIA.
"The first quarter of 2012 will be for big for us," DiGirolamo says. "We expect the first part of the year will start on a high note and expect the year to be even bigger."
He believes that as advisors' retention packages lose their luster, there will be additional movement.
"Advisors have transition packages burning off and they have the ability to make the move that they didn't have before," DiGirolamo says.
Advisors are attracted to Raymond James services such as its marketing department, which can act as an internal advertising agency — making it more turnkey — as well as the firm's proprietary research.
Small enough to innovate
When the partners of Brown & Co. decided more than a year ago to shut it down, it created an opportunity for Raymond James, DiGirolamo says.
"We've been working on this for about two years and some of this is reflective of a lot of hard work coming to fruition," he says.
Stauring says that making the decision to close after 80 years was a hard one, but it became apparent that advisors there wanted to proceed in different directions. She says it was difficult to be consistent with such a large firm — 30 employees — and that advisors didn't commingle with each other's clients.
"Now, we'll be able to provide services that it was hard to get seven owners to approve. We will be small enough that we can try new things," she says.
DiGirolamo says he's impressed with the quality of advisors at Brown & Co., noting that it is certainly unique for advisors to have the type of tenure at one company that Stauring and Pratt achieved.
"I think that's reflective of the high quality of people coming out of that company," he says. "You have several teams that are a very high quality group. It speaks volumes of their character."
Midwest feel
After the decision was made to close Harold Brown's doors, Stauring says, her team began meeting with prospective custodians.
Her group didn't even consider joining another broker-dealer. It just made sense to be an RIA since nearly all of their clients were fee accounts anyway.
"Even at Harold Brown, we kind of thought: why are we dealing with FINRA when we don't have to?" she says.
Stauring's group looked at all of the major firms — Schwab, Fidelity, TD Ameritrade, Pershing and Wells Fargo. Harold Brown had used Pershing to clear its assets since 1982, but she says her team felt that Raymond James had the complete package they were seeking.
"Raymond James seems to have gotten it right for the investment advisor," she says. "They understand the RIA and it seems like it's very well thought out."
Stauring says her team also likes the culture of Raymond James — which she describes as more of a Midwest feel. See: With Dick Averitt retiring, Raymond James taps a star from within to take on LPL.
Also appealing was the technology at Raymond James and the firm's extensive research which it makes available to advisors —especially research on small- and mid-cap funds.
"We can take advantage of that if we want, and we don't pay for that and our clients don't pay for it," Stauring says.
A new beginning
She began notifying clients in October and left on Dec. 7 so she could get clients' assets transferred by the end of the year. The group has already transferred most of the clients' assets.
Stauring says her RIA intends to market its services aggressively in the Buffalo area, adding that there's been great publicity locally about the breakup of the firm but not much attention about the new developments.
"The story stops being that Harold Brown is breaking up," she says. "It's sad for Buffalo, but we're still right downtown. We are going to spend the next three months letting western New York know about us."
Priming the pump
Stauring says her firm is looking to target accumulators, since most of the clients are older.
The new RIA has about 240 clients — with average assets of about $300,000 to $500,000. She's excited about a number of new offerings.
For instance, her RIA is going to launch an investment club dubbed "Investigators" for anyone who wants to join for $25 a month. The RIA won't be managing the money, but members of the online club will vote and make decisions.
In addition, Stauring's RIA wants to lure younger clients and intends to offer investment advice for individuals ages 30 to 50 who are still accumulating and need some direction with their 401(k) plans. Rather than asset-based fees, the RIA will charge a percentage of the client's household income.
---
Mentioned in this article:
---
---
Share your thoughts and opinions with the author or other readers.
---