News, Vision & Voice for the Advisory Community
Initially skeptical, on closer inspection and after talking to Schwab's first franchisee, our correspondent sees a real value proposition in the offing
December 21, 2011 — 3:55 PM UTC by Fred St Laurent, Guest Columnist
There have been announcements and articles everywhere in the last year about Charles Schwab & Co.'s plans to establish independent branches throughout the United States. See: Why Schwab is embracing a franchise-like strategy to fast-forward branch growth. Despite reading a lot of details about what these franchises would cost, Schwab's goal of opening 16 new franchises next year and other details, I still had unanswered questions.
Chief among them: What makes this offering different from other independent platforms? What epitomizes the perfect Schwab franchise owner. Also, what, if any, void is being filled with the opening of these branches? What is the value to the broker who is paying $25,000 to $50,000 for a franchise? Are the Charles Schwab name and technology as well as the culture and support for the franchise worth the investment? See: And they're off! Schwab opens the doors to its first independent franchise … in New Hampshire.
I found answers while researching this article and getting to know Schwab's first franchise owner, Mary Murphy.
Pay no attention to the man behind the curtain
Today a broker exploring independent opportunities that are available will find that none require an out of pocket investment to join their platform. FiNet (First Clearing), Ameriprise, LPL and other prominent platforms will pay a 80%-90% commission and even give a little transition money to the broker. Why would a broker who is bringing a book of business lay out money instead of receiving a check? Especially today when some brokers seem to have an attitude of entitlement in that they feel they deserve a check and will not consider a move without one.
The reality is that many brokers are looking for a payday that they feel they have earned.
Consider the original reason transition packages were created: They were to cover loss and to help brokers survive financially until they could transition their clients and see commissions again. Somewhere along the line this so-called assistance has become distraction. Deals are now as high as 300% (or more) and are tied to bringing assets over.
These are just forgivable loans, but this is real money. These deals have assumed Wizard of Oz-like proportions: The bigger the check, the more complex the problems are behind the curtain. These are now nine-year deals and are an attempt to lock the broker in.
Becoming an 'uber' advisor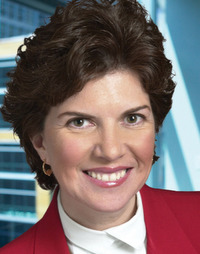 Mary Murphy: I see this as
an opportunity to partner with some
RIAs.
Mary Murphy was a general manager with IBM for six years. She left the company because her father became ill and the travel the job entailed interfered with her family priorities. Murphy became a high school teacher and, after being a teacher for only two years, was nominated as Teacher of the Year in 2006.
In what seems to me a telling detail about her personality, Murphy turned the honor down.
"I did not think I was qualified for this honor, only having worked in teaching for two years, so I recommended they give it [the award] to a more deserving teacher," she told me. "They chose a seasoned veteran whom I thought was a excellent teacher."
From teaching, Murphy decided to use her ability to help people another way — by becoming a wealth manager. At the time, UBS was implementing an experimental and highly selective training program. Murphy made the cut and made it through the demanding program — unlike many of her classmates.
Murphy shared with me:
"UBS did not have a [formal] name for it, but called it New Financial Advisor Training. They ran it for a period of about three years, I think. Each of us was assigned to a "class," and the program was very demanding. We joked they were trying to create "uber-advisors."
Murphy went on to become an award-winning advisor with UBS, receiving the Leaders Circle Award for 2007 and 2008. (I checked and discovered Murphy also won awards at IBM and from other employers. She is driven to excel.)
Why Schwab?
Murphy then decided to learn more about insurance and moved over to MassMutual, where she won the Leaders 2009 and Fast Pace 2009 Awards.
After spending some time with Murphy on the phone I was left with the impression that she is a quality individual who has made it her business to strategically access the training needed to understand the industry for the benefit of her clients.
The next obvious question has to be: Why did Murphy choose the Charles Schwab franchise model? To answer this we have to look at the bigger picture.

Andrew Salesky: All clients have identical
access to our 7/24 phone support.

Charles Schwab founded the company in 1974 with the vision of empowering individual investors. His goal was to give average investors the knowledge, tools and an affordable way to guide their financial future.
When I asked Murphy to tell me why she chose to invest her money in a Schwab franchise rather than stay on another platform, Murphy told me:
"I looked at a number of opportunities and chose Schwab because it was best for my clients, for my employees and for my family."
I also found that Schwab's technology and website score in the top five, according to an article in Forbes. Also, that potential franchise owners must pass a client-rating survey.
The deeper I delve, the more convinced I am that a number of smart brokers are going to see the opportunity to own a Schwab franchise as one of the best deals on the street.
Back to the days of Olde Discount
Murphy also told me: "Schwab started out as a discount broker but transformed to a full-service wealth manager. We can handle it all, from active traders to advised assets to separately managed accounts. Our ideal client has more than $250,000 in investment assets. Still, our minimum account is only $100. Schwab remains the champion of the individual investor."
Minimum $100 accounts? A full-service wealth management firm available for wealthy families as well as the blue collar workers or college students? If an investor wants to meet with a Merrill Lynch broker, they have to have at least $250,000. In my opinion, this is filling a void in the market, with a name brand, and will be well received.
What void do the Schwab franchise stores actually fill? My mind travels back to the days of Quick & Reilly and Olde Discount, the discount brokers in a retail outlet. Q&R was purchased by Fleet Bank (and eventually Bank of America in the Fleet acquisition). Fleet was trying to develop a full-service wealth management retail outlet, especially in areas in which they didn't have bank branches. It was targeting the blue collar market and offered transactional as well as fee-based services. Olde Discount was purchased by H&R Block Financial Advisors with the same objective in mind: to partner with the H&R Block tax professionals and service the blue-collar market, offering transactional- as well as fee-based services.
In other words, full-service wealth management was being offered in a retail store, located in the areas where people run errands, shop and live their lives.
Bank of America dropped the project and bought Merrill Lynch, never really understanding what Fleet was trying to accomplish. American Express spun off Ameriprise Financial in 2005 and then Ameriprise bought the H&R Block brokerage operation in 2008. The Ameriprise spin off was the largest in history, according to a corporate official with Ameriprise.
The corporate spokesperson said that "Ameriprise Financial has significantly higher brand awareness than we ever did as American Express Financial Advisors." And although I heartily agree with this, the reality is that Schwab has been a household name for decades.
My point is that the loss of the Quick & Reilly and Olde Discount names left a void in the market. Who is really out there for the blue- collar investor? My impression is that although Schwab is positioning itself as a full-service wealth management firm, it will be most successful in providing quality wealth management services to the average, independent investor who desires to plan for the future, and I applaud the effort. They will be successful in my opinion, because Charles Schwab is still a recognizable and trusted name.
Fertile ground
Locations will be a key element of a franchise's success. When I Googled Murphy's address I discovered that she was positioned between three New England corporate hubs: Burlington, Vt., and Manchester, N.H., and Portsmouth, N.H. I also noticed that she was in a retail center near a mall as well as a car dealership. This is exactly the type of location I described earlier.
Further research gave me insight as to why Schwab decided on Nashua as a location.
Nashua is the second-largest city in New Hampshire. Technology employment is high in Nashua with such organizations as the Nashua Corp. (PCs and disks); BAE Systems; Oracle Corp. and Hewlett-Packard Co. Nashua has been twice named Best Place to Live by Money Magazine (the only city to get the No. 1 ranking twice!) Overall the dynamics support a robust economy, a low unemployment rate and a fertile market for Murphy's new franchise.
'Multimillion-dollar opportunity'
There's one other issue in regard to Schwab's franchises that needs to be addressed: A few RIAs out there have expressed concerns about competition on the Schwab platform. See: Are Schwab's independent operators a threat or opportunity for RIAs?
When I mentioned this to Murphy, she said:
"I see this as an opportunity to partner with some RIAs. I have not yet been open one week, and have already referred a multimillion-dollar opportunity to an RIA who has client assets custodied at Charles Schwab and who can better meet this client's unique needs. I am here to serve my clients and grow Schwab and my own market share by doing the right thing for my clients."
Full support; strict scrutiny
I was also curious about the franchise support that Schwab provides, and Murphy told me that the team that assisted her was awesome. I spoke with Dan Mahoney in Schwab's corporate public relations department about what a candidate could expect as well as what kind of recruiting effort Schwab has in place.
"As part of the well-structured process we have in place, there is a support team for the franchisee — from the series of interactions during the assessment of their candidacy to the opening of the branch, and beyond," he says. "We've had strong interest with over 1,500 candidate inquiries thus far, Mary being one of those. We do have a regional recruiting team and all recruiting and assessment of inquiries is handled internally."
Mahoney referred me to written comments made by Andrew Salesky, Schwab's senior vice president, independent branch services.
"We select our franchise locations based on the recommendations of our candidates," Salesky says. "We're not limited to the top 10 to 20 Schwab markets. Rather, we start with markets where our candidates have strong local connections and then evaluate the overall untapped Schwab potential. This allows us to cast a very wide net, have candidates recommend their preferred location, and narrow to the best fit for both Schwab and our selected Independent Branch Leaders."
Salesky commmented about the value-added services franchise owners will experience:
"A key benefit of being a Schwab franchisee is that your clients get access to the same support resources as clients of our company-managed branches. All clients have identical access to our 7/24 phone support, comprehensive web and mobile resources, and client educational events (both in-person and online)."
The future
Does Murphy think she can succeed?
"I own the first-in-the-nation Charles Schwab Independent Branch Services franchise to be based in Nashua, N.H.," she wrote proudly on her LinkedIn page last week. "This branch will offer the same products and services that company-owned branches offer, as well as additional value I will deliver."
Thoughts from the perspective of Ameriprise were added after the original publication of this article.
Fred St. Laurent is a principal with Knightsbridge Advisors He has been recruiting in wealth management and financial services for more than 20 years. St. Laurent has written articles and spoken at conferences, and he speaks to hundreds of people in our industry every week. Fred currently lives in Atlanta with his wife and three children.
---
Mentioned in this article:
---
---
Share your thoughts and opinions with the author or other readers.
Elmer Rich III said:
December 21, 2011 — 4:38 PM UTC
Rule #1 — Follow the AUM. It sounds like a standard franchise model with some "stores" company owned and other "independent" franchises — all branded Schwab.
With the transition and pending dissolution of many Boomer-owned businesses, no doubt modeled by Schwab, this looks like a natural asset capturing network for the brand and business identity that will have the most continuity for the RIA's clients — again Schwab.
All roads for all assets lead back to — Schwab. Of course, they will protest but — follow the money.
---
---