News, Vision & Voice for the Advisory Community
The ex-tennis pro now has windfall prospects but still structures his RIA firm so he can spend all his time with clients
December 2, 2011 — 7:46 AM UTC by Steve Garmhausen
Name: Dan Goldie
Firm: Dan Goldie Financial Services LLC
Where: Menlo Park, Calif.
AUM: $475 million
Years in the business: 20
Since writing the bestselling The Investment Answer (Hachette Book Group, 2011) along with Gordon Murray, Dan Goldie has enjoyed the benefits of a raised profile — including wealthier clients knocking on his door. Yet Goldie's approach to the business has barely changed. A former tennis professional who once matched up against the likes of Jimmy Connors and Ivan Lendl, Goldie continues to play singles — and is his firm's sole employee. Goldie has also has maintained two other unusual aspects of his business: a small client roster (around 250) and an outsourcing arrangement that takes just about all the mundane stuff off his plate. Goldie stubbornly prioritizes relationships above glamour and fast growth, a choice that he said was only solidified by his long friendship with Murray, who died in January. See: 'Dying banker's last instructions' article in New York Times sends book sales soaring for two DFA advisors/authors.
Can you catch us up on the progress of the book?
It was The New York Times' bestselling business book for the first two months of the year. Since then it has continued to sell well, although not at those high levels. It looks like it's selling 3,000 to 4,000 copies a month, not including bulk sales—a lot of financial advisors are using the book as a marketing tool.
And how has that success affected your advisory business?
Basically it's put me in a more recognizable position in the industry, which is nice. I have more people contacting me that are interested in possibly becoming clients, and the average person coming in has a larger portfolio.
And if people feel they're connecting to the story in the book and the investment philosophy we described, there's very likely going to be a good fit. It also shortens the introductory time: They already know the investment approach before we even talk.
Who are your typical clients?
My median is probably between $2 million and $3 million. I have a $1 million account minimum for new clients, which is fairly recent. There are only so many clients I'll be able to handle. I'm not at that limit yet, but I will reach it at some point, so it just made sense to help those that were a better fit for what I'm doing. I try not to turn away smaller ones: Dirk [Gilliard, an advisor who joined Goldie in January as an independent contractor] is working with a lot of the ones that are under a million. If they're really too small, we try help people either find a way to work on their own or ways to try to find a fee-only advisor who is willing to help them.
What's your growth strategy?
Just to continue growing at a slow, steady pace—as long as I feel I'm continuing to serve clients well. New people are coming in at a comfortable rate. My main objective is to continue to deliver a really good service level to my clients.
You use Loring Ward, a San Jose-based turnkey asset management program, as your back office and your interface with Schwab Advisor Services. What's the trade-off of an outsourcing arrangement like this?
The business model I have is largely positive, but there are some negatives. The positives are that my time is very much freed up. I basically focus 100% of my time with clients, working with them and building portfolios. I also think it's a very efficient way to handle a lot of these back-office operations because you're working with a firm that specializes in doing that. They're also able to hire better people than I'd be able to, to do the functions that need to be done.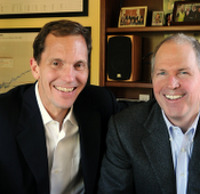 Dan Goldie with co-author of The
Investment Answer Gordon Murray: My experience
in knowing him for 10 years
taught me how important relationships are
in life and in business.
The main drawback is that I am quite dependent on them to do a good job. If their service level declined or they started making mistakes, those would be my mistakes. This kind of way of doing business is not for every advisor. You have to be comfortable letting go of that control.
How has your relationship with Gordon Murray altered your approach to your practice or your life?
(Laughing) It has certainly altered my view of life. In terms of life in general, which is somewhat related to the business, he helped me to see the importance of relationships. He loved networking with people and bringing people together in ways that didn't necessarily benefit him but helped others. My experience in knowing him for 10 years taught me how important relationships are in life and in business. See: Two DFA advisors win big book contract after 'Dying banker' article in NYTimes.
I think he felt very strongly that fee-only advisors really add a lot of value to individual investors, many of whom need help and don't know where to turn. He had seen a lot of things during his time on Wall Street that led him to reconsider the right way to do business. So I have renewed appreciation for the importance of doing the right thing and running the business for the benefit of clients and putting clients first.
What has been your best day as an advisor?
The day after Thanksgiving last year, when there was an article in the New York Times about Gordon and our book and our story, which is mainly Gordon's story. That article immediately went viral online and was the most e-mailed article in The New York Times for many, many, many days.
I started getting tons of e-mails and calls, hundreds of inquiries from media, from all kinds people, over the course of a week or two after that.
The day after the article appeared, I got an e-mail from a woman I did not know and who I've still never met. She was was a single mother somewhere in New York who read the article. Her e-mail came to me, but it was really written to Gordon. She was telling both of us that she'd read this article. She was exhausted from working all these jobs trying to put her kids through college. She was thankful that someone like Gordon, in his last months of life, would be willing to put forth the effort to write a book to help ordinary investors.
When I read that, I just realized that the goal Gordon had in writing that book had come true. He wanted to help everyday investors and do something that would have an impact on as many people as possible. When I read that e-mail I realized we'd done it: The book was going to accomplish what Gordon had wanted.
And what has been your worst day?
The worst day, I'd say, was in early January of this year, when Gordon's wife called me and said he had fallen into a coma. I knew I was never going to talk to him again; he was essentially gone.
The process of writing the book with him really made us best friends. We talked multiple times every day for six months solid as we wrote and promoted the book. It was an incredible experience as I look back on it. Neither of us would have guessed the thing would have been as successful as it became, even though that was we were trying for.
---
Mentioned in this article:
---
---
Share your thoughts and opinions with the author or other readers.
Elmer Rich III said:
December 4, 2011 — 5:39 PM UTC
Here's are question with all popular business books — where is the independent, peer-reviewed, scientific evidence that any of the recommendations, ideas and tips will work for any one else?
If we all all embracing fiduciary standards wouldn't:
- Any advice need to have a sound evidence/fact/data basis — like medical or legal advice?
- Any material benefits and interests need to be fully disclosed?
---
---