News, Vision & Voice for the Advisory Community
The Colorado-based RIA custodian is putting a ski resort executive, David Barry, in the chief executive spot
December 1, 2011 — 3:34 PM UTC by Brooke Southall
After 22 months at the helm of Trust Company of America, Frank Maiorano has parted ways with the firm and a board member with strong Colorado ties is now heading up the Denver-based custodian.
David Barry is Trust's new chief executive and president. His first day was Monday.
"[Maiorano] chose to resign," says Jennifer Nealson, chief marketing officer of the Centennnial, Colo.-based RIA custodian. "He was [recently] married and he wants to spend more time with his family."
The company considers Maiorano's time at the helm a success.
"2010 and 2011 — Frank's tenure — were the best financial years for Trust Company of America in company history," she says. "Since a year ago, [the company] has increased account growth and advisor growth by 12%."
The total number of investor accounts increased from 93,000 to 104,000 — or 12% — from Oct. 31, 2010 to Oct. 31, 2011, and the firm added 13 new advisors during the same period. The firm's assets are now about $10.4 billion, up from just under $10 billion a year ago.
Still, in terms of growth, he did not match his predecessor Terry Reitan who presided over a tremendous four-year stretch in which the Trust's assets grew from $2.3 billion to $9 billion. See: How a small RIA custodian is making big waves.
Maiorano, then 50, came aboard on Jan. 17, 2010, replacing Reitan.
Before joining Trust, Maiorano was managing director of the RIA and institutional consulting services group at Nuveen Investments. He joined Nuveen in 2001. He left in 2008, taking a year off from his career before joining Trust.
Maiorano declined to respond to an e-mailed request for an interview.
Prior to his stint at Nuveen, Maiorano was with Charles Schwab & Co. from 1989 to 2001, holding a variety of positions, including divisional vice president at Schwab Institutional (now Schwab Advisor Services).
TEC support
Barry has served on the Trust Company of America's board of directors for the past five years.
Most recently, he was CEO of The Alpine Group of Companies, a part of Intrawest ULC, a global leader in the development and operation of high-end recreational resorts.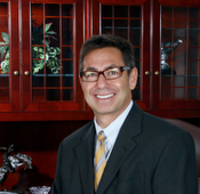 "2010 and 2011 — Frank's tenure
— were the best financial years
for Trust Company of America in
company history," says Jennifer Nealson, the
custodian's director of marketing.
Previously, Barry, Canadian born, ran a $500 million division of Intrawest ULC, Alpine's parent. He has held a variety of senior leadership roles including operating responsibility and oversight of six mountain resorts across the United States.
Barry declined to be interviewed for this article.
He first met Steve Finn, chairman of Trust Company of America, in 1999, when they became part of the same group at TEC, a professional development group for CEOs, presidents and business owners.
"[Barry] has a proven track record of strong leadership and the establishment of award-winning service and employee culture, and has achieved great success running large, complex, global service organizations," the custodian said in a prepared statement.
Barry certainly has serious bona fides as a Coloradan: He is a member of the Rocky Mountain Chapter of the Young Presidents Organization and was a director of the National Ski Areas Association and former treasurer of Colorado Ski Country USA. Barry has also served on the board of the Summit Foundation and Colorado Special Olympics.
Great expectations
Trust hired Maiorano in hopes that his experience at Schwab and industry contacts would augment Trust's niche position supporting TAMPS and generate business from more mainstream RIAs and breakaways. At the time, the company said it hoped to grow from its $10 billion level to closer to $20 billion in a relatively short time. See: Frank Maiorano takes the helm at Trust Company of America.
Two major happenings under Maiorano were his hiring of Bob Oros from LPL as sales chief and the launch of the Liberty platform. See: Trust Company of America is giving RIAs more weapons for free-wheeling
---
Mentioned in this article:
---
---
Share your thoughts and opinions with the author or other readers.
Elmer Rich III said:
December 1, 2011 — 5:05 PM UTC
The Board's choice of someone from the regional resort business to head a firm in an global/national industry with such complicated regulatory, compliance and technology demands is interesting. Assume there will be a long, steep learning curve.
The custody market is hyper-competitive and just getting more so.
http://soundprof.ru/user/kopetpdmoo/ said:
June 26, 2014 — 1:11 PM UTC
Even so, this doesn't establish that actual libido enhancers will not exist in any way. Truly, they are really straightforward to find. On the other hand the undesired results feel to generally be at times too uncomfortable for their services.
http://www.helmig.com/vista/vrepair.htm said:
June 26, 2014 — 2:43 PM UTC
I'm a professional concerning this subject. I have written several helpful articles one example is .Go to this site !The ABC of Bone Marrow Transplant
---
---