News, Vision & Voice for the Advisory Community
Panelists discuss pitfalls to avoid if you're thinking of selling your RIA
November 7, 2011 — 3:10 AM UTC by Guest Columnist David Selig
Last week's Schwab's IMPACT conference at San Francisco's Moscone Center provided the setting for hearing some interesting discussion from RIAs who have experienced the benefits and black eyes of merger, acquisition and succession plans.
As an M&A advisor, I'm always interested in hearing about deals, deal-making and dealmakers. I've found that no two transactions are alike so I gain insights with each that I work on, as well as by listening to others talk about their M&A transactions.
I wasn't disappointed. On Thursday I listened to three panelists discuss their deal experiences at an IMPACT breakout session hosted by Dave DeVoe, managing director of the strategic business development group for Schwab Advisor Services.
The topic was "Lessons Learned from M&A and Succession Transactions" and what made it powerful was each panelist's willingness to open their kimonos a bit. The panelists were Derek Holman of EP Wealth Advisors, Robert Kresek of Founders Financial Network and Jane Williams of Sand Hill Global Advisors, and each came prepared to discuss the various transactions in which they've been involved.
Three M&A rules to live by
As the "Lessons Learned" title indicates, this wasn't simply a bragging session about successful M&A transactions. The panelists were quite candid about the mistakes they'd have made and how they would do things differently if given the chance. Derek Holman was quite direct when he articulated three pitfalls to avoid when engaging in M&A:
1. Don't fix your firm's future valuation on a revenue multiple.
2. Don't even consider a transaction unless your client-facing staff have signed non-solicit agreements.
3. Don't get lawyers involved too early in the process.
I couldn't agree more with Holman's three points. Regarding valuation, my firm recently collaborated with Schwab Advisor Services to develop a white paper (MKT in Schwab-parlance) on valuation and deal structuring. In this piece I took the position that earnings-based valuations, whether expressed as a multiple of earnings before interest, taxes, depreciation and amortization (EBITDA) or derived via discounted cash-flow analysis, are the most relevant and accurate ways to value a wealth advisory practice.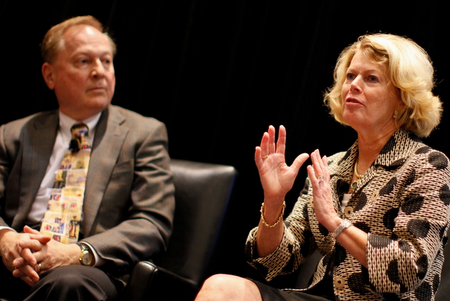 Robert Kresek of Founders Financial Network
and Jane Williams of Sand Hill
Global Advisors, and each came prepared
to discuss the various transactions in
which they've been involved.
Investors get paid back through cash-flow received from their investments—not by revenue. I'm not alone, of course, in taking this position: I stand on the shoulders of greats like Mark Tibergien and have had direct experience working with sophisticated acquirers, all of whom use income-based approaches to valuation. I counsel all my buy-side clients to focus on cash flow, and I use income multiples when performing valuations for my sell-side clients.
Holman admitted one of his four transactions relied on a revenue multiple for its basis for valuation and things didn't work out as planned when markets dipped and profitability fell. When pressed about revenue multiples by an energetic advisor in the audience, Schwab's DeVoe responded that revenue multiples are "too blunt an instrument" to use when valuing wealth advisory firms.
Lawyering a deal into the ditch
On Holman's second point about the importance of non-solicit agreements, I counsel my clients to get these in place regardless of whether they are a buyer or a seller. As a buyer, you don't want to get to the altar with a target-only only to have their top advisors walk out the door with their clients. I've seen this happen and it isn't pretty. As a seller, if you're considering having a valuation performed, keep in mind that your firm's risk profile will be quite high, thereby driving down your valuation, if you don't have non-solicit agreements in place.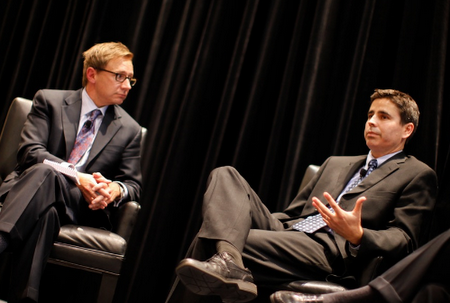 David DeVoe [left] and Derek Holman
[right] who says: we don't want
the lawyers driving the bus.
Holman's third point about the proper time to get lawyers involved is also on the money. As one of our buy-side clients aptly says, "we don't want the lawyers driving the bus." When you're discussing merger or acquisition with another firm, you should work out as many transaction details as you can (valuation, structure, compensation, roles, responsibilities etc.) on your own or with an M&A advisor, then bring in a deal attorney to draft final agreements. I recently worked on a transaction for many months and drafted an letter of intent that was signed by both parties, only to have the lawyers try to re-architect the deal. This led to a multi-month delay, tens of thousands of dollars in legal fees for both sides, and, ultimately, both parties walked away – the lawyers had driven the bus into a ditch.
Second thoughts
Williams of Sand Hill had her own war story: She and her partners sold their firm to Boston Private many years ago only to buy it back in 2009. Williams was frank in her assessment that the firm's entrepreneurial spirit was largely lost once they all became employees of the publicly traded financial-services conglomerate. In order to regain that spirit, Williams and her team turned to Mark Hurley of Fiduciary Network to provide them with buy-out capital. Hurley also provided capital to Sand Hill's junior partners so they can eventually buy out their senior partners.
Williams is not alone in her desire to "unwind" early transactions made with financial acquirers. I've had numerous confidential conversations with other large RIAs who are considering buying themselves back from holding companies. Williams pointed out that "there simply weren't as many options back then" for firms like Sand Hill, so if partners of large RIAs wanted liquidity, they could only turn to a couple of players. Now, she says, there are many more options available. DeVoe made the point that there are over 20 active roll-up firms or holding companies from which to choose, and that number is only growing. RIAs have a much better chance of finding a partner with shared values and a compatible business model.
Happy marriages
Robert Kresek of Founders Financial Network expressed his happiness with his firm's sale to Focus Financial Partners, LLC. Founders Financial was one of the first Focus Financial partner firms and Kresek spoke glowingly of its model. See: What's really going on with Focus Financial?.
In all, the session was a good one in that each panelist generously shared their insights into M&A and succession. Each was direct and candid in their answers to audience questions and to the questions posed. And moderator DeVoe, as always, spoke eloquently about the state of the industry. According to him, 2010 was a record year for RIA M&A and 2011 is shaping up to equal or surpass it. If firms avoid some of the pitfalls described by the IMAPCT panelists, those deals are more likely to result in long-term marriages. See: M&A market reaching a new normal based on RIA-driven deals, say competing reports from Pershing, Schwab.
David Selig is CEO of Advice Dynamics Partners, a mergers and acquisitions consultancy serving the wealth management industry. David can be reached at dselig@advicedynamicspartners.com.
---
---
Share your thoughts and opinions with the author or other readers.
Fiduciary Network said:
November 7, 2011 — 5:58 PM UTC
The article incorrectly refers to Financial Network. It should be Mark Hurley of Fiduciary Network.
Brooke Southall said:
November 7, 2011 — 6:18 PM UTC
Thanks for pointing that out. I fixed it.
Brooke
---
---