News, Vision & Voice for the Advisory Community
Three days of conversations, recycled swag and ancillary events
November 7, 2011 — 3:29 AM UTC by Frank Noto
Brooke's Note: Someday, you might hear people say: Remember the days when we all flew to a city and constructed a massive grid of cubicles adorned with marketing posters, then sprinkled T-shirts, umbrellas and pens into the mix to draw people closer and kept cocktails and food close at hand? It's an iffy proposition in an age of Google-precise searching. We can be cynical about this set-up but there's one aspect that can't be improved upon: people meeting people in an atmosphere that encourages intermingling. Nobody goes more all-out at this sort of thing than Schwab. Frank Noto, our own advertising and business chief, took on the job of crafting a report out of the overwhelming panorama.
Through the years, IMPACT has been the premier industry showcase for any company focused on providing strategic solutions for the RIA model. It's easily the RIA's Super Bowl of expos, and the folks at Schwab always do a great job at keeping it fresh. Though being on home turf does up the ante, its expo at the Moscone Center this past week was a well-run event for the exhibitors and attendees alike.
The expo hall in San Francisco's Moscone Center was converted into a mini-city for the three days of the conference. The Schwab Center was the centerpiece of the hall. It seemed to be always packed, and it was ridiculously well-staffed by Schwab employees. Throughout the hall, attendees could find meals & refreshments, phone re-charger kiosks, cyber stations, a massage, a shoeshine, the social media and mobile lounge, plenty of water stations and 13 aisles of exhibiting booths.
It was also complete with its own official broadcaster — CNBC. Long gone are the days when the cable channel would broadcast a special segment from IMPACT. This year, Maria Bartiromo was stationed at the CNBC booth, filing reports and interviews throughout Wednesday and Thursday — a sure sign of how far IMPACT has come in the eyes of big-time financial media.
Included among the 325-plus exhibiting firms were 70 sponsors who have furthered their IMPACT experience with sponsorship opportunities. These ranged from BlackRock sponsoring the opening reception to Wells Fargo Advantage Funds' sponsorship of the closing-night gala at the Concourse Exhibition Center. Booths cost a minimum of $15,000. Sponsorships range from about $25,000 to close to $130,000.
Compliance central
Guggenheim Investments' marquee status was the perfect platform upon which to throw their "coming out party." Though Rydex and Claymore have been involved with this conference over the past few years, this year's IMPACT gave those firms a chance to get their new story out to the RIA market.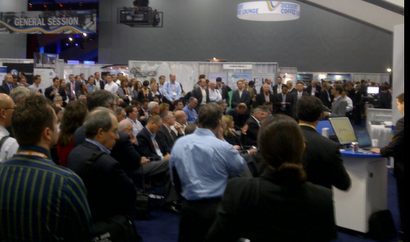 Tamarac's session was well-attended as this
iPhone photo shows.
Tamarac sponsorship enabled the company to conduct an Expo Showcase presentation that focused on defining the level of integration. With a jam-packed audience and more business cards than he's ever collected at an IMPACT, Tamarac's Matt Stroh was quite pleased with his firm's IMPACT interaction.
Other exhibitors found that IMPACT aligned perfectly with their RIA initiatives Laserfiche has been coming to the conference for a number of years and this year found itself right in the middle of the compliance perfect storm. It was on hand to educate advisors about compliance and audit prep. "With the potential complexity of legislation that will cause a dramatic change in the number and severity of audits, an RIA needs to understand what this means to them," says Tim Welsh, who advises Laserfiche's marketing efforts. "Document management become a key fact for integration with CRM."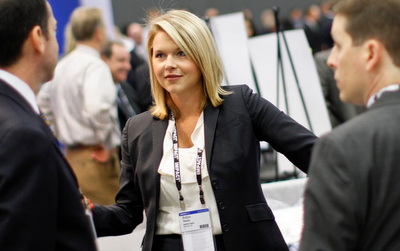 Marketers bring their 'A' game to
Schwab IMPACT and RIAs come in
a listening mood.
High gear
Lord Abbett has been coming to IMPACT for about three years, which parallels its RIA-market initiatives. While part of its focus at IMPACT was to promote its new program with Wilshire, being there showed RIAs that it is launching all-out into the market. Adhesion Wealth Advisor Solutions' booth took on a cycling theme, complete with an Orbea time trial bike. CT Bochau, who handles marketing at Adhesion, explained that Adhesion has a deep appreciation of the teamwork associated with winning cycling teams, and through this understanding and its expert capabilities, are able to team with RIAs to provide "high-gear solutions." `
For newbies, the IMPACT expo can take on a whole different positioning. Shawn Paulk of GaveKal Capital explained that IMPACT is the perfect environment for the firm's enrty into the RIA market. Previously known within the institutional segment, GaveKal is now reaching out to RIAs with "boutique" solutions.
Captive audience
I'm biased, but San Francisco does provide an event planner with the best choices for any exhibiting companies who held after-hour soirees. How can any city beat the likes of Alcatraz? Westcore held an event for over 200 advisors on Tuesday night on The Rock. Out in the bay on a perfect SF night, Steve Wine led the always-fun tour of the confines in which Al Capone was once imprisoned. "It's was a great time for our clients and a casual way to reach out to prospects," he says.
Scout Investments hosted an event combining two favorite SF pastimes — art and wine. With Jensen Investment Management, it took over the 111 Minna Gallery in SOMA for an evening of wine tasting, led by local sommelier, Courtney Cochran.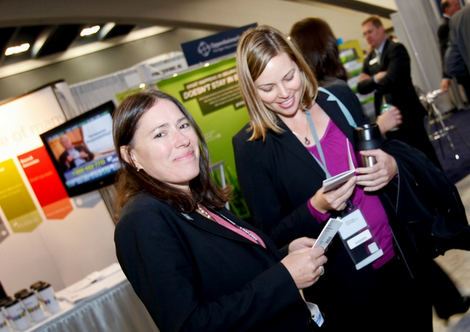 Schwab provided smart-phone access to agendas
but many people still relied on
the hard copies tucked into their
badges.
Response to my inquiries about exhibiting companies at the expo hall were mostly positive. The high volume of booth traffic pleased many. Even those who complained about the lack of visitors to their booths remarked that the quality of their engagements with the advisors was better than at any other conference — not surprising given the modus operandi of the Schwab advisor.
Green machine
My final observation is that Schwab heavily promoted its sustainability initiative throughout the conference — one that would have made the close-by headquarters of the Sierra Club appreciative. Last year in Boston, 41% of all refuse generated at IMPACT was recycled. This year, Schwab was out to top that number. Handing out reusable water bottles and placing filling stations throughout the expo hall and session rooms drastically reduced the number of plastic bottles in circulation.
Schwab also set up a program in which attendees could donate their windbreakers to local non-profits. Halfway through the conference, 25% of attendees had signed up. Schwab also reached out to all exhibitors asking them to donate any remaining giveaways to their non-profit distribution program. Given the fact that booth crews didn't have to deal with shipping the items back home, the response was all positive.
Hometown advantage
So, as another IMPACT expo drew to a close, I was left to ponder why this year was one of my favorites. Besides the obvious, there's just something special about San Francisco that made the event especially fun and satisfying. It's not unlike the Grateful Dead experience — the group could put on high-energy gigs in NYC or Boston, but on their home turf, it all happened on a whole different level. Here's hoping IMPACT comes home again, soon.
For Frank's seminal work from San Diego, see: An advertiser's-eye view from among the booths of the FPA convention's exhibit hall.
---
Mentioned in this article:
Laserfiche
Document Management
Top Executive: Nien-Ling Wacker
GaveKal Capital
Mutual Fund
Top Executive: Steven Vannelli, Managing Director & Partner
---
---
Share your thoughts and opinions with the author or other readers.
Elmer Rich III said:
November 7, 2011 — 5:55 PM UTC
We and our clients have stopped attending most conferences for the reasons pointed out in this article — they have become mainly selling events. With most speakers paying to speak and most speeches being sales pitches and not real sharing or problem solving — our clients can stay home and get all the sales pitches they want.
We appreciate that conferences are a huge money makers for the organizers. So the conference sponsors make money, presumably the paying sponsors do, media too — but what about the attendees? What tangible business benefits, ROI, do the attendees get? Everyone else involved is making money.
Less and less this seems even a concern of the organizers and sponsors. We have often wondered how successful conferences would be if they were not in vacation locations. chuckle
As Brooke said: "there's just something special about San Francisco" Sure, Tony Bennet left his heart there.
---
---