News, Vision & Voice for the Advisory Community
The famous founder is worried about Washington but expects a big market comeback
November 4, 2011 — 5:09 AM UTC by Lisa Shidler
In a rare and feisty appearance at Schwab's IMPACT conference, founder Charles "Chuck" Schwab expressed optimism about the stock market and a sense of dismay about the lack of leadership in Washington.
Schwab shared the stage with CNBC's Maria Bartiromo, anchor of "Closing Bell."
Stay in stocks
Schwab stuck to his longtime message that clients should remain invested in stocks despite dramatic volatility.
"I think that's the only way. It's not easy to convince your clients not to go into cash. [But] that's the worst place you could go. Cash has never been a place to be on a permanent basis."
Schwab also warned advisors to brace for inflation, Federal Reserve Chairman Ben Bernanke's assurances to the contrary.
Downplaying economic worries
Schwab maintains that the current economic situation isn't nearly as bad as the media would have us believe — "I really view the economy more positively than most people on CNBC," Schwab commented wryly to Bartiromo.
Turning the current 9% unemployment statistic on its head, Schwab pointed out that there are still 139 million Americans, or 90% of those people who want to work, still employed. He buttressed his upbeat message by saying that U.S. companies have massive liquidity, record low-interest rates and the benefit of an accommodating Federal Reserve.
"You start linking up all of these things that are highly positive. I tend to be a little more positive about things than I would be [if I just] read the headlines or watched the news."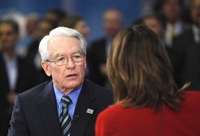 Schwab speaking with CNBC's Maria Bartiromo:
We are at a point, frankly,
that we can make a significant
turn.
Schwab added, "We are at a point, frankly, that we can make a significant turn. We were pretty much in the ashes of the last downturn."
A thirst for leadership
Schwab took a few moments to grouse about political leaders who have enacted what he sees as counterproductive legislation, most conspicuously, the Dodd-Frank Act.
"It's a disaster, frankly, and we don't even know about the Obama-care stuff. Leave us alone and let us get back to economic freedom and grow this economy," he said.
Schwab, a large donor to the Republican party, is hopeful that even this November's elections could trigger substantial changes for the better. While he declined to back any of Republican presidential hopefuls by name, Schwab did say that "electability" is a vital quality for them to possess.
"[Our industry] has incredible intellectual leadership," Schwab said. "The country has lost [that in its] leadership. We're thirsty for that in this room."
Don't worry about Greece
Americans shouldn't be fearful about Greece's economic crisis since that country's population of 10 million pales against that of the United States. "It's so teeny why would you spend a lot of time worrying about it. It really doesn't have a huge amount to do with what we're doing in America, I don't think," Schwab said.
He also says investors would do well to invest in U.S. companies. "There are great dividend-paying companies that will survive and be a great reward for your clients."
IMPACT growth
Schwab discussed the IMPACT conference, which attracted a few hundred attendees at its inception 20 years ago and now has 4,000 participants.
"I had no idea we'd grow to this extent," he says. "Obviously, our hardworking people made it all happen. It's amazing to see the whole industry grow from the early days."
Internet-fueled expansion
Schwab recalled an era when he could look across the office and see only reams of paperwork piled on desks. Now, he points out, with the Internet, transactions are seamless.
"Last week, we did one million trades in one day," Schwab said.
Inside Chuck's portfolio
Schwab gave the audience some insight into his own holdings, saying that he still invests in many of the same funds that Schwab champions and uses advisors to manage some portfolios. "Let's face it, I didn't have much of a portfolio 30 years ago and today it's pretty good."
That portfolio includes ETFs, venture capital, international investments and stocks. In recent years, however, Schwab says he has reduced his formerly heavy exposure to high-risk stocks.
Schwab says his emphasis on diversification has remained a constant, noting wryly: "Any advisor who looks at my portfolio would say what a mess — he uses too many things. I'm highly interested in testing different things. This environment has been really stinky for 10 years."
For more see: What Chuck's talk showed about his complex relationship with RIAs.
---
---
Share your thoughts and opinions with the author or other readers.
J said:
November 6, 2011 — 7:30 PM UTC
These ol' boys want market access, nothing more, nothing less; nothing else and no one else except themselves; no interest in people except to do with the economy and nothing other than the discussion of economics; no food unless it is fine and no pay checks unless they're jobs with bonuses; no way of thinking any different, except that their scared they won't be on top anymore…and want us to believe in capitalism. Note, he has now shifted to the word enterprise, like when corporations went to sustainability (without definition)- and to "believe," as long as it's in, "he and the others, whom are paid through shareholder advantage; ADHERE to one type of the system…" Theirs.
-Sorry, I don't buy this, nor do I buy Bernanke either….
---
---