News, Vision & Voice for the Advisory Community
The PIMCO CIO goes so far as to envision the eventual 'end of capitalism' while Schwab's chief strategist sees underappreciated signs of a new boom
November 2, 2011 — 6:19 AM UTC by Brooke Southall
Brooke's Note: I arrived at Schwab IMPACT at 3:50 p.m. and Bill Gross and Liz Ann Sonders were scheduled to speak at 4. Good timing, I thought, but the registration line was about 10 deep across an expanse of about 50 yards of registration agents. But within 30 seconds a woman appeared and placed a red sticker on my chest — a hall pass allowing me to forego registration and make it to the speech on time. She did the same for others wanting to see the economic seers. It was an impressive and very IMPACT-like touch that allowed me to bring you this full report, and get the event off on a nice note.
Tyler Mathisen had good material to work with — yesterday the Dow Jones Industrial Average gave up 297 points, or roughly half of its impressive gains for the month of October.
With that jumping-off point, the CNBC anchor quickly segued into a Q&A session with Bill Gross, CIO and managing director of PIMCO and Liz Ann Sonders, chief investment strategist for Schwab.
Wall of worry
The theme, relentlessly hammered at by the anchorman, was this: Just how worried should we be?
(And, yes, like any good reporter, Mathisen would get to the tough question for Gross: Why have the returns on your own bond fund done so badly thus far in 2011? The answer is below.)
Bill Gross' initial answer was: "You should be very worried." See: Bill Gross wows advisors at Morningstar conference, but not with good news.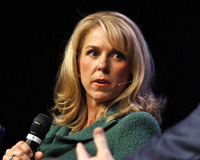 Liz Ann Sonders: I'm not a
perma-bull by any means.
Sonders' outlook, on the other hand, was a bit sunnier: "We have the potential to be pleasantly surprised on the equity side," she said.
Jeff Lancaster, principal with Bingham Osborne & Scarborough LLC, which manages $2.2 billion from San Francisco saw a good balance of views. "I thought Liz Ann was mildly optimistic and Bill Gross was pessimistic. Liz Ann wants everyone to know it's not going to be as bad as everyone thinks."
The sometimes-depressing Bond King did, however, sprinkle in remarks that mitigated his own doomster message. For instance, Gross pointed out that Europe's relative to GDP is about half that of the United States.
Still, he thinks Europe's debt is a major problem. Greece's debt relative to GDP is twice that of ours and other European banks, saddled with debt themselves, are in no position to help.
Advantages of correlated returns
Sonders was asked how advisors could take a positive view of all the volatility and the fact that finding uncorrelated returns is so difficult.
There are two potential advantages of volatility for the prudent RIA, both of them relating to trading opportunities.
"Not every asset moving in one direction has the same fundamentals," Sonders said. "You can pick off the mispricings."
She added that advisors can rebalance portfolios more often in volatile markets.

Norm Boone: Look at Sonders' track
record – she's pretty darned good.
She's earned our trust.
But Sonders had an even broader message of optimism both in the Q&A and in an interview afterward. Sonders has spent time in China and she is hearing more and more that American companies are seriously thinking about moving manufacturing operations back to the United States, referencing one survey showing as many as 60% of companies are thinking this way because labor, land and other costs are now only marginally less abroad than at home.
Sonders also believes that there could be a serious energy boom in the U.S. due to the discovery of oil reserves in the Dakotas. Foreign companies taking that new energy source seriously enough to think about building cement and steel plants in this country, she added.
Sonders as perma-bull?
Sonders gained the trust of many Schwab advisors for having been bearish before the 2008 crash and quite optimistic in 2009 after the market hit rock bottom.
"I'm not a perma-bull by any means," she said in a post-speech interview. "I just think the expectation bar has gotten so low."
"She's sort of our in-house economist. Look at her track record. She's pretty darn good," says Norm Boone, president of Mosaic Financial Partners of San Francisco. "She's earned our trust."
However, Kirk Sheldon, an advisor with Capital Financial Management in San Diego, says that he listens more closely to Gross.
"Sonders is very sharp but Bill Gross is in the money management business. They have to make decisions day by day, not once a year. That reinforces why his opinions matter so much."
See: Bill Gross' commentary should be taken with a bigger grain of salt in this market.
Buy American
Taking a chauvinistically American approach, Gross said that the best way to get out from under our debt and get going again is grow — at the expense of our competitors.
"The best way to do it is at the expense of the rest of the world," he says. This involves devaluing our currency to encourage manufacturing. It also involves simply going out of our way to buy American made products at the expense of trading partners.
"China does it. Brazil does it. We need to do it. Buy American," he said.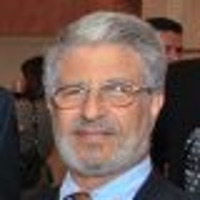 Jack Firestone: All the wealth is
concentrated in our generation [of aging
baby boomers]. Those younger ones we're
hoping to get don't have careers
and they're struggling to get by.

As to why PIMCO's returns stumbled in 2011, Gross conceded that he had anticipated that the "new normal" would take hold by now but that it hadn't. The whole European crisis turned bonds into a heavily sought-after insurance and inflation fears were killed by the growth reversal. "It all happened in four to six weeks," he says.
Capitalism on the wane?
When I spoke to advisors about Gross' comments, however, nothing stood out like his expression of fear about what could happen to the free enterprise economy in general in as little as 30 years: "I think capitalism is at risk. It relies on growing consumption…capitalism depends on risk-taking and growth in terms of sales and profits."
Jack Firestone, principal with Firestone Capital Management, which has about $250 million of AUM, says he's not so quick to dismiss Bill Gross' pessimistic views based on what he's seeing in Florida right now.
"All the wealth is concentrated in our generation [of aging baby boomers]. Those younger ones we're hoping to get don't have careers and they're struggling to get by. It's scary. It relates to what Bill Gross is saying."
---
Mentioned in this article:
---
---
Share your thoughts and opinions with the author or other readers.
Jeff McClure said:
November 18, 2011 — 11:48 PM UTC
Mr. Gross, bond genius that he is, is often like the clock that is right twice a day. Back in the summer of 2002 he insisted that the Dow would need to drop another 50% before it recovered. He actually serves as a pretty good bear-market bottom indicator. Whenever he insists the worst is yet to come, things almost immediately start getting better.
Carlos said:
November 26, 2011 — 5:18 AM UTC
Hey man. U are talking about something 8 years ago. Really. By the way bill is right and Liz Ann will be wrong big time. This market is going down big. Liz Ann. Does not understand the weight of the bond market collapse will have on everything. stay invested and u will be waiting to get even
http://bbs.taiclub.com.cn/home.php?mod=space&uid=1 said:
June 26, 2014 — 4:21 PM UTC
The Apple iphone is actually a little product has distinctive attributes which can fascinate each and every person. The manufacturers have compiled almost all the newest technological innovation and have made it out there on your palm top. No one making use of this gadget will ever want that the gadget gets spoiled in any way. That's why, Apple has launched several accessories which is able to support one to keep the machine safe and sound for a longer time. Lately, Apple accent supplier has revealed that the next generation apple iphone, which is able to be launched during the 2nd half of 2010, will use a filmed strength upgraded to five megapixels and will assistance 1080p of video recordin. With all these new attributes for being added it will become necessary that your product is kept safe and sound and that no harm is done. The following Apple apple iphone accessories will let you keep your machine as very good as new.I have lengthy developed a joke that charge cards are evil. But that is not the case. When an individual who is responsible applying their money utilizes a cost card sensibly, demand cards aren't evil whatsoever. Try out leasing a vehicle or creating a hotel reservation with no charge card. Demand cards offer an volume of protection each time you buy things. As an example, should you invest in anything online
http://thescripter.com/Welcome.htm said:
June 26, 2014 — 5:44 PM UTC
Literally 1000's of kids otherwise 100s of 1000's, every single year are identified with Notice Deficit Disorder. Stimulants are the most typical strategy to both equally youngsters and grown ups with this particular particular disorder. Specially Ritalin, Adderall and Dexedrine. These stimulants are thought to work by increasing the dopamine stages in just the brain.
---
---