Ryans Shanks: What's stopped you in the past is that internal mechanism that tells you not to run your own business. Now, you can see all of the firms.
Financial advisor, fiscally fit but fed up with the wirehouse scene, seeks established wealth-management firm for a lasting relationship. Have own Rolodex.
Aspiring to become the online dating service to the advisor world, Finetooth Consulting founder and chief executive Ryan Shanks and one of its managing directors, Ned Van Riper, have launched Join A Firm, a website that allows wirehouse advisors to mingle freely online with independent firms with an eye toward forming new partnerships or even business marriages.
"The automation is the real driver," Shanks says. "We look at this as eHarmony for financial services."
So far, at least two large firms, Commonwealth Financial Network and Cambridge Investment Research , have partnered with the company so they can use it to recruit new advisors.
It's a prospect calculated to fill recruiters with fears of immanent irrelevance, but Van Riper says they shouldn't worry … much.
"We built this with the goal of absolutely changing the recruiting industry," Van Riper says. "Face-to-face, good old-fashioned recruiting will never go away. This is a platform that facilitates introductions between wealth management offices who are recruiting and an audience of advisors in a captive wirehouse environment who want to go independent."
The site gives Cambridge way to reach advisors that compliments its traditional recruiting, says Kyle Selberg, senior vice president of Cambridge's business development.
"It provides yet another opportunity to reach prospective advisors and is positioned to support the recruiting efforts driven by our large branches/super OSJs. The website enables messaging focused on turnkey office space, mentoring, and localized sense of community that is specific to branch recruiting."
Virtual mixing and mingling
Advisors can join the site for free. Once they do so, they're able to chat up nearly 130 independent broker-dealers, RIAs and institutional custody platforms in a virtual meeting space. As with most social-media sites, parties are able to take relationships to the next level with a private messaging function through which advisors can send more detailed profiles to the firms they're interested in.
Listing firms currently pay $499 to run an individual advertisement for 12 months. Currently, there are 129 listings with five additional firms waiting for compliance approval. Right now, the largest independent firm on the site is a $3 billion RIA with no broker-dealer relationship.
Commonwealth and Cambridge chose the more costly "enterprise option" that allows them to post multiple listings. While declining to list the specific costs, Van Riper says these contracts are "significantly higher" than the individual $499 listing.
Shanks says that their site is a bargain compared to the cost of retaining the services of a recruiter, who is typically paid from 4% to 6% of the advisor's trailing 12 months of revenue.
He points out that if a firm uses the website to nab a $500,000 producer, it would cost $499 compared with the $30,000 Finetooth would charge.
Shorter in person
While the idea of online recruiting is an attractive one, recruiter Mindy Diamond, president of Diamond Consultants, wonders if it can take the place of face-to-face encounters.
What seals the deal, she says, is compatibility between personalities and company cultures that are hard, if not impossible, to gauge online.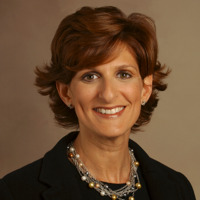 Mindy Diamond: I think there are
a lot of situations that look
good on paper. But you don't
always have that cultural fit.
"We've toyed with this idea many times … It makes sense that people would look to make the search process on the web, but the problem is, this is highly personal," says Diamond.
She says that 90% of the time a deal succeeds or falls apart because of the personalities involved. "I think there are a lot of situations that look good on paper. But you don't always have that cultural fit."
Diamond believes the JoinAFirm site may have the greatest appeal to smaller advisors with, say, around $30 million in assets because high-end advisors like personalized attention from recruiters.
"My instincts tell me not a lot of deals will be done with something like this," she says. "Most of the deals we do take an awful lot of work. This isn't a proactive search. It doesn't take into account understanding someone's goals."
"I could see it potentially working for the lower-end advisors," Diamond says. "But I think top-quality advisors want a more customized approach and want to know someone is working on their behalf."
Diamond Consulting typically works with advisors whose assets are at least $100 million.
Commonwealth officials are excited about the this program because it will help their advisors find the perfect match in their area, boosting their recruiting efforts, says Andrew Daniels, managing principal at Commonwealth.
"Because we run a reactive recruiting effort in general, it is a little like finding a needle in a haystack for our advisors to use the Commonwealth Recruiting team to find potential new, young advisors, who still have some experience, to join their practices," Daniels says. "JoinAFirm now gives those same young up-and-comers, who want to go independent but don't want to leap right into business ownership, an avenue to find a practice at which to land."
Prospects can search for firms based on information about the practice as well as geography.
"Ryan [Shanks] and his team have been creative here, and in a way have created a matchmaking service for existing practices and prospective advisors," Daniels says
DIY
Shanks believes that JoinAFirm will empower the financial advisor who doesn't necessarily want to run their own business but wants to be independent.
"What's stopped you in the past is that internal mechanism that tells you not to run your own business, he says. "Now, you can see all of the firms that are already set up as wealth management firms and you would be independent but wouldn't have to run your own business."
Van Riper adds: "The Merrill Lynch advisors can go on the site and plug in all of the information and they can contact companies without going to a middleman. We think it's unique and it will change the way recruiting is done."
Un-eliminating the middle man
Recruiters will not be left out in the cold, Shanks and Van Riper say. They are setting up an affiliate program in which recruiters can do their job using the website as their platform. They're still hashing out the details but at this point, they're considering an option in which the firms would agree to pay a 6% commission for use of a recruiter on the website. It's likely that the website and recruiter would split that payout in a ratio to be determined. At this point they don't plan to charge recruiters for using the site.
Shanks points out it's common for recruiters from different companies to work together — just as real estate agents work together and share the commission.
Keeping out the party crashers
Shanks says the company is carefully screening advisors to make sure they are licensed. A month ago, he says, someone who hadn't been an advisor since 2008 tried to log in and was denied access.
"We're going to be filtering this carefully," Shanks says. "What this site is finally doing is giving much-needed attention to independent firms as a viable option for breakaway firms."
---
Mentioned in this article:
FA Match
Consulting Firm, Specialized Breakaway Service, Recruiter
Top Executive: Ryan Shanks
---
---
---
Financial Guy
October 27, 2011 — 4:17 PM
Sounds kind of like the Help-U-Sell of real estate.