Leonard Reinhart: What really intrigues me about what he's doing is he's bringing Wall Street back to Main Street.
Brooke's Note: Talk about an interesting pairing of financial advisory talent. On one hand, you have the entrepreneur, David Loeper, who has a patent on the financial advisory process that is used by brokers at three of four wirehouses – particularly Wells Fargo Advisors LLC. It sounds good, but he faces obstacles – legal and marketing – to gaining more meaningful market penetration. On the other hand, you have Leonard Reinhart, who is the godfather of selling financial advice – in wrap account form – through wirehouse brokers. Adding intrigue to the whole effort is the concern of the financial planning industry that if Loeper is too successful in his patent claims, he could charge a toll to planners everywhere. See: Legal analysis: The chances that Wealthcare beats UBS or upends the financial planning community
In the midst of a legal battle, technology firm Wealthcare Capital Management has persuaded industry legend Leonard Reinhart to rejoin its board of directors.
The Richmond, Va.-based firm gained industry attention earlier this year for its lawsuit against UBS, in which it alleged the wirehouse, enabled by MoneyGuidePro (owned by PIEtech Inc.) had heisted its patented financial planning process. See: David Loeper is taking on UBS but his patent lawsuit is raising alarms in the RIA business.
Smith Barney protagonist
Reinhart, 55, former president and founder of the Lockwood family of companies, has been in the financial services industry for more than 30 years and is credited, along with colleague Jim Lockwood, with spawning the wrap account during his time at E.F. Hutton.
David B. Loeper, president and chief executive officer of Wealthcare Capital, says he's thrilled to have Reinhart on his firm's board of directors.
"It's hard to have Len walk in the room and not have a void filled with his industry expertise," Loeper says. "It's kind of refreshing to have someone with similar industry experience and knowledge and business experience to bounce ideas back and forth and come up with new ideas."
Reinhart is the fifth member of the board joining Loeper; the firm's chief financial officer, Bob Wilson; Bob Schnibbe, a former State Street Wealth Manager Services executive; and Alan Newman, who was president of Newman Research.
Puzzle piece
But Reinhart could prove to be a particularly important piece of the Wealthcare puzzle, according to Steve Winks, principal of Sr. Consultant of Richmond, Va.
"David is very capable and has developed a crude form of unauthenticated advisory services as an extrapolation of Len Reinhart's good work at Hutton/Smith Barney and Pershing," he says. "As the industry is about to evolve legitimate support for fiduciary standing which can be authenticated and confirmed by expert opinion letter – Len would naturally have interest, particularly since he retired at a very young age when there was so much more that needed to be done."
Reinhart is recognized as one of the founders of the separately managed account industry. He founded Lockwood in 1995 and sold it in 2003 to The Bank of New York Co. Inc. Reinhart stayed with Bank of New York – and its Pershing subsidiary – until retiring in 2008.
Prior to founding Lockwood, he was president of the consulting group of Smith Barney, the investment management consulting division of Smith Barney, Upham Harris & Co. Reinhart started his career in 1978 at E.F. Hutton & Co. before its merger with Smith Barney and was directly responsible for developing programs that introduced institutional-level professional investment management services to the individual investor marketplace.
Winks agrees that this is an apt characterization.
"Len is the person most deserving of the accolade as the pioneer of advisory services in a brokerage format. There were many of us, but Len harkens back to the early dates of E.F. Hutton's entry into the managed accounts business.
Reunited
Loeper and Reinhart have known each other for years. In fact, shortly after Wealthcare was founded in 1999, Reinhart served on one of the company's first boards of directors. He stayed on less than a year before bowing out to oversee Lockwood's rapid growth.
Reinhart and Loeper have similar philosophies when it comes to investment advice.
"We were both intrigued with the idea of how clients should be treated and how investment objectives should be established," Reinhart says. "The two of us would compare notes and I always liked what he was doing, but I got way too busy and couldn't give him the time."
Over the years, the two stayed in touch, chatting at industry conferences and served on some of the same boards.
"What really intrigues me about what [Loeper is] doing is he's bringing Wall Street back to Main Street," Reinhart says. "It's taking a difficult concept and using technology and putting it in a way that a non-sophisticated investor can understand and make appropriate decisions."
Marketing assist
Reinhart has been impressed with how Loeper's company fills such a void for baby boomers. He has some marketing ideas that involve using social media to openly talk about retirement plans.
In fact, Reinhart says he's ready to help the company with marketing ideas for advisors on how to deliver their services to investors.
"That's something I've been doing all of my life," he says. "I can assist in talking about this at conferences and talking with advisors about it."
Loeper admits the company sorely needs help in that area.
"We've been struggling with marketing for some time," he says. "Len has success in marketing."
But there are challenges that go beyond marketing that Wealthcare will have to face if it's going to succeed as a source of financial advice in a coming fiduciary age, Winks says.
"Will Wealthcare evolve so that fiduciary standing would be safe to acknowledge, scalable, easy to execute and manage? Maybe, but it requires considerable resources – process, technology, workflow management, conflict management and expert advisory services support – beyond those that presently exist. The UBS litigation does not help on the short term. If Wealthcare prevails, it will have defended a patent which could make Wealthcare again interesting."
Loeper's response: "Our standards of ethics and integrity will always exceed that of any rule-making board and are completely uninfluenced by the conflicts that frequently plague our industry. Len's pursuit of putting clients' interests first is exemplified by him joining our board."
All-consuming lawsuit
Loeper says the lawsuit is eating up a chunk of his time and he's counting on Reinhart to help ensure the goals of the company are on track.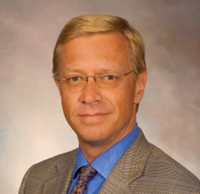 David Loeper: "The lawsuit is time-consuming
... He's someone on the executive
level to keep the company focused
toward its strategic goals
"The lawsuit is time-consuming," Loeper says. "It's helpful to have another person like Len on the board to make sure we're accomplishing everything we need to from a business perspective. He's someone on the executive level to keep the company focused toward its strategic goals."
The lawsuit revolves around Wealthcare's financial planning patent. Loeper says the suit is specific to companies that use his process and he believes UBS has been violating the patent for about a year.
Wealthcare's planning process is currently used by some 30,000 financial advisors, including brokers at Merrill Lynch and Morgan Stanley Smith Barney. The technology is best known as the basis of Wells Fargo Advisors' Envision Process financial planning program.
For PIEtech's part, CEO Bob Curtis has vehemently denied any infringement. Curtis did not immediately respond to an e-mail on Tuesday but has maintained that his firm will defend itself and UBS from "baseless claims."
UBS did not respond to an e-mail seeking comment.
Amicable settlement?
An administrative hearing was held last week and another is scheduled for November to go over procedural matters, Loeper says.
He also says Wealthcare is open to a possible settlement.
"We're reasonable people and we recognized that UBS probably wasn't aware that our patents existed and they may have been misled and have thought that our property was someone else's," Loeper says. "We'd like to come to an amicable settlement. I don't know how open they are to that. We'll defend our rights to our property."
Reinhart declined to discuss the lawsuit at length but points out that it's not easy to get patents in the financial services industry.
"The fact that it was recognized by the patent office shows it's really a unique type of thing," Reinhart said.
It's the unique quality of the claim that is causing consternation to some in the industry, fearing that if Loeper beats UBS, his company could use the precedent against all planners.
Reinhart resume
Reinhart helped found, and served as chairman of, the board of governors of the Money Management Institute and also serves on the advisory board of directors of the Institute of Investment Management Consultants Association.
In addition, he serves on the boards of LifeYield LLC, Blackfish LLC, The University of Rhode Island Business School and the Eastern Pennsylvania Rugby Union.
---
Related Moves
---
February 28, 2020 – 11:09 PM
---
---
Mentioned in this article:
MoneyGuidePro
Financial Planning Software
Top Executive: Bob Curtis
---
---
---