Duane Thompson says FINRA is keener than ever to regulate RIAs considering the waves of money flowing from the B-D to the fee-only side.
Dina's coverage of the MarketCounsel Summit continues with a talk from TD Ameritrade's Tom Bradley and the much-anticipated Advisor Town Hall Meeting, which Brian Hamburger moderated and participated in – a panel comprising Evan Simonoff of Financial Advisor magazine; Duane Thompson of fi360; and Joseph Borg, director of the Alabama Securities Commission.
A lobbyist extraordinaire, Duane Thompson is a "mover and a shaker." At least that's the way he was portrayed on the cover of Financial Planning in 2008. The recognition resulted from the Financial Planning Assocation's aggressive media, lobbying and litigation campaign, managed by Thompson, to overturn a controversial SEC exemption that allowed stockbrokers to provide financial planning advice. A federal court of appeals agreed, vacating the so-called Merrill Lynch Rule in 2007, forcing major Wall Street firms to transfer $300 billion in customer assets to the jurisdiction of a tougher federal law in order to comply with the court decision.
Currently,Thompson is president of Potomac Strategies LLC, a legislative and media relations consulting firm in the Washington, D.C. area. He also serves as senior policy analyst at fi360 a fiduciary training organization for the financial services industry.
So it was with anticipation that attendees on day two of the MarketCounsel Summit 2011 came to hear his thoughts along with those of Evan Simonoff and Joseph Borg. The event was moderated by Brian Hamburger, founder and managing director of MarketCounsel.
Out of tune
Thompson doubts that that regulatory harmonization is or will be on the legislative front burner – even if Republicans take back the Senate in 2012. He pointed out that although the Securities and Exchange Commission does have the power to adopt a uniform fiduciary standard, what it cannot do is mandate that a self-regulatory organization be put in place.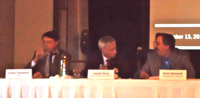 Advisor Town Hall panel: Duane Thompson,
Joseph Borg and Evan Simonoff
That, Thompson thinks, is a good thing, as investment advice and sales just don't mix.
TD Ameritrade's Tom Bradley illustrated that thought vividly in his address preceding the Town Hall.
"RIAs and B-Ds are too different to ever be lumped together," he said. "In 1940, Congress designated the B-D as a salesman. [Things got complicated] when broker-dealers started to give advice without registering as RIA. How do you take a sales model and jam it into a fiduciary model? [The B-D] is like a car salesman – he's trying to sell me a Ford. It's OK as long as the person wants to deal with a salesperson."
What's in a name?
The industry can't expect much help from the public, all agreed, because of the all-but-universal confusion as to the different types of financial professionals.
"We can't unravel the problem," Borg said. "Broker? Advisor? It's all the same. The public is not interested between two. They just want everyone to act in their best interest. You're just not going to get 200 million Americans to understand that there's a difference.
Thompson suggested – and Hamburger agreed – that educating the public is one of the things a regulator is for.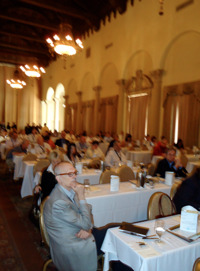 Attendees listen raptly in the Country
Club Ballroom.
"[Borg] says the public doesn't care, Thompson said, 'but what are regulators for if not to jump into that. If investor doesn't care, that's what regulator is for."
Borg replied that states – his at least – try to do their part. But, turning the tables on his co-panelists, he said: "But the B-D and IA community doesn't do enough, either. There's blurring in the industry, too."
Blurring lines
Hamburger said that we are headed toward an era when all financial-service functions will blend together. "[These days] even fee-based can get commission. We love the term "hybrid," but it is causing mass confusion. The United Kingdom's solution is that everyone goes to their own corners."
Hamburger summed up the dilemma: "Advisors can't even agree on how to spell their name. How are they going to agree on anything?"
Title creep
Thompson believes the current confusion stems from the Investment Advisers Act of 1940, which, emphasizes function over title, noting that the term "investment counselor" used to be common. "It's title creep," he says, noting that in the 1990s, broker-dealers called themselves investment advisors – which annoyed actual investment advisors because B-D's didn't have the same fiduciary duty.
"Let's protect the title," he says.
Easier said than done, Borg said. "In my state I bring cases against insurance people who give financial advice. I can't do that with B-D's unless I can prove there was additional compensation."
FINRA by default
Inevitably, the topic turned to the Financial Industry Regulator Authority Inc.
Thompson believes that although the SRO debate has been around for a while, that FINRA is more keen than ever to regulate RIAs considering the gush of money flowing from the B-D to the fee-only side.
"FINRA still has authority so it is moving to the investment advisor side to capture the fee side," he said, "and it is doing that by using the argument that there are regulatory gaps that the SEC has not filled."
"[But] If FINRA keeps pushing, there'll be an SRO eventually," Thompson said.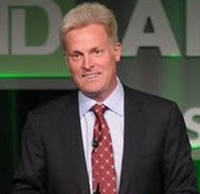 Tom Bradley: [The B-D] is like
a car salesman – he's trying
to sell me a Ford. It's
OK as long as the person
wants to deal with a salesperson.

Added Simonoff: "We can all agree FINRA hasn't done a great job but is evolving as default choice."
Sharing the blame
The mention of FINRA being akin to waving a red flag in front of a bull in the RIA world, the first question from the audience was posed with true indignation.
"How did FINRA dodge the bullet?" a man asked. "[FINRA] says 'We're going be in charge because the SEC sucks' but they were just as bad [at missing Madoff-size scams]."
After applause died down, Thompson echoed the sentiment.
"With Madoff, the SEC got the biggest hit because in 1996 he had to register as an IA. Both FINRA and the SEC share blame."
'Modern-day extortion'
After informing the audience that FINRA officials had declined to attend the summit despite repeated invitations, Hamburger let loose on the SRO.
FINRA's practices, he said amounted to "modern-day extortion."
"We deal with [regulators of all kinds] on a daily basis, and FINRA is the most difficult. It has shown its hand by being most unfriendly to small businesses. It's so flush with resources and deep pockets that when [it goes] against small or midsize businesses it can do a lot of harm. [It uses] that hammer to secure large fines and penalties that are disproportionate …. [The] SEC has problems, but FINRA is worse. See: Why advisors see FINRA as the devil.
Skating to the puck
Bradley, president of TD Ameritrade Institutional, kicked off the day with a caffeine jolt of good news for the RIA industry: In the last six years, he said, TD's cumulative RIA assets have grown 46% as opposed to wirehouses' anemic 11% growth.
He explained the phenomenal growth of RIAs by a quote attributed to hockey great Wayne Gretzky: "I skate to where the puck is going to be, not where it has been."
"That's what investment advisors are doing," he says.
Also, Bradley reported, TD's hybrid firms are weaning off commissions.
Wirehouse , he allowed, are holding onto teams with $500,000 or more, despite the fact that many brokers' signing deals are coming due. "They have more choices," Bradley says.
Countering the common wisdom that all investors remain ignorant about the difference between fee- and commission-based models, Bradley said: "[Ignorance] still exists, but the high-net-worth [segment] is starting to figure it out."
Crying poor
Bradley thinks the SEC should continue doing its job, and like Hamburger, doesn't buy the commission crying poor.
"Once all advisors under $100 million go to the states, [the SEC] will have 18 to 20 examiners per advisor – so why does the SEC need more money?" he asked.
Piling on regulation isn't the answer, Bradley said, nor is FINRA which, like the SEC, missed multiple danger signs in the Madoff case.
Instead of a regulator to augment SEC, Bradley suggested an alternative: a body made up both of advisors and investors – or just investors. "You need some sort of independent oversight," he said.
But that's for the future.
"Most fee-only [advisors] don't want to deal with FINRA," Bradley said. "Let's fix what we have NOW."
---
Related Moves
August 2, 2019 – 12:48 AM
---
---
Mentioned in this article:
---
---
---
Jeff
October 18, 2011 — 2:35 PM
Sales is a five letter word.
It is a naive and easy position to take that all brokers are "car salesmen" and that fee-only investment counselors are the only solution.
All lawyers are crooks?
All athletes are dumb?
You can do better.
Sean Kernan
October 18, 2011 — 9:54 PM
Regulators can "educate" the public all day long but they can't—or shouldn't be allowed to—FORCE the public to choose one type of relationship. We have educated the public about the risks of smoking, but that hasn't eradicated it—should we make it illegal? Freedom choice is a good thing, especially if all the material facts about a relationship are fully and fairly disclosed (still some work to be done to that end). Plus Ford dealers can probably get you a better deal on a Ford than an "independent vehicle advisor."
Stephen Winks
October 18, 2011 — 9:20 PM
The differentiation between brokeras and advisors is easy and has been very effectively executed by enterprising RIAs. This short paragraph should be part of every RIA pitch.
"I am a Registered Investment advisor who is charged with acting on behalf of the consumer in the consumer's best interest. You be curious about how what I do differes from that of a broker.
1. The broker is not accountable for their recommendations once they are paid. I am accountable, brokers are not.
2. The broker has no ongoing fiduciary duty of care and loyality to their clients, I have significant ongoing fiduciary duties based on objective non negotiable fiduciary criteria of statute, case law and regulatory opinion letters necessary to literally act in your best interest. I am responsible, brokers are not.
3. In case of client disputes, in prestructured arbitration proceeding required by the brokerage industry, brokers are absolved of any responsibility for their recommendations as the industry maintains the broker does not render investment advice. The broker only makes the consumer aware of their investment alternatives, it is up to the consumer to determine investment merit on their own, regardless how limited the consumers investment knowledge and experience may be.
4. None of this is in the consumer's best interest and has resulted in the loss of trust and confidence of the consumer in the brokerage industry. The broker is neither accountable or responsible. The difference is I am accountable and responsible and act in your best interest
This does not mean brokers are bad, simply that the consumer protections that I provide under a fiduciary standard are not available through brokers under their suitability standard. Under a suitability standard, transparency in compensation, and cost of investments are not a consideration, where I am totally transparent and manage cost on your behalf in your best interest. I often more than pay for my services by savings I am able to achieve, which we will discuss as we proceed."
There are many RIAs increasingly using this as a point of differentiation, which is universally understood by the consumer and invariably leads to an asset/liability study which establishes the terrible shape of the client's investment holdings when evaluated as a portfolio. There are RIAs who have rarely not won a prospective client's business after conducting an asset/liability study.
A sure way to win business.
SCW