News, Vision & Voice for the Advisory Community
Advisors may get much of what they wish for but in reality it may not be so good
October 17, 2011 — 3:17 AM UTC by Dina Hampton
Brooke's Note: It's a good thing we have regulatory experts because with so many changes coming – good and bad – we're going to need them. The curve ball is that some of the good changes are bad, too. Brian Hamburger personally tackled that topic at his conference. Dina took careful notes.
As MarketCounsel's Frank Pizzichillo addressed the opening day session of MarketCounsel Summit 2011, he commented that navigating the conference, with the labyrinthine grounds of the glamorous 1920s-style Biltmore Hotel in Coral Gables, Fla., was no easy feat. Many travel-weary advisory professionals, some of whom had barely had time to check in before setting out on the circuitous hunt for the Country Club Ballroom, chuckled in agreement.
But by the end of the thought-provoking, if at times time anxiety-producing, conference, the 200 attendees, plus speakers, exhibitors and MarketCounsel personnel, were navigating the twists and turns of the hotel's grounds like pros, even if it still took a bit of doing to get from Point A to Point B.
As a reporter who also logged a significant number of miles covering the conference (each time each time resisting the lure of the gargantuan pool, reputed to be the largest in the Continental U.S.) it was hard not to see the experience as metaphor.
Two summers have passed since President Obama signed the Dodd-Frank Wall Street Reform and Consumer Protection Act – a hastily assembled, 2,319-page door-stop that covers from everything from "too big to fail" to conflict diamonds. It was a law that was heavy on what the financial advisory needed do, but light on how they should actually do it. See: Where the rewrite of financial regs stands relating to RIAs.
Judging from the demeanor of those in attendance, most had passed the first stages of shock and ire that was very much in evidence in last year's conference in Nevada. See: Testy words pass between advisors and regulatory panelists at MarketCounsel conference.
Advisors are now determined to move forward but are sorely in need of a compass to find true North. They looked to MarketCounsel to help provide that direction.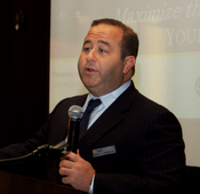 Brian Hamburger: FINRA not efficient, which
is the most polite thing you'll
hear me say about it.
Unintended consequences
The theme of Hamburger's address was: "The Law of Unintended Consequences." It was, he said, an old adage warning that intervention in a complex system always creates unanticipated – and most often undesirable – outcomes. It's especially apt now, Hamburger says, at a time when the SEC is threatening to meld investment advisers with their counterparts in the brokerage industry, one fraught with over-regulation, high costs and a dearth of entrepreneurial activity.
This most unintended consequence for investment advisors is largely a self-inflicted one when they achieved the "victory" of leveling the regulatory playing field.
"Who doesn't like to be in harmony? But you should know what you're being harmonized with," Hamburger says.
Another unintended consequence is state intervention in boilerplate disclosure laws. California's 2003 "Shine the Light Law "that supplanted the existing boilerplate form, is so invasive that it mandates font size and how many words lawyers could use in a sentence in a sentence in crafting the document.
Dropping the ball
The SEC's many deficiencies over the years, Hamburger says, have led to an array of unlooked-for ills, one of which is the escalation of fraud within the industry. The Madoffs of this world," he says, "have made a mockery of financial advice." Now, "It's always in the back of clients' minds: Am I doing business with someone like this?'"
Fear, uncertainty and doubt have resulted from lack of SEC oversight -"not to mention Dodd-Frank."
Weak government oversight has also led to regulation devolving to the states, which have done a spotty job, at best. "Many states are not as well prepared as the federal government and some are ill prepared."
Hamburger calls nonsense on NASAA's claim that 94% of states conduct onsite exams.
"Not even close," he says.
The unintended consequence of state regulation is pockets of the country where there is a complete lack of regulation as well as the increased costs caused layered compliance entities that will fall hardest on the smallest companies," Hamburger says.
Empty pockets?
Especially galling to Hamburger is the SEC's claim that it is ceding its responsibilities due to the fact that it doesn't have enough money – a claim Hamburger says is bogus since the commission be offloading thousands of firms when next year's revised registration rules kick in.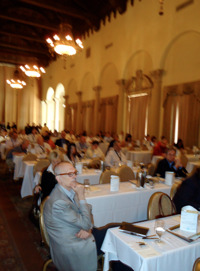 Summit attendees listen raptly at The
Country Ballroom at The Biltmore.
"FINRA not efficient, which is the most polite thing you'll hear me say about it," says Hamburger – a fact borne out by his inflammatory comments at the next day's Investment Advisor Town Hall.
He says that were FINRA to be named investment advisors' SRO, the attendant avalanche of legal work would be a windfall for Hamburger's law firm.
"But I'm way too young to cash in," he says. "We're looking for the long term."
Winning the battle, losing the war?
Daniel A. Bernstein, MarketCounsel's head of Professional Services, also spoke to the contentious topics of fiduciary responsibility.
The SEC has released a report concluding that advisors and broker-dealers should have the same fiduciary responsibilities – at some point in the very indefinite future.
In a sentiment that would be echoed throughout the conference, Bernstein said that the push by RIAs for harmonization of rules between them and broker-dealers had led to a pyrrhic victory for advisors.
Regulatory bucket list
Turning to the nitty-gritty of the current and future regulatory environment MarketCounsel's director of professional services, Bernstein also broached vexing and contentious issues that would resound throughout the conference.
Wryly calling Dodd-Frank the "Lawyer Employment Bill of 2011," Bernstein took a blessedly PowerPoint-light approach to his presentation, throwing exactly one slide up on the screen that listed 18 regulatory issues, many of them hanging fire as the Securities and Exchange Commission, states, SRO and lobbyists and lawyers duke it out to see who's interests will prevail.
Audience members were then called upon to pick an issue and, and, after reporting the latest news on those topics, Bernstein triaged them by assigning them to one of three metaphorical buckets: Green, signaling that if you haven't dealt with it you should be doing so now; yellow, signaling that it's something that will need to be taken care of in the relatively near future; and red, "meaning in one ear out the other cause it's not going to happen for a while."
Dying on the vine
One of the more frustrating parts of interpreting and enacting Dodd-Frank, Bernstein says, is that, in an increasingly prevalent, practice, the SEC will propose a new rule but, if it doesn't get traction, it's left to die on the vine.
An example are the SEC proposals, and resultant inaction, regarding new disclosure, privacy and data protection rules.
Some states, however – California and Massachusetts to name two – have picked up the baton, imposing stricter privacy and data protection rules.
Massachusetts' first enforcement concerned a company that reported that a hard drive disappeared. Even though there was no proof of theft, the firm was fined. This sort of action, says Bernstein, "does harm to people reporting in good faith."
However, new forms ADV forms that give the client more pertinent information about their advisors have already gone out and should have been dealt with – hence its regulation to the green bucket.
Dumping advisors
Into the yellow bucket went the upcoming re-registration – six months away – for firms with more than $100 million dollars in assets under management. Under the new rules, advisors currently registered with the SEC will have until March 30, 2012 to certify that they are qualified for SEC registration – e.g., that they have registered assets under management of at least $100 million. Advisors that fall short of the new threshold (the old threshold was $25 million) are required to register with the appropriate state authorities and withdraw from SEC registration by June 28, 2012. See: Cheat sheet for recent SEC regulatory changes and amendments.
This shuffling of advisors is occurring because the SEC has convinced lawmakers that it is underfunded and overworked and therefore needs to offload a segment of the advisors it once regulated (Hamburger will have some choice words about this in tomorrow's follow up)
Losing a selling point
"Advisors shouldn't have been as aggressive in pushing for fiduciary standard for B-Ds, said Bernstein. RIAs have now leveled that playing field and lost a selling point."
In addition, in the resulting "harmonization," RIAs will move from a principles-based standard to the rules-based standard – which, in hindsight, doesn't seem like such a hot idea. "You'll need to do … things whether it makes sense or not," Bernstein says.
Finally, the action moves RIAs that much closer to the dreaded possible outcome of FINRA becoming the regulatory body over the fee-based channel. (Again, stay tuned for Hamburger's vividly expressed opinions on this matter.)
But not in the foreseeable future, Bernstein says. Defining a single standard will take years, hence its relegation into the red bucket.
Superfluous redundancy
The prospect of any self-regulatory organization – especially the hated FINRA – gaining dominion over investment advisors, is perhaps the part of Dodd-Frank that causes the most outrage in the RIA community.
"There will still be the SEC – plenty of redundancy. Costs will be passed to clients, people will go out of business will cost more," says Bernstein.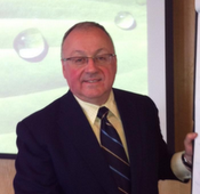 Mark Tibergien: [Advisors] don't take time
to ask important questions.
The prospect of plural SROs is no more attractive and will actually foster malfeasance: "Bad guys will choose the one with the easiest requirements," Bernstein says.
But FINRA, according to Bernstein – and virtually all the other speakers at the conference – say it has the inside track with its deep pockets and government contacts.
"If I were a betting man, I'd say that five years from now, FINRA will be the SRO for advisors." See: Brian Hamburger answers the questions about an SRO future that has RIA stomachs in turmoil.
But, Bernstein cautioned, "No one should be running their businesses on stuff which may never come to fruition."
Mach speed
Given that one of MarketCounsel's stated goals this year is to help firms emerge as businesses, it was appropriate that Mark Tibergen, CEO of Pershing Advisor Solutions, took the stage in the opening session to deliver his insights about the ingredients that go into growing and sustaining of a business.
"Brian asked me to come here and irritate you," said Tibergien. And while he didn't do that, he did pose questions that, if not addressed, could have serious consequences for the industry.
"The average age of principals in firms is 55," Tibergien said. "And there is a big gap between principals and everyone else. We need 9,000 more advisors in coming years [and] we're not attracting younger people. It's a creative, intellectually challenging career that profoundly affects people's lives – so why?"
The answer, he said, is the "mach-speed" pace of our modern world.
"It's impossible to keep up. [Advisors] don't take time to ask important questions."
The best firms, he says, are cost conscious. But instead of looking to technology as the answer to all their problems, they invest in, mentor and inspire their own people. They also look at succession as a growth strategy and not as an exit strategy.
In these hard times, firms are especially in need leaders – ones who manage risk but, as important, have the creativity and confidence to lead with vision, and have the ability to develop the skills and the confidence of those they lead," Tibergien said.
But the most important quality in a leader is leading by persuasion, not by dint of their title. Drawing on his experience in the Viet Nam War, he said "[The officers who led by title] were the ones who got 'fragged' [soldiers attacking their superior officer].'"
Tibergien's closing message was upbeat: With a "great oversupply of clients and undersupply of providers," the advisory industry has only one way to go – up.
Editor's Note: Look for what Duane Thompson and Tom Bradley had to say in tomorrow's Part II installment.
---
Mentioned in this article:
MarketCounsel
Consulting Firm, Specialized Breakaway Service, Compliance Expert
Top Executive: Brian Hamburger
---
---
Share your thoughts and opinions with the author or other readers.
---