Stuart DePina: There is no way this is going to come back on Tamarac.
Investment manager Mark Spangler, an investor and former chairman of Tamarac, Inc., is in the midst of investigations by the SEC and the FBI – but Tamarac's CEO insists that Spangler's troubles will not derail the company's phenomenal growth.
Spangler, the 56-year-old principal of The Spangler Group Inc., which managed $106 million of assets, the former (1996) chairman of National Association of Personal Finance Advisors and former chairman and major backer of Tamarac, is under investigation for fraud and money laundering.
Federal agents have raided the home of the Seattle investment manager, who is alleged to have moved client funds into startup companies he managed without their knowledge. He then lost much of their money after one of the firms went under.
Spangler's close relationship with Tamarac, a popular software company with RIAs, has forced chief executive Stuart DePina, to face the PR fallout head-on. In February, after one of Spangler's ventures had gone bust, putting him in a serous cash bind, Tamarac asked him to step down as chairman.
"It was enough of a red flag," DePina says.
Spangler readily agreed, DePina adds. "Mark understood it."
Spangler, who invested several million dollars in Tamarac through his company, Spangler Ventures, now only owns less than 1% of the company, according to DePina.
"I'm highly disappointed in what Mark has [allegedly] done," he says. "....There is no way this is going to come back on Tamarac." One reason he personally feels disappointed is that some of the investors work for him.
A matter of degree
Still, DePina, who became the majority owner of Seattle-based Tamarac in 2007, says that Spangler's wrongdoing may not be nearly as widespread as the scope of the investigation and the contents of the affidavit, published by Advisors4Advisors indicates. He adds that all of Spangler's clients were "accredited investors." This basically means that a person has $200,000 in income or $5 million of assets.
Spangler, who has not been charged with a crime, is suspected of taking money from clients who believed it was intended for one investment and then putting it in another.
DePina says that Tamarac's clients – all small business people themselves – have kept faith with his firm despite Spangler's troubles, but DePina fears that the ugliness of the situation could ward off new business.
"Customers get it," he says. "I'm more concerned about prospects questioning our credibility."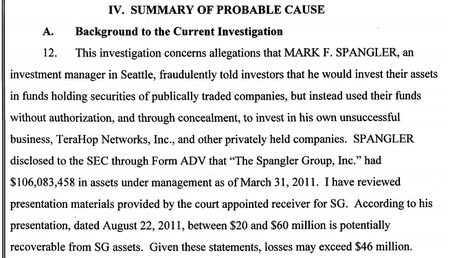 The heart of matter is the
Sept. 23 affidavit requesting a search
warrant.
Leaps and bounds
DePina says that he is certain that all current investors in Tamarac are invested willingly and that they want to remain invested.
And with good reason: the company has experienced consecutive years of 50% growth and has built up its revenues to about $10 million. Revenues for this year may grow at a rate closer to 60% and 2012 has similar prospects for growth.
Tamarac has thrived by creating rebalancing software that is competitive with industry rivals – and at a much lower cost. See: Tamarac claims what was unthinkable two years ago — that it is on the same playing field as iRebal for rebalancing software.
It has also created a bundled mini-ecosystem of applications, Including Schwab PortfolioCenter and Microsoft's CRM, that has also proved popular with RIAs. See: A close look at Tamarac's Advisor 9 and its strategic use of Schwab software. The company serves about 400 advisory firms and has 100 employees. When DePina came aboard in January 2007, the company had only eight employees.
There were about 100 investors invested with Spangler Ventures when he was compelled to file for bankruptcy. As part of that process, his 64-foot yacht valued at $850,000 and a $1.3 million house in Seattle's Portage Bay neighborhood were put on the block
TeaHop factor
Much of investors' money ended up being poured into the now-defunct TeraHop Networks, a Georgia-based firm that made inventory-tracking equipment.
Contacted for comment by the Seattle Post-Intelligencer for its article, FBI: Seattle investor lost millions of clients' money, on the subject, Spangler's attorney Ronald J. Friedman declined to discuss the allegations in detail but said his client is cooperating with investigators.
"Mr. Spangler regrets this turn of events in regard to his business and intends to fully cooperate with authorities in their ongoing investigation," Friedman said. "It is too early in the investigation to say more."
---
---
Mentioned in this article:
Envestnet | Tamarac
Portfolio Management System, CRM Software, Trading/Rebalancing
Top Executive: Stuart DePina
---
---
---
NAPFA
October 17, 2011 — 3:13 PM
NAPFA is sad to learn about the troubles facing Mark Spangler. Mr. Spangler was Chair of NAPFA in 1996 and has been an inactive, sustaining member of NAPFA since the late 1990s. At this point, Mr. Spangler may only be guilty of misjudging his client's risk tolerance — something any advisor could face in these volatile times. We don't know all of the facts in this ongoing investigation, but we will not allow the alleged actions of one individual to taint the good name of NAPFA and those professionals who comprise our membership. NAPFA-Registered Financial Advisors are the gold standard in the financial planning profession and will continue to be well into the future.
Frank Jimenez
October 17, 2011 — 8:49 PM
From NAPFA's statement above:
"At this point, Mr. Spangler may only be guilty of misjudging his client's risk tolerance — something any advisor could face in these volatile times."
Now that's a stretch if I ever heard one. Reading through the affidavit seems to indicate that Mr. Spangler may be guilty of much more than that. This does not lead any further credence to your organization when the statements you put out to the public sound like this.
Chris Wade
Perhaps a follow-up story is due?
http://seattletimes.com/html/businesstechnology/2022214917_spanglertrialxml.html
J L Livermore
October 17, 2011 — 7:47 PM
Not the kind of PR campaign one wants to have just before one of the industry's biggest trade shows.
It is interesting that two technology companies that provide allocation, rebalance, and trade products have faced similar scandals over alleged fraudulent activity within the past 12 months. Nine Mile (TradeWarrior) also suffered a blow with resulting SEC action against board member(s) / investor(s) (see http://www.sec.gov/litigation/admin/2011/33-9214.pdf for more details.)
Mr. DePina took appropriate action with regard to Mr. Spangler. However this doesn't reduce the sting of negative PR, especially in the middle of the industry's trade show season. There is risk in external funding and there is certain to be scrutiny to face. Especially due to the nature of Mr. Spangler's board relationship with Tamarac and the alleged fraudulent funding practices.
This is a process Tamarac will just have to get through and nothing but time will reduce the sting.
The big question is how will the industry view this now as rebalancing and trading have become a focal point. Only time will tell.
JLL
Fear + Greed = Profit
J L Livermore
October 18, 2011 — 3:42 AM
I forgot to post this entry from the Salt Lake Tribune regarding NineMile ( TradeWarrior ) and the Deru family fraudsters, alleged fraudsters that is. More fun reading here: http://www.sltrib.com/sltrib/money/51924641-79/deru-terry-shares-belsen.html.csp?page=1
The tale told is one of brazen manipulation of now defunct NMLE (NineMile), stock price and blatant lies told to clients is just amazing. What is even more amazing is their apparent flagrant disrespect for regulators as they didn't even try to hide what they were up to. I guess they figured the SEC wouldn't catch on just like they didn't with Bernie – right. Out of this Belsen Getty won a cease-and-desist order that appears to be waiting final response.
I wonder which tech firm is next?
JLL
Mr. J P Morgan
October 18, 2011 — 3:12 AM
Mr. DePina's statement referencing "Mark Spangler's big trouble with the feds won't harm Tamarac" is I feel, a bit hasty. His statement '"I'm more concerned about prospects questioning our credibility."' belies the "won't harm" facade of confidence.
As for NAPFA's comments, well what more can be said. It's CYA time at NAPFA with Spangler's and it's own reputation in the balance this being the second formerNAPFA president to be disgraced since Putman's demise.
Perhaps NAPFA should watchdog all of their former officials:))
JP